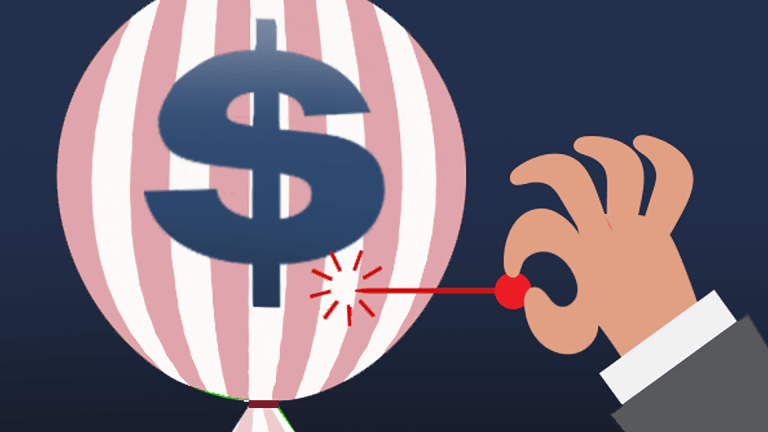 3 Stocks That Could Help You Survive an Inflation Spike
Higher inflation has investors spooked. Here's a look at three trades that could protect against inflationary downside in 2018.
There's no force quite as insidious for consumers' buying power as inflation.
That's maybe why, as the Consumer Price Index rose slightly more than expected last month, investor anxiety about inflation is creeping higher again. Just to be clear, on an absolute basis, inflation remains very low right now -- but it's wise to consider what happens for your portfolio if that changes.
For starters, in a rising inflation environment, stocks remain king.
While inflation adds downward pressure to stock prices (largely because it effectively reduces companies' real earnings), stocks end up much better off than most other asset classes. That's because stocks represent ownership in real assets.
Likewise, inflation tends to be a byproduct of overheated economic engines. That means the economic gains can outpace the inflationary headwinds, particularly if inflation is higher but stable.
In a lot of ways, an inflation survival guide is more about what you shouldn't own than what you should.
Steer clear of rate-sensitive stocks, and companies that don't throw off cash. One of the worst corners of the market in an inflationary environment actually tends to be income stocks, whose real yields come under pressure when inflation rises, and typically don't have the capacity to increase their dividend payouts.
When it comes to picking stocks that thrive in inflationary environments, there are some strategies that can actually fare well.
For starters, there's gold.
Gold is traditionally thought of as an inflationary hedge. And while that relationship between everyone's favorite metal and inflation isn't always one-for-one, today's CPI-linked spike in gold prices is evidence that the relationship is holding up well in 2018.
Better than gold are gold miners. That's because mining stocks effectively act like an option on gold prices -- as gold prices move higher, the rate at which gold exceeds its cost of production increases relatively faster.
That makes established, profitable gold miners a smart way to take advantage of higher inflation -- firms like Barrick Gold (ABX) and Yamana Gold (AUY) - Get Yamana Gold Inc. Report have substantial upside if inflation keeps tracking higher.
Another way to protect against inflation is with real estate. While real estate investment trusts, or REITs, are typically thought of as a rate-sensitive income investment, some actually have attributes that make them solid inflation trades.
For instance, many REITs have escalation built into their leases with tenants that keep rent payouts in synch with inflation rates. And because REITs are legally required to pay out the vast majority of their earnings to investors in the form of dividends, investors get to reap the benefits of those higher rates.
Popular REIT ETFs like the Vanguard REIT ETF (VNQ) - Get Vanguard Real Estate ETF Report could see initial pressure amid higher inflation, but are likely to generate outsized real returns in the long run, thanks to positive real yields and a base of hard assets. Likewise, the recent selloff in the Vanguard REIT ETF makes this ETF more of a bargain than most in this frothy market.
The bottom line is that even in an inflationary environment, stocks remain investors' best bet -- but cash generation becomes a much more important component of a stock's valuation.
This article is commentary by an independent contributor. At the time of publication, portfolios managed by the author were long AUY.