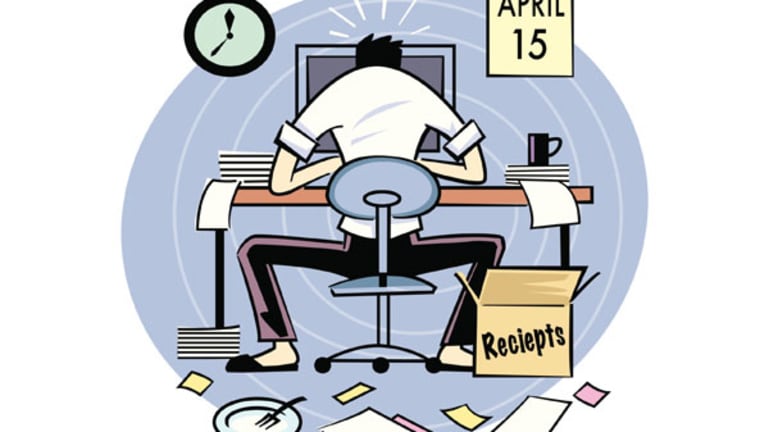 Tax-Bounce Play May Be a 2015 Winner
Investors looking for a rally into year-end should consider stocks that have been beaten down in 2015 and may see a rebound following tax-loss selling, says RealMoney's David Katz.
One relatively tried-and-true market strategy has been to play the year-end tax bounce. This entails screening for the year's biggest losers and building a basket of so-called Tax Bounce Candidates.
The rationale behind this strategy is to take advantage of tax-driven selling. Mutual funds and individual investors sell their biggest losers before the year closes out, in order to reduce annual realized capital gains. This tax selling puts seasonal pressure on the year's biggest losers, producing even greater declines than warranted by their fundamentals, as tax-driven sellers are more highly motivated than buyers at year-end.
After the year-end tax selling pressure abates (the tax years of most mutual funds end on October 31, while December 31 is the end of the tax year for individuals), the universe of losing stocks should and historically has fared better in the first few weeks of the New Year, as these stocks benefit from a catch up bounce.
In the past decade some bounce seasons started as early as December, while others began at the turn of the New Year. For those interested in trying to take advantage of this phenomenon, we suggest putting some of the money to work now and the balance in late December. Historically, the best way to play the bounce has been to screen the year's losers in order to build a "Tax Bounce Portfolio."
Over the past three years our screening for bounce candidates has resulted in slim pickings as the market was strong for each of these periods and outside of energy in 2014, there were not a lot of losers from many areas of the economy.
It is a different story, however, in 2015. The market correction this summer and the wholesale selling in certain industries and sectors have resulted in a list that is chock full of choices.
We reviewed two groups to build our Tax Bounce Candidate Universe. In the first, we looked for the worst performing S&P 500 stocks; in the second we expanded our search to the S&P 400 Mid-Cap stocks.
Our screen of the S&P 500 resulted in 95 stocks that are down over 20% YTD and 27 stocks that are down over 35%. Using the expanded mid-cap list, the universe of tax bounce candidates grows by another 75 for stocks down 20% or greater and 26 for stocks down 35% or greater, YTD.
When trolling within the down-and-out universe, we suggest looking for long-term leaders. A company should have a history of business success and growth that is off because of transitory issues. We are comfortable buying in business or sectors that are temporarily out-of-favor like industrials or energy. The flip side is we would generally avoid over-leveraged companies and businesses that seem to be in a secular decline. (They too can have big bounces, but you have to get the timing exactly right).
For those who are inclined to try to play the year-end tax bounce, we would suggest considering the following stocks:
S&P 500 Tax Bounce Candidates:
Anadarko Petroleum (APC) - Get Anadarko Petroleum Corporation Report
American Express (AXP) - Get American Express Company Report
Caterpillar (CAT) - Get Caterpillar Inc. Report
Franklin Resources (BEN) - Get Franklin Resources, Inc. Report
Harley Davidson (HOG) - Get Harley-Davidson, Inc. Report
Macy's (M) - Get Macy's Inc Report
Nordstrom (JWN) - Get Nordstrom, Inc. Report
Qualcomm (QCOM) - Get Qualcomm Inc Report
Twenty-First Century Fox (FOXA) - Get Fox Corporation Class A Report
Union Pacific (UNP) - Get Union Pacific Corporation Report
Viacom (VIAB) - Get Viacom Inc. Class B Report
Walmart (WMT) - Get Walmart Inc. Report
S&P 400 Mid-Cap Tax Bounce Candidates:
HSN, Inc. (HSNI)
MSC Industrial Direct (MSM) - Get MSC Industrial Direct Co., Inc. Class A Report
Polaris Industries (PII) - Get Polaris Inc. Report
Also attached is the list sorted in Descending Order of the biggest YTD losses for the S&P 500 and S&P 400. As we took this directly off of an outside research database, it might be off in one or two names that engaged in business spinoffs or splits. So please review in greater detail before you act on any names on the list.
At the time of publication Katz and Matrix clients own AXP, CAT, HOG, QCOM and VIAB. They do not own any of the other stocks mentioned above but positions are subject to change at any time. There are no other conflicts.