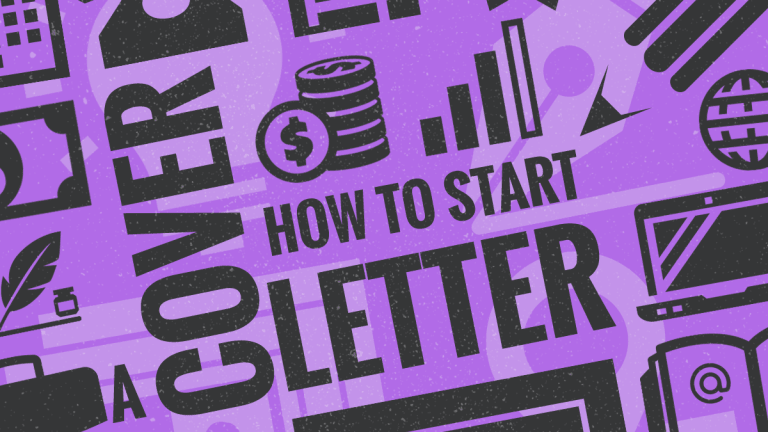 How to Start a Cover Letter: Guide With 7 Examples
How you begin your cover letter can determine whether the reader will keep going or pass you over. Here's what you need to know about the ways to start a cover letter.
It's often said that a good cover letter can be what gets you in the door. Whether overworked or impatient, many hiring managers don't even end up reading through the entire letter. So the most important part of a good cover letter is a good intro that hooks the reader.
Everything, from the first paragraph to the opening sentence to the greeting, even to whether or not you have a header at the top, can factor into whether someone keeps reading your cover letter.
If you've looked up ways to write your cover letter, you've likely heard many varied, perhaps even contradictory things. Get to the point! Show some personality! Impress them! It's a lot for one paragraph, or even one sentence. So how do you start a cover letter?
How to Start a Physical Cover Letter
The first thing a hiring manager sees on a cover letter will depend on whether this is through an in-person cover letter or an online one.
A cover letter in an email can just start with the letter itself, and contact info further down. If you're sending a physical cover letter (and possibly if you're sending your cover letter as a document), you should have a header at the top.
A professional looking header that includes your name, contact information and job title indicates that you are serious about the job hunt and the job you're applying to in particular. At this point in the job-seeking process, it's all about standing out.
Beyond the header, even before you start the letter itself you will also need the date you wrote the letter, as well as the address you're sending it to and, assuming you have the hiring manager's name, their name and title.
How to Greet the Reader
If you do have the manager's name, then this part is easy as can be. Write "Dear." Then write their name. Then a comma. Great job!
Not every job posting, particularly online, is going to give you the name of the person to which you'll be addressing this letter. There's a lot of varying thoughts as to the direction to go in for this. "Dear Hiring Manager" certainly gets the point across, but some feel it may be too impersonal. "To Whom It May Concern"? Clear, but also a little formal, and that's not always the right tone to strike.
Generally, starting with "Dear" is the way to go (unless of course the company you're applying for is so formal you think To Whom It May Concern could actually work). Dear Hiring Manager can suffice, but look into the company's style and who you're sending it to. If it's the human resources department, Dear Human Resources Manager can work as well. Don't use a generic "hello" or "hi" unless you actually know the person you're emailing.
How to Start Your Cover Letter: Opening Sentence and Paragraph
So now that you've figured all of that out, how do you start the actual cover letter?
That can mean a lot of things, depending on the company you're applying to. Every business is different, every job is different, and every job description is different. Starting off with an accomplishment may impress one hiring manager, but it may not be as effective in a different industry.
There are a few general things to keep in mind for any cover letter.
What Tone Should You Use?
Research the company you're applying for to gauge how you should write an entire cover letter, but it can especially assist you in figuring out how to open it.
You'll need to be direct with your opening, but beyond that there are a number of ways you can approach it. If you're unsure of the right direction to go, sometimes a general professional and courteous tone will do the job:
"I am writing to you regarding the position of [Job Title]. I believe my career history and skill set make me an ideal candidate for this position."
A bit generic? Sure, but if you're completely unsure where to start, a variation on this introduction will suffice and allow you to quickly transition to the meat of your letter.
But perhaps the company website or job description gives you a clearer idea of the tone you can take. Many jobs stress that they want an employee passionate about their job and their company. In instances like these, stressing how invested you are in the company could be a good way to begin your letter:
"It's not often you get to work for a company that has changed the way people live their lives. I want to use my coding skills to make the world a better place, and I think Apple is the perfect place for that."
Some companies just love to be flattered.
Other companies like showing you that they're a little looser and more fun than your average business. A comedic introductory paragraph is risky - especially if you're not a naturally funny person. Using humor is something you should only use if you're certain it's the sort of thing this hiring manager would appreciate and that you have something that will absolutely kill.
"As someone who is not only passionate about social media but desperately needs a place to crash tonight, I can think of no better company to apply to than Airbnb."
A little funny but not the strongest, right? Funny cover letters are hard. You'd better make sure it's the right joke for the right company.
What Info Needs to Go In?
The difficulty of writing a good cover letter comes from having to fit so much information into such a small document, all the while keeping it engaging and fun to read.
That's especially true for the opening paragraph. What goes in and what do you save for the next couple of paragraphs? How do you phrase it in a way that's not only clear but lets the reader know there's more to know?
Combing through the job posting and description for anything that can help you is crucial. If there's a quality you can highlight as early as possible, make sure you can fit it in there. If they want someone with five years of experience in a field you have five years of experience in, that's something to start with:
"My impressive 10-year career in journalism, in which I spent the last four managing a small team of writers, makes me the ideal candidate for your Senior Editor position."
Similarly, if an accomplishment you've had in your career fits with a goal this job description has made very clear, it could be worth putting at the top to show this hiring manager that you mean business. A results-oriented business is going to want to see results, after all.
"After three years as Social Media Manager spent tripling my company's follower count across all major platforms, I'm ready for the next step in my career as your new Marketing Manager."
Not everyone has long, storied careers, though. You could be fresh out of college or even still attending. Even in cases like these, any relevant experience you have - or something tangential that can be turned into relevant experience - can help give you an edge.
"All four of my college internships taught me invaluable lessons, and it is these lessons that would make me perfect as your new Personal Assistant."
How Do You Stand Out?
Striking the right tone and opening with the right information is hard enough. You need to stand out, too.
Personality can go a long way for the right job. Your introduction needs to grab the reader's attention and draw them in. Make sure it's something directly relevant to the job that you think can really help you. You would be amazed at what a good story can do:
"I was three years old when I went to my first Astros game - and 20 when I went to their unbelievable win in Game 5 of the World series. This team has been there for me my entire life; the least I could do is help out as their new sales intern."
Telling your story and reminding hiring managers of the human being behind the letter can be an effective, engaging way to keep someone reading, and maybe end up getting you that interview.