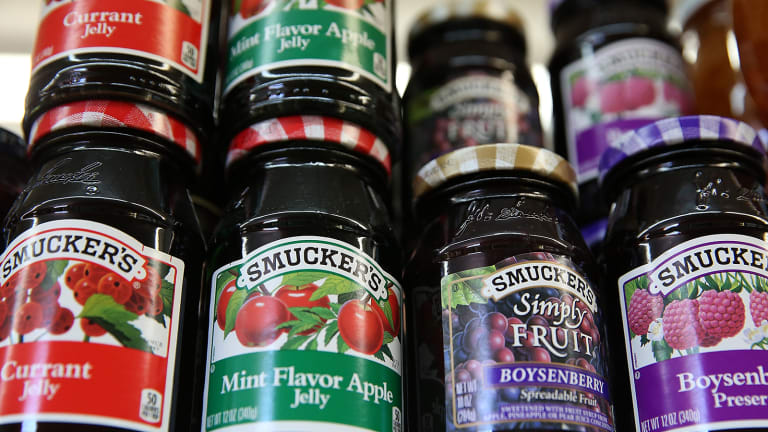 J.M. Smucker Stock Rises After Crushing Earnings
It's smiles all around as J.M. Smucker beats Wall Street expectations on sales and earnings Thursday.
It's smiles all around as J.M. Smucker beats Wall Street expectations on sales and earnings Thursday.
The J.M. Smucker Company (SJM) - Get Report reported fiscal 2018 second-quarter earnings Thursday, beating analysts' expectations on sales and EPS and returning to positive growth after four consecutive quarters of declines.
Smucker's adjusted EPS of $2.02 came in well above Wall Street expectations of $1.90, and revenue for the quarter came in at $1.93 billion vs. consensus estimates of $1.89 billion, which represents 1% growth driven by pricing.
"We are pleased with our second-quarter results, primarily driven by our pet food business and the strong performance of a number of key brands across all of our businesses," CEO Mark Smucker said in a prepared statement.
Smucker grew pricing by 1% overall, driven by a 4% pricing hike in its U.S. retail consumer foods segment, primarily attributable to Jif and Smucker's brands. The company has been raising prices to improve margins rather than lower prices in response to the growth of discount grocers such as Aldi and Lidl, a strategy that finally paid off in this quarter's top-line growth.
Premium dog food delivers
Smucker's pet food business rose 4% on strong volume growth in its Meow Mix and Nature's Recipe brands. Nature's Recipe, the company's premium dog food brand, launched in mass and grocery channels earlier this year and quickly grew distribution despite the company's warning last quarter about "increased competitive activity" in the premium segment.
The company reduced its full-year adjusted EPS guidance to between $7.75 and $7.90 from between $7.75 and $7.95 on freight-cost increases, and said it now expects net sales to be "flat to down slightly" compared with guidance of "down slightly" last quarter. However, the company reiterated its annual guidance for capital expenditures and free cash flow.
Smucker shares, which had declined 17% for the year, rose 8% in Thursday trading.
More of What's Trending on TheStreet:
Matt Sussis is a reporter for Medill News Service in Washington and a graduate student in the Medill School of Journalism. Previously, he was an equity research analyst at Credit Suisse in New York.