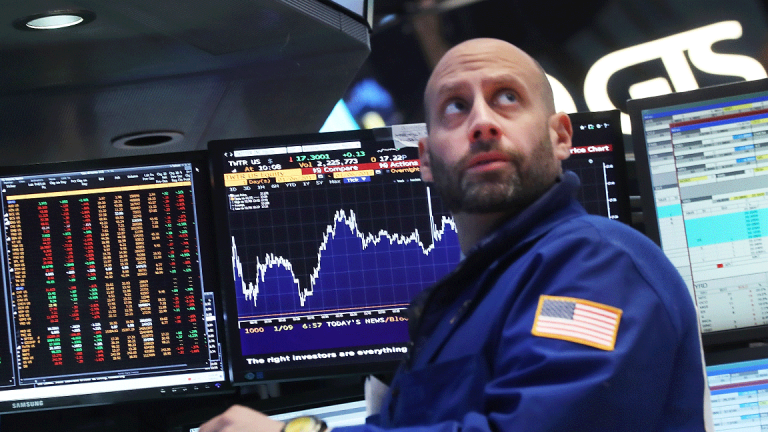 Small Cap Stocks Head for a Breakdown That Could End the Broad Market Rally
The Russell 2000 index has been an upside laggard but could be a downside leader.
The Russell 2000 Small Cap Index is up over the last 52 weeks, but it has lagged the broader market indices, under-performing the Nasdaq Composite by 50% in that time. This disconnect could be about to accelerate as the iShares Russell 2000 ETF (IWM) - Get iShares Russell 2000 ETF Report chart illustrates, and the danger is this continuing small-cap deterioration will start to drag on the broader market.
The IWM spent most of this year making a series of higher highs after bouncing off horizontal support in the $133 area. While the price movement is contained in defined trend lines, it has become more volatile as it has developed and could be interpreted as a broadening top pattern. The premise of the pattern is that the smart money is exiting as the first new highs are made and the later volatility is the result of participation by the general public. This is a dangerous time because when the institutional distribution is over, there will be no more buyers, and the cycle will collapse.
The August low took the IWM back to its January level and the sharp rally that followed the successful retest of pattern support accounted for most of the year's gains. That move returned the fund price back up to triangle resistance and last month a single-day surge in positive volume powered it through resistance. This month, however, the bullish momentum has faded and the IWM has been trading in a narrow sideways range. The individual candles that have formed in this consolidation range are of particular concern. A number of them have high wicks and small real bodies, a sign of uncertainty at new highs, and the technical indicators reflect this uncertainty.
The relative strength index has crossed below its 21-period average in its overbought zone and moving average convergence/divergence is making a bearish crossover. These readings represent a loss in short-term positive price and trend direction. While it is still well into positive territory, Chaikin money flow has dropped below its signal average, and overall volume has fallen off. These readings do not support a continuation of the uptrend.
The September breakout on the IWM chart and the weak price action that followed suggests the breakout was an exhaustion move and that the small-cap sector is headed lower. It could be a volatile downdraft as the weak hands that powered the move quickly abandon their positions. That would get the attention of the broader market and that is the danger.
More of What's Trending on TheStreet:
The author is an independent contributor and at the time of publication had no position in the stocks mentioned.