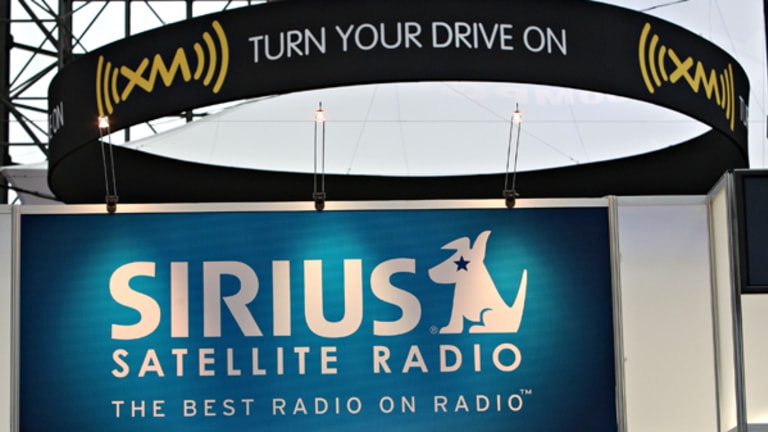 Sirius XM Investors Need to Get a Clue
Now's not the time to get arrogant. Investors should thank Liberty that Sirius wasn't a broken record when it was saved.
NEW YORK (TheStreet) -- "You are what your record says you are," as the adage goes.
Although Sirius XM (SIRI) - Get Sirius XM Holdings, Inc. Report has done a decent job of averting death, there are no moral victories on Wall Street. It's a bottom-line business. And it's time the company's investors come to terms with who's really in control here.
Back in January, Liberty Media (LMCA) chairman John Malone put up a $3.68-per-share bid to buy the remaining portion of Sirius that Liberty does not already own. At the time, this represented a 3.1% premium to Sirius' closing price of $3.57. Given that this offer was 12% below Sirius' 52-week high of $4.18, investors laughed.
Sirius stock opened today's trading at $3.49 a share. The stock is up 8.44% over the past calendar year, although YTD it is down 0.86%.
Liberty's relationship with Sirius has been and continues to be one of the biggest sideshows on the market. Investors haven't always understood the dynamics of this relationship.
Imagine a puppet and a ventriloquist. Now, guess who's the puppet? It's not a hard question to answer.
Remember, though, Sirius is the same company that gave away 40% of itself to Liberty for a mere $530 million loan. Sirius repaid this loan one year later. But by my estimation, Liberty still grabbed what was then 40% of the company for peanuts.
Now today there continues to be an outcry for shareholders to vote "no" to Liberty's buyout offer. As if it's going to make any difference.
Calling the offer "ludicrous," Ralph Nader, a longtime consumer advocate who is also Sirius shareholder, was not amused. But there isn't anything investors can do about Liberty's offer.
Although there has been a mention of a "vote," do you honestly believe that any outcome would not in some way benefit Liberty? This vote is a mere formality offered up under the guise of corporate governance. This goes back to what I've said about who's really in charge.
Besides, since the stock reached a high of $3.81 days after Malone's initial offer, shares are down 9%. So what's the point in fighting Liberty and getting your hopes up?
Although Sirius's stock has done well over the past the couple of years, let's not forget what got it there. It hasn't been due to stellar results. Don't forget, Sirius has been actively buying back its stock. And at the same time, Liberty has been buying its way up to majority ownership. Essentially, very little of the stock gains have been organic.
John Malone is now laser-focused on maximizing all of the value that remains in the company. Although Sirius does produce a decent amount of cash flow, the company doesn't have a future against better-run IP-based companies. Apple's (AAPL) - Get Apple Inc. Report iTunes Radio can't be ignored.
Investors are fooling themselves if they don't see that market dynamics are changing. And Sirius does not have a strong track record of innovation. How long can this company live by the mantra "content is king?" Maybe in 2001 that was the case. Not today.
Investors who keep repeating this myth needs to look at the deals Netflix (NFLX) - Get Netflix, Inc. Report has begun to make with the likes of Time Warner (TWX) . Netflix is demonstrating that -- with enough money -- kings can be captured.
The same goes for Amazon (AMZN) - Get Amazon.com, Inc. Report, which is suddenly interested in the sound of music.
By contrast, aside from a few deals here and there with auto manufactures, what has Sirius ever done to demonstrate it can maintain a foothold inside the car? Let's be honest for moment and stop pretending Sirius is better than its record. Now's not the time to get arrogant.
Investors should thank Liberty that Sirius wasn't a broken record when it was saved.
At the time of publication, the author was long AAPL and held no position in any of the other stocks mentioned.
This article represents the opinion of a contributor and not necessarily that of TheStreet or its editorial staff.