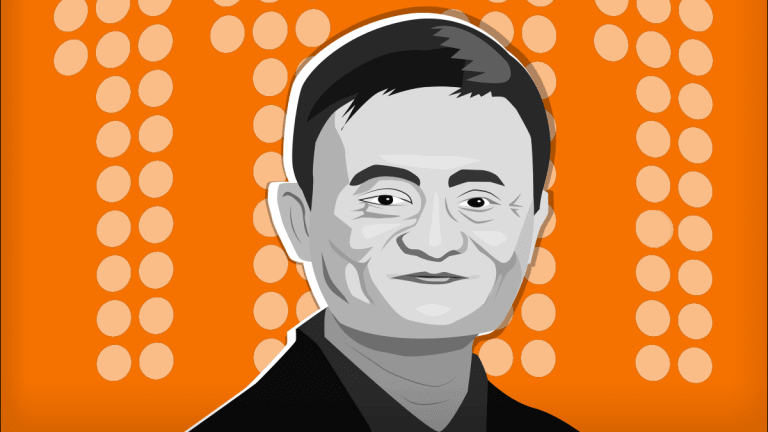 Singles Day: What Is It and How Is It Celebrated?
Singles Day is one of the most popular shopping holidays in the world. Here's the backstory behind the big day, which is Nov. 11, 2019.
The U.S. may have Black Friday but in China, another November shopping holiday rules -- Singles Day.
Singles Day, a retail shopping holiday invented by Jack Ma, founder of the China-based online retail platform Alibaba (BABA) - Get Free Report , is Nov. 11, a day that many Americans will celebrate military veterans, past and present, on Veteran's Day.
In 2019, it starts at 11 a.m. ET on Sunday in the U.S.
Singles Day, known in China as Guanggun Jie or "Single Sticks Holiday," is a big deal for Alibaba and legions of online shoppers.
Last year, Singles Day took in approximately $30 billion and digital shopping analysts estimate that this year's holiday will rake in $37 billion on goods sold on the Alibaba site within a 24-hour period.
That's significantly more than the $12 billion in revenues expected for Black Friday (Nov. 29) this year.
A $37 billion take in one shopping day is a blockbuster, and so is the back story behind Singles Day.
Let's take a closer look at the biggest shopping holiday in the world.
A Brief History of Singles Day
Alibaba founded Singles Day after the company got wind of a new trend sweeping China's college campuses in the 1990s -- men celebrating their singlehood. Ma and his executive staff toyed with the idea for years and finally formalized the occasion by marking Nov. 11, 2009, as the first-ever Singles Day. (Nov. 11 jives well with Singles Day -- Alibaba chose the date because the two "1's" in the date signify the single experience.)
Strangely enough, Chinese couples have begun ringing in Singles Day with a very un-single like tradition -- getting married. In 2011, for example, 4,000 couples got married in Beijing, China. Compare that to an average of 700 marriages on an average day in the Chinese city.
Singles Day is also generating other non-shopping traditions in China. For example, blind date parties are becoming more common on Singles Day, thus morphing the holiday into something of a Valentine's Day, as well.
Back on the revenue beat, Alibaba is also getting a great deal of financial mileage out its network of online retail platforms. For example, the company deeply discounted goods on its popular Tmall shopping platform last year and the holiday was an immediate hit. The retail giant crested $7.8 million its first spin around the shopping block.
The company has also increasingly relied on U.S.-based celebrities to tout their own product lines on Singles Day. Taylor Swift and Mariah Carey have shilled via live-streaming for Singles Day in the past and this year Kim Kardashian is out promoting Alibaba, Singles Day and her new perfume brand available this year (pre-orders for Kardashian's product -- and about 500,000 other items on the platform -- is allowed.)
Live streaming is another big deal on Singles Day -- consumers can tune in knowing that the streaming session will come with discounts on the products advertised. A recent live-stream from Chinese cell phone maker Ziaomi pulled in over 200,000 users in half a day.
Financial Growth Every Year
From a financial perspective, Singles Day is a big winner for Alibaba.
Since its inception, Singles Day has had double-digit and triple-digit growth. One year even saw a 1,700% gain in revenues (the holiday's second year in 2010.)
Here's a closer look at how Singles Day has fared on the revenue side of Alibaba's ledger:
Year Revenues Growth Rate Percentage
2009: $7 million 
2010: $135 million +1700%
2011: $75 million +456%
2012: $3.04 billion +267%
2013: $5.75 billion +83%
2014: $9.3 billion +63%
2015: $14.3 billion +60%
2016: $17.7 billion +32%
2017: $25.3 billion +39%
2018: $30.7 billion +27%
2019: (Est.) $37 billion 
Clearly, Singles Day has been a big breadwinner for Alibaba, and for other Chinese retailers, as well.
For example, JD.com earned $19 billion for its multi-day 6.18 holiday shopping festival in 2017 and Taobao, a China-based shopping mall, earned $3 billion on Singles Day in 2012.
At $30.7 billion, 2018 was far and away Alibaba's best Singles Day revenue benchmark.
But the holiday revenue's growth rate slowed somewhat during last year's shopping holiday, posting a 25% growth rate. That figure is nothing to sneeze at, but compared to previous years there is no doubt it slowed down. Economists cite the slowing Chinese economy as the reason for slower Singles Day spending growth last year, but do call for a rebound in 2019, with estimated revenues clocking in at $37 billion this year.
Singles Day Vs. Black Friday in 2019
With the estimated $37 billion in 2019 Singles Day sales, the unofficial Chinese holiday will blow the doors off Black Friday, which is expected to ave sales of $12 billion this year.
That's the case even if you combine Cyber Monday and Black Friday sales figures.
For example, in 2017, Cyber Monday and Black Friday sales combined for $10.6 billion. But Singles Day more than doubled that amount clocking in at $25.3 billion. Singles Day revenues are also expected to be about five times higher than Amazon Prime Day in 2019, which generated $7.3 billion and sold 175 million products on the Amazon (AMZN) - Get Free Report platform.
The Takeaway on Singles Day
While Nov. 11 officially heralds Singles Day, the Chinese government does not formally recognize Singles Day as a national holiday.
But that doesn't matter to tens of millions of Chinese consumers. This year, they'll be lining up to buy smart phones, televisions, blue jeans, and even cars and trucks (yes, Alibaba sells those too.)
You don't have to be single to get in on the action on Singles Day (although there's more to do than just shop if you're solo.) All you need is credit or debit card, a smartphone or computer, and a hunger for snagging deeply discounted deals.
That's the main attraction of Singles Day and this year, more shoppers than ever will be partaking in the festivities, thus marking the largest Single's Day in the holiday's brief, but profitable, history.