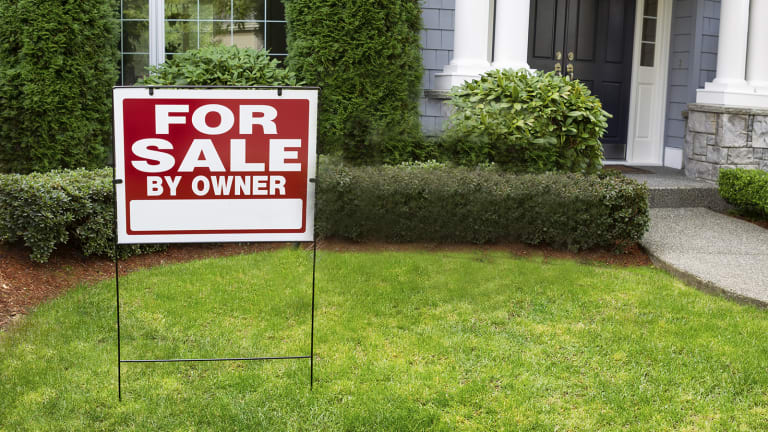 How to Sell Your House Without a Real Estate Agent in 2019
A real estate agent's commission can add up to thousands of dollars. Here's how to save money by selling your home yourself.
If you want to save as much as 7% of the sale price that your real estate agent and the buyer's agent will share as their commission, you might want to sell your home yourself. Here's how:
Step 1: Prepare Your House to Be Marketed
You can't just let total strangers wander around inside your home, checking for storage space - they are looking at its potential for their lifestyle, not yours.
So what can you do with the things you have in places potential buyers will want to consider for their own things? Get a storage unit to house the things you won't need while your home is on the market. A place to hide all those things currently sitting in your garage, your attic, your basement, in closets, or even in a crawlspace. Advisers generally recommend removing about a third of such things from your home - anything you don't use every day. And if you store it in a portable unit, it can all be brought to your new home.
Removing personal photographs and other personal memorabilia allows prospective buyers to imagine themselves living in your house, making it easier to focus on your house's highlighted features. By the same token, don't distract from the house itself with art, as your taste may not be the same as a buyer's.
Deep-clean the house - scrub the kitchen counters and appliances, shampoo the carpets, clean tile or linoleum floors, and dust the shelves.
Remember that a dark or poorly lit home feels depressing. Use natural and artificial light, and even perhaps a fresh coat of paint, to brighten up the interior of your home.
Don't forget the outside of your home - the first thing most buyers will see. Trim and shape hedges, edge the lawn, refresh mulch beds. If your siding is older, consider pressure-washing it, along with your walkways and driveway. You could even paint a fresh coat on your trim and shutters. Everything matters to buyers, even something like the brass on the front door. And know that flowers, particularly near the entrance, add color and make a home appear inviting.
Step 2: Price Your Home Competitively, to Sell
Use the internet to get an idea of sales prices for comparable homes in your neighborhood and price yours accordingly. That's what real estate agents and tax assessors do anyway. Don't forget, your goal is to sell your home, not to price it out of a desire to keep it.
Step 3: Get a Flat Fee Listing from the Multiple Listing Service (MLS)
The Multiple Listing Service, or MLS, contains the nation's most comprehensive list of real estate for sale. In addition to being available to agents, the MLS is also available to prospective buyers for search purposes in some areas. While the MLS is local to your area, once listed on the MLS of your area, your listing may feed to national real estate websites such as Zillow (ZG) - Get Zillow Group Inc. Report and others. Services exist that will charge you a few hundred dollars to list your property on the MLS. Search online for "Flat Fee" MLS to find similar services in your area.
Step 4: Market Your Property
Besides just listing your home on the MLS, you should advertise using "for sale" signs, brochures, advertising online, and building a web site to market the property. The 'For Sale By Owner' website FSBO.com offers home-selling packages for homeowners. The packages include items like brochures and yard signs. There are costs involved in advertising the sale of your home, but they will be a fraction of an agent's commission.
Step 5: Hold an Open House
You don't need an agent to hold an open house to advertise the sale of your home. You can do it yourself. Advertise your open house like any real estate agent would, by posting it online and placing signs in your neighborhood.
Provide some light refreshments and set out brochures around the home that visitors can take with them. Recent studies have shown the scent of baking cookies does not, contrary to a popular belief, help sell a home. However, recognizable scents such as citrus, pine, basil, cedar, vanilla and cinnamon have been found the most desirable by buyers.
Step 6: Know the Selling Points of Your Property
When writing your advertisements for websites or brochures, make sure to include basic information about the house: the price, number of bedrooms, number of bathrooms, lot size, location, and any specific details that make the house special to potential buyers - its age, style, building materials, yard, garden or trees are just a few such items.
Look at other listings on real estate websites, Craigslist, or other sites to get an idea of the details sellers and agents are including. For example, they might mention things you didn't think about, like oversized windows, stainless steel appliances, and granite countertops.
Step 7: Negotiate With the Buyer Yourself
You've found a buyer. Now what? A buyer will submit a contract to the seller. The seller can accept the offer, or revise the contract with the seller's preferences and resubmit it to the buyer. Until both parties agree and sign a contract, the process continues. Most states have a standard contract for real estate purchases. If you are not familiar with the contract, as with any contract, you should have it reviewed by an attorney.
Step 8: Be Sure to Comply With All Laws in Your Area
Some laws apply to the sale of a home no matter where you live, such as the Fair Housing Act. The Fair Housing Act stipulates that sellers cannot discriminate against buyers for reasons including race, religion, and sex. While you can find contracts and other agreements online, they aren't specific to your unique situation, so it would be a good idea to have a real estate attorney review all documents and contracts related to your home's sale.
Step 9: Pick the Right Time to Sell Your Home
The best time to sell a home is usually spring and summer. However, because of that, buyers can be pickier as more homes will be on the market at those times.
What Does a Real Estate Agent Actually Do?
Real estate agents do essentially four things to earn a commission. An agent lists your house on the local MLS, markets your house with fliers, brochures, ads and a website; arranges showings of your house and may host open house events; and acts as an intermediary when negotiations between a buyer and seller are entered, and accompanies you at the closing. Agents don't get paid until they close a deal, so it is in their best interest to close a deal.
Here Are 5 Tips for Selling Your Home:
Prepare your house to be marketed. Remember, you're looking to make your house appealing to a new buyer, not just a comfortable place to visit like a guest.
Price your house competitively, especially during the spring and summer when most homes are sold.
Get a flat fee listing on your local MLS, so that your home can be searchable online by agents as well as prospective buyers, nationwide.
Market your house by listing it online, with a website, photographs, and even yard signs and curb appeal as well as by "staging" it as a potential home for buyers inside.
Know your home's selling points. You know your home better than anyone else, so you know what inspired you to buy it in the first place and what you've done to it that might inspire someone else to want to buy it.