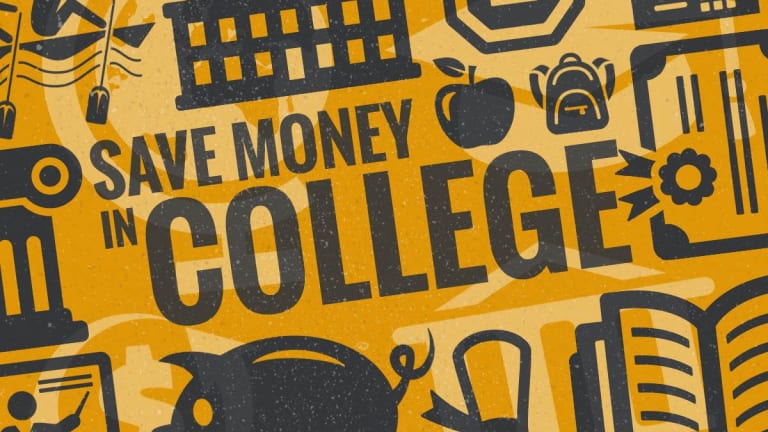 31 Ways to Save Money in College
Saving money while in college may be easier than you think, as long as you're creative and diligent about stashing cash away.
Saving money in college seems at odds at everything we know -- and everything the media throws at us -- about college and money.
Think about it. Conventional wisdom has it that the only financial issue about going to college is affording it in the first place. After tuition, room and board, loans, grants, 529 accounts, and scholarships, saving for college while in college is low on the higher education priority list.
Skip ahead to our 31 ways to save money in college.
That's unfortunate, since saving money while in college offers two huge benefits:
It builds up much-needed financial savings for college students to afford the lifestyle needed to succeed on the university scene.
Saving money while in college can build good personal financial habits -- regular savings, living prudently and getting creative about saving cash -- that last a lifetime.
There's data that backs this sentiment up. A University of Kansas study notes that opening a bank account early in life sets the table for increased financial account ownership later in life. Additionally, saving money as a teenager is a gateway to a diverse and highly profitable investment portfolio as an adult.
In short, the sooner one develops good savings habits, the better off that person will be financially as he or she builds on that early platform of saving money on a regular basis.
Studies show that this generation of college students graduates with more credit card debt, more student loan debt and a lack of awareness on key personal financial issues like discretionary spending, more so than previous generations.
Parents can only help so much with in-college financial costs.
A recent USA Today report notes that most parents who have contributed to their child's tuition and room and board only saved less than $10,000. That suggests there's not much cash, if any, left over for living expenses while their student is on campus.
With college tuition and fee costs soaring to over $25,000 for public colleges and universities, and over $34,000 for private colleges, you can't blame parents for pulling out empty pockets when their college student is looking for a few extra bucks.
How to Save Money in College
Facing an uphill climb, it's increasingly the obligation of the college student to come up with the money they need to have a decent lifestyle in their college years.
To get that campaign airborne, try the following college savings tips, from both a "defense" and "offense" money management model:
14 defensive ways to save money in college
Get the right bank. College towns usually have several banks that cater to college students (they're trying to make you a customer for life.) But banks that work with collegians usually offer things that can save you cash, like free checking accounts, no-fee ATMs (see above), free online banking, free bill pay, and free funds transfer.
Sign up for coupon alerts. Sites like PromoCodes.com allow cash-starved collegians to have coupons sent right to their email inbox. They also have discounts for popular back-to-school clothing retailers like Kohl's, eBay, Macy's and Lands' End.
Buy used or rent. It's not just about saving on textbooks. The savings potential is also significant when buying used electronics, like a refurbished model. Sometimes a new model of a camera, smart phone or computer is rated lower by reviewers than the model it replaces, and it could even mean the original owner simply opened the box and returned it without use. Take full advantage when you're buying the digital tools you'll need on campus.
Save with smart fin-tech apps. Personal financial apps like Mint.com can be a helpful, free tool that lets you capture the activity from all of your accounts - bank, credit cards, and even investments - in one place and access remotely. It is a "backward" look at what already happened and you can put in a budget, set up alerts for due dates and overspending, etc.
Curb spending one item at a time. Cut out one thing on a monthly basis and put that money toward savings. For example, cut those daily latte's, or pricey Uber rides on the weekend. They all add up, and cutting them one at a time can add big bucks to your bank account on a monthly basis.
Be smart about credit. Credit health is important -- even for a college student just getting started in their financial lives. Thus, college students should learn about the importance of a good credit score and the importance of establishing a good credit history. Use free credit monitoring tools like Credit Karma, which allows users to check their score as often as they want, educates around the key factors that go into credit scores, and simulates the impact of potential financial decisions on your score.
Protect your personal information. At a glance, protecting your digital data may not seem like a money saver -- but it is. Identify theft is a growing issue among college students, who don't feel vulnerable to data hackers, but can be easily hacked and lose key data like social security numbers, bank account numbers, and credit card numbers. Be especially careful in safeguarding your social security numbers and leaving personal documents lying around. College students should check credit card and bank accounts regularly for any suspicious activity. If not, and their data is hacked, their bank account may drain quickly.
Be an early bird. Pay interest on your student loan while you're still in school. By paying your loan interest now, you can save thousands of dollars in accumulated interest down the road. (Think of interest on a loan as a snowball rolling down the hill, growing bigger and bigger the farther it goes). For a total loan of $20,000, interest payments should only be about $20 per month. Start taking care of it now and save big bucks down the road for doing so.
Pay your bills on time to save on fees and penalties. Credit card companies charge errant customers hefty fees for minor infractions. Pay your bill a day late and you could get slapped with a much as a $39 fee. If the fee pushes you over your credit limit, bang, another $29 can hit your account. That's a $68 dollar hit - a substantial amount for a college student.
Keep your Starbucks habit in check. Stay away from costly coffee breaks. A $3.50 latte at Starbucks every day will cost you $750 annually.
Keep ATM at Arm's Length. Try not to visit an ATM machine more than once per week. Get out of the habit of using your bank card and into the habit of making your money last longer.
Avoid apartment late fees. Getting your own off-campus apartment? Okay, great. Just pay your rent and utility bills on time (late payments can eat into your household budget.) Late rental fees, in particular, can be as much as $50 per charge.
Hit the road, smartly. Traveling home for the holidays, or just to another college to meet a friend? If you can't get a free ride, check out Greyhound or Amtrak - they both offer good student travel discounts.
Keep any car you have away from campus -- ideally in your parent's garage.  Car costs add up for things like parking, parking tickets, maintenance and repairs, and gasoline. Get a second-hand bike instead.
17 offensive ways to save money in college
Take advantage of student discounts. A college ID card can mean big savings to students. Retailers like Apple, Microsoft and Dell offer student-only pricing on laptops, and often attach a free gift card to the purchase for printers, e-books or apps. Hunt for these deals during non-holiday seasons (when items are more expensive) when college-oriented products are expected to reach their lowest price.
Automate Your Savings Approach.  Investment apps like Acorns allow you to build big savings a few cents at a time (or more) by investing in the background of your life -- just connect your debit and credit cards, and it rounds up your purchases to the nearest dollar into a diversified ETF fund. Plus, it's free for college students (fees are waived,) making it a great way to start saving when you're still an undergrad.
Download your discounts. Go ahead and download those free smartphone apps that steer collegians to discounted deals. For example, Amazon offers both new and used books for less than what you might find at your school. CampusSpecial helps you find the best deals around your campus and RetailMeNot allow college students to hold hundreds (even thousands) of coupons in your pocket at once.
Be smart about cash windfalls. If you have a one-time financial gain coming (like a tax refund, a cash gift from a grandparent or relative, or proceeds from a garage sale), put it toward your collegiate emergency savings fund.
Get a secured credit card with a $500 limit. A secured credit card is tied to a blocked savings account with the secured amount of money on hold. This allows a college student to learn how to pay off a credit card, manage a balance, and build his or her credit score with very little risk.
Test Out. With college courses clocking in at several thousand dollars apiece, ask your college about "testing out" of a class and earn class credits that way. Or, take a similar class over the summer at a local community college for a much lower price and transfer the credits -- and save thousands in the process.
Rent your appliances. If you're in a dorm room that allows for appliances, or at an off-campus apartment, stick to renting appliances like microwaves, vacuums or air conditioners. Better yet, get a fridge or microwave from your parents, or from a non-profit like Habitat for Humanity, which offers low prices for appliances.
Campus amenities can save cash. Most colleges have their own gyms and offer a wide menu of social activities like movie nights, high-profile speakers, and sports events. Your tuition covers these costs, so why not take full advantage?
Move money to your savings account. Once you've got some cash on hand thanks to all of your great savings moves, set up an automatic transfer of $25-$50 once per month out of the checking account into a closed savings account. This allows college students to pay themselves first and have an account for emergencies.
Find a credit card that best suits your spending with reward points. Be sure to use it like a debit card and pay it off at the end of every month. You can use the accumulated points on cash back, traveling and build credit at the same time.
Set a weekly savings goal. Each week, transfer $10 to a savings account, and you'll have $500 in a year. Or, try saving 10% of all income received, using the same savings account transferal. Whatever the percent is, pick what you can do consistently and stick to it, savings-wise.
Get creative with generating extra income. Get organized, and sell unneeded items on eBay Craig's List or hold a yard sale. Even small proceeds can accumulate surprisingly quickly. Or you can wait tables, babysit, tutor, do yard work or take on other part-time work where you can devote that income to savings.
Redeem credit card rewards. Have a credit card? Check your credit card statements to see how many rewards "points" you have. Then visit your credit card company's website to find out if you can convert the rewards into cash or gift cards. Some credit cards even double the value of your rewards at specific retailers.
Play "all in the family." Why not ask your family members to help pay for school? Instead of a microwave oven or a set of golf clubs for your high school graduation gift, ask for money for college. Take the money and stash it away in a savings account for use on campus. If you don't trust yourself with the savings account have mom or dad do it for you.
Ditch television and cable. There's no need for a TV or for cable TV in this, the digital age. Get a Netflix or Hulu account for a few bucks a month and start streaming quality shows right on your computer. Better yet, get on mom and dad's family video plan -- you wouldn't be the first college student to do that.
Get a quality academic services job. Be a tutor, or offer to help a graduate student write his or her dissertation. The pay is decent and your building credentials for a good career path - companies love smart and entrepreneurial-minded employees.
Be an R.A. Collegiate resident advisors can earn extra cash and build a reputation as a leader that future employees will appreciate. Become an R.A. and cash in on both accounts.