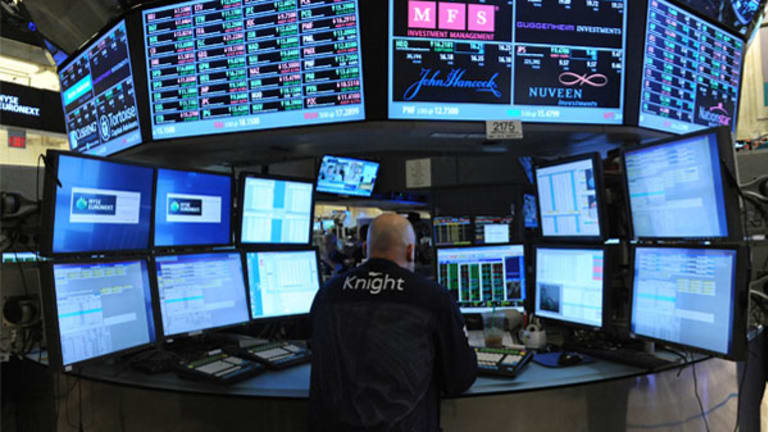 Options Mailbag: Three Ways to Play a Selloff
A reader looking to anticipate a decline has several spread options.
Welcome back to the Options Mailbag. Today, a question from Pete on playing a selloff:
Hello Steven. If you were looking for a large down move in say the Intercontinental Exchange (ICE) - Get Intercontinental Exchange Inc. Report, and wanted to limit your risk, what options would you look at to play it? I am not looking for a recommendation, just trying to learn more about spreads. -- Pete
Choosing the right option strategy is highly dependent on several factors and will vary based on the assumptions or expectations of your investment thesis. The two most important items are the anticipated magnitude of the price move and the amount of time it take for such a move to occur. So one of the first things you need to do is define your expectations, such as what constitutes a "large" down move and your exact risk threshold, meaning what is the maximum loss you are willing or able to accept.
If you are expecting shares of a company to decline sharply in a short period of time, such as a 15% single day sometime in the next few weeks, the strategy employed will be completely different than if you believe that the stock will drift significantly lower over the next year because of general deterioration of its business.
For this exercise, let's assume you're anticipating a sharp decline in a relatively short time span. The simplest way to go would be to just buy some put options. This will limit risk to the cost of the option, but provide an unlimited profit potential. It will also benefit from the increase in implied volatility that is likely to accompany a large and sudden drop in share price.
For example, with ICE currently trading around $130 a share, a 15% or $20 decline would bring the stock down $110 a share. Today, one could buy the March $125 put for about $4 a contract, so assuming ICE drops to $110 by the March 21 expiration, the option would be worth $15, resulting in a $11 profit. That is just shy of a 3-1 payoff, which is a good rule of thumb risk/reward profile for establishing what I'd rank as a fairly speculative position.
A strategy that benefits from a sudden sharp decline would be a
back spread, which consists of buying out-of the-money options and selling closer-to-the-money options on a ratio. The goal is to own the largest ratio of number of contracts you own relative to those you are short for as little cost as possible.
For example you can buy four March $115 puts and sell one $130 put for even money. This offers unlimited profits and benefits from an increase in implied volatility. The advantage of this strategy is that if you are wrong, and shares of ICE rise or remain above $130, you will not lose any money, as all the options will expire worthless. The danger is if the stock is between $110 and $130 at expiration that you will incur a substantial loss. This strategy should only be employed if one expects a "very large decline" in a very short time frame.
A prudent middle ground to reduce your risk you could use a
vertical spread, which would have you buy the $125 put and sell the March $110 put for $1 or a net debit of $3 for the spread. This improves your risk reward, in that you can now make $12 while only risking $3, or a 4-1 ratio. But it comes with some drawbacks, most notably that the profit is capped at $12 no matter how far shares of ICE decline, and you cannot achieve the maximum profit until the spread is deep in the money and a day or two away from expiration.
This type of vertical spread can also be appropriate if expectations are for a slower drift downward over a longer period in time. For example, one can buy the September $130/$100 puts spread for about $11 net debit. This means if shares of ICE are below $100 come September, you can achieve a maximum profit of $19 or close to a 1-2 risk reward.
Two good Web sites that provide examples of option-pricing behavior of different strategies under various scenarios are the Chartbender
education page and it also offers a downloadable
Option Strategy Guide . Another good site is
SpreadTradeSystems, which offers online education and some sample examples of how and when to use different spreads.
Remember, there is no one right way; the goal is to try to choose the strategy that best aligns with your expectations.
Steve Smith writes the Options Alerts newsletter for TheStreet.com. Each week Smith prepares a winning cocktail of options trades for his subscribers. He's currently got options plays on a variety of companies including Apple and Joy Global as well as the Spyder Trust.
Steven Smith writes regularly for TheStreet.com. In keeping with TSC's editorial policy, he doesn't own or short individual stocks. He also doesn't invest in hedge funds or other private investment partnerships. He was a seatholding member of the Chicago Board of Trade (CBOT) and the Chicago Board Options Exchange (CBOE) from May 1989 to August 1995. During that six-year period, he traded multiple markets for his own personal account and acted as an executing broker for third-party accounts. He appreciates your feedback;
to send him an email.
To read more of Steve Smith's options ideas take a free trial to
.