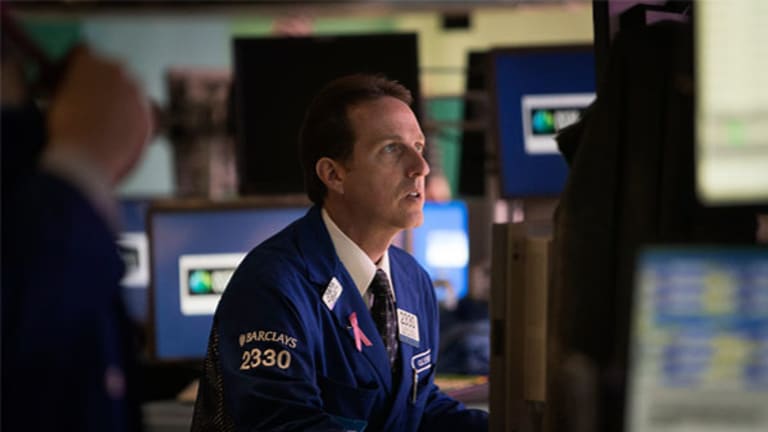 Options Mailbag: How to Trade 'Em, How to Win
Also, see how you can make an Apple trade work for you.
In an attempt to avoid carpal tunnel syndrome and hopefully reach those too bashful to email me, I am rebooting the weekend edition of the Options Mailbag in which I answer reader questions. I'm going to begin this 2.0 version by addressing the most frequently asked question -- namely, "Where can I find educational resources and learn more about options?"
But before I dive into that, for those who want some more reading material, I'll direct you to the
Archives of Options Forum, which was the first iteration of this Mailbag, which ran from its launch in January 2003 though 2005.
This link provides more than 100 articles in which I answered readers' questions, so you have a fair amount to chew on through next week. I'm glad this will once again become a weekly feature because there are always new questions, variations on answers and, of course, new readers encountering a new market environment.
Get Smart
As I mentioned, the most frequently asked questions are requests for where to find educational resources. For those are still not afraid to click after I stuck that link to 100 articles above, I suggest taking a look at
this article. It contains resources including books, software and educational Web sites and tools that are very useful no matter what your knowledge of options.
But in short, one of the best starting points is the Option Institute Council
Web site
. It has a host of educational materials, such as a FAQ section, an explanation of basic terminology and trading strategies, and recent book recommendations and software. But probably the best feature is that they have the friendliest staff who will answer specific questions. Just dial 1-888-678-4667 and tell them that Steve sent you. Anyone who has gotten me on the phone knows I'm a surly son of gun.
They will let you know what happens to your options during a merger or special dividend, whether it be
Microsoft
(MSFT) - Get Microsoft Corporation Report
, or the more-recent merger of
Global Santa Fe
(GSF)
with
Transocean
(RIG) - Get Transocean Ltd (Switzerland) Report
.
Other great educational sites -- aside from
TheStreet.com
and my
, of course -- include Optionetics, RedOptions and SpreadTrade Systems.
Cover-to-Cover Book Review
As far as books, the links above provide five or six of my favorite titles, but we're going to focus on Larry McMillans'
New Insights Into Covered Calls Writing
because covered calls or buy-writes are the second most frequently asked question.
A covered call or buy-write is a position that consists of owning stock and selling short an equal number of related call options. For example, if one owns 1,000 shares of
Apple
(AAPL) - Get Apple Inc. Report
, one might want to sell 10 March $130 call options. Because one owns the underlying stock, the short calls are considered covered, or present a limit risk.
This strategy is often employed as a means of generating income or setting a price target at which one would be willing to sell the stock. In the example above, with Apple trading around $125, one can sell the March $130 call for around $6 a contract. Profits are capped at $11, or 8.8%, if AAPL is above $130 on the March expiration. As an means of generating passive income, one can earn $6, or about 4.8%, if shares of Apple just stay at $125 for the next five weeks. Not bad.
But don't think this is the conservative strategy it is often proclaimed to be. Its risk/reward profile is nearly the same as selling short the March $120 put for a $6 a contract; that represents your maximum profit if shares of Apple are above $120 on the March expiration. This may surprise some people who have taught that naked short-selling is the most risky option strategy and should never be used.
In this case, the tradeoff is that a covered call offers a larger profit potential but actually has a higher risk. It has a downside breakeven of $119 -- as the stock declines, the losses mount. Selling the $120 put naked gives you a break-even of $114 a share; as the stock declines below that point your losses mount.
In general, when screening for covered-call candidates, I look for stocks that have been beaten down but are approaching a support level on the chart and have relatively high implied volatility.
Here are a few names that currently look attractive -- I don't think they will hit their downside break-even point.
I hate to endorse a market that could be a bursting bubble, but the
iShares FSTE/Xinhua
(FXI) - Get iShares China Large-Cap ETF Report
, a Chinese exchange ETF, is currently trading around $141.50 and has support at the $137 level. One can sell the March $150 call for about $8 a contract.
NYSE Euronext
(NYX)
has sold off sharply, and shares now sit at $69, which offers moderate support. One can sell the March $72 call for around $2.50 a contract. That gives you a maximum profit or an effective sale price of $74.50, a return of $5, or 7.5%, over the next five weeks. It is also exposed to almost unlimited losses -- the stock can't go below zero should the shares decline below the $66.50 downside break-even point. Still, that's a reasonable 3.5% cushion for a stock that looks to be oversold.
Questions Lead to Questions
As with anything, what you get out of the source material for educating yourself on options will be dependent on the amount of time you invest in the process. And unlike other subjects, option education tends to be circular, meaning that concepts, such as the greeks, which are introduced first, will only gain meaning as you learn more and see strategies in action. So questions will lead to questions.
To that end, please keep the questions coming, and hopefully we can all learn together.
Steve Smith writes the Options Alerts newsletter for TheStreet.com. Each week Smith prepares a winning cocktail of options trades for his subscribers. He's currently got options plays on a variety of companies including Apple, Forest Labs and Google.
Steven Smith writes regularly for TheStreet.com. In keeping with TSC's editorial policy, he doesn't own or short individual stocks. He also doesn't invest in hedge funds or other private investment partnerships. He was a seatholding member of the Chicago Board of Trade (CBOT) and the Chicago Board Options Exchange (CBOE) from May 1989 to August 1995. During that six-year period, he traded multiple markets for his own personal account and acted as an executing broker for third-party accounts. He appreciates your feedback;
to send him an email.
To read more of Steve Smith's options ideas take a free trial to
.