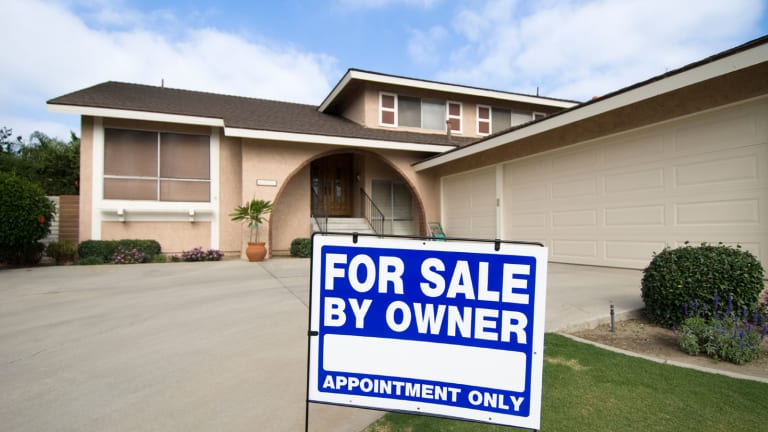 There Aren't Enough Homes for Sale in the U.S.
With homes for sale at an all-time low, brokers are urging buyers to get creative in order to land a home.
Confronted with a bevy of competing bids, a former Marine recently deployed some lingo from his days with the Corps. to land a home in a nice Chicago suburb.
As he pulled into the driveway of the house he was looking at, the buyer noticed the Marine insignia on the license plate of the car in the garage.
So when he made his offer, the buyer also tucked a personal letter into the envelope, complete with a picture of his wife, two children and their dog. And, at the very end, he spelled out the Marine rallying cry: "oorah."
The appeal worked, beating out five other offers, noted Lamar Austin, a Redfin agent in the Windy City who worked with the buyer.
"I know for a fact that the letter had a lot to do with it, the fact that they both were in the service and they were both in the Marines," Austin says. "We beat out the other parties."
Such are the lengths buyers are going in order to beat out the competition at a time when the number of homes for sale across the country has sunk to a record low.
As we head into the traditional spring sales season, buyers face slim pickings, not just in perpetually hot markets like Boston, San Francisco, and New York, but also in Chicago, Denver, Atlanta and even Las Vegas, devastated a decade ago with the collapse of the real estate market.
And in order to have a fair chance of actually being able to buy a home, brokers are urging their clients to pull out all the stops, from letters to hyper-aggressive bidding tactics.
"I have been a real estate broker since 1984 and just about every experienced agent that I speak with agrees that this is one the most challenging markets for buyers that we have ever seen," says Sam Schneiderman, vice president of the Massachusetts Association of Buyer Agents and principal broker of the Greater Boston Home Team.
The number of homes for sale across the U.S. hit an all-time low at the end of 2017, dropping below 1.5 million, down 10% from the year before, according to the National Association of Realtors.
And while the build-up to the spring selling season usually sees a flood of new homes hit the market, listings actually dropped 8% in February compared to the same month last year, the trade group notes.
A number of factors are driving the shortage, but years of anemic home construction in the aftermath of the Great Recession combined with rising demand are increasingly forcing homebuyers to battle it out in multiple-bid situations.
In Chicago, Lamar Austin, a Redfin agent, says it is not uncommon for condos in new luxury high-rises in coveted neighborhoods like Lincoln Park and the South Loop and West Loop to get four or five bids.
It can easily take two months for a buyer to land something -- two months of weekend open houses and offers as well as time spent during the week pursuing hot leads.
"It's very tight," Austin says. "We go live (with a listing) on Thursday and by Friday or Saturday there are multiple offers already."
Kimberly Johnston, managing broker of the Kimberly Johnston Group, in Seattle, says five or six offers are being made for every available home.
"These are crazy, crazy times," Johnston says. "We are still experiencing multiple offers but this year has been more competitive than last year. It's the same group of buyers chasing the same houses. When they miss out on one, they go higher on the next one."
In a market where sellers hold most of the cards, buyers must be bold, creative and aggressive to make their offers stand out, brokers say.
One basic requisite: Speed. Some buyers, especially first-timers, come to the process having watched HGTV's "House Hunters" and other shows in which buyers have oodles of time to agonize over two or three beautiful homes, Austin notes.
Of course, there are also no other pesky competing buyers in these shows to spoil the fantasy, he adds.
The first thing new buyers learn is that they have to be prepared to make an offer as soon as a house they like hits the market.
"We are doing a lot of educating," Austin says. "A large part of these buyers are first-time buyers who have no idea of what a multiple-bid situation is."
In order to be able to fire off a bid at a moment's notice, buyers first have to make sure they have all their paperwork -- financial and otherwise -- ready to go, notes Elaine Bannigan, broker owner of Pinnacle Residential Properties in Wellesley.
That means getting pre-approved by a lender and having that pre-approval document ready to go.
"Be prepared to go see the property at a moment's notice -- DO NOT wait for public open houses," Bannigan notes. "Even if a seller does not plan on responding to an offer until after an open house, it at least gives you a chance to examine a property carefully, without a horde of others at the same time."
Buyers also need to be aggressive in bidding. That means inserting an escalation clause in your offer, stating you will beat all other offers by a specific amount -- say $1,000 -- up to a certain price.
Johnston likes to take it a step further and go big with the escalation clause, offering to top other offers by $5,000 or even $10,000.
"I have found if you go up $10,000 that tends to trump everyone else," she says.
And if you are in a solid financial position, be prepared to flex your money muscles. That means putting down a large deposit for the "earnest money" that is required once you sign a contract to show you are serious about buying.
While traditionally it has not been a huge amount of money, some buyers are offering to put down large amounts to impress sellers with their financial strength.
Johnston says this tactic helped win the day for a young couple from California who recently moved up to the Seattle area after the husband got a job at a local tech company.
The couple put down $100,000 in nonrefundable earnest money, while offering more than $1.5 million for a two-story, 1980s home that was listed at just under $1.3 million. There were 11 offers.
"We did win -- they had to come in super aggressive," Johnston says.
Still, Redfin's Austin says the personal letter remains his favorite tactic, since it enables the buyer to potentially make an emotional connection with the homeowner.
"Maybe they know there is a dog there and they are dog lovers. Or maybe they saw a Michigan State flag (during the open house) and they went to Michigan State," Austin notes. "Write a heartfelt letter."