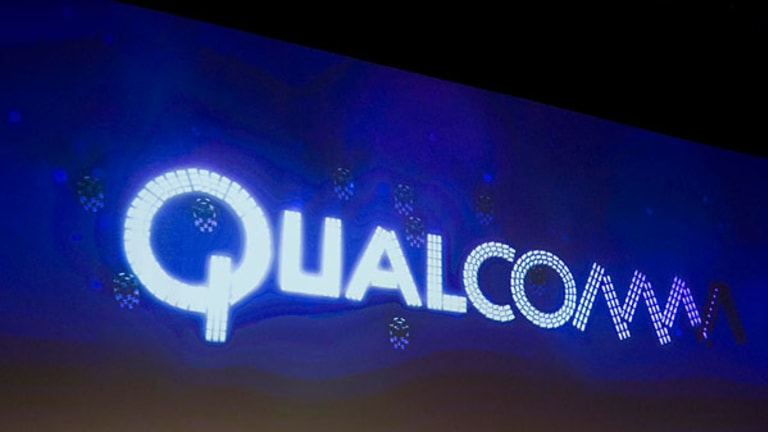 'No-Brainer': Qualcomm Is the Best Bargain on the Market
Investors can still get this stock at just 13 times fiscal 2015 estimates. This makes Qualcomm the best bargain on the market today -- even after the recent 15% gains.
NEW YORK (TheStreet) -- Last August I told you that chip giant Qualcomm (QCOM) - Get Qualcomm Inc Report was the best way to play the semiconductor recovery. At the time, Qualcomm shares traded around $65. The stock closed Tuesday at $76.71, posting close to 20% gains since my August buy recommendation.
Last summer, after two years of strong growth, the entire chip sector was being decimated by low average selling prices. Mobile devices had become commoditized. Even worse, those in the higher-end category had become saturated. With very little growth in sight, the chip spree was seemingly over. But that was the time to buy.
Qualcomm was the obvious choice.
In August I said:
"I continue to believe in Qualcomm's business and the stock, which seems cheap at current levels. I would be adding shares until the company shows meaningful signs of slowing growth. The stock has enough momentum to reach $75 to $80 by the end of the year -- if, for no other reason than the fact that regardless of who comes out on top in the mobile race, Qualcomm wins."
Qualcomm stock ended the year at $73.90. Ever since, the stock has made several new 52-week highs. Gone are the fears about chipset margins and market share losses. The company has begun to benefit from a slight recovery in average selling prices and stronger unit shipments -- precisely what I predicted would happen.
Had investors listened to TheStreet's Jim Cramer, who said on Dec. 13 that Qualcomm stock had a strong chance of hitting $80 per share, they would have made an easy 6% on that trade.
I don't deny that lately Qualcomm hasn't been as robust as it was in previous years. Even so, Qualcomm's results have been better than its closest rival. Plus, as long as the mobile devices race continues between Apple (AAPL) - Get Apple Inc. Report and Samsung (SSNLF) , there was no way for Qualcomm to lose. And that's the point Cramer was making. Qualcomm's chip is at the center of their respective devices.
Investors should seek to understand what type of advantage this presents over rivals like Intel (INTC) - Get Intel Corporation Report and, to a lesser extent, NVIDIA (NVDA) - Get NVIDIA Corporation Report -- which, according to some, is emerging as a new threat.
Meanwhile, Qualcomm's management was never asleep at the wheel. Although guidance over the past couple of quarters has come below consensus estimates, management remains committed to preserving Qualcomm's dominance -- particularly in next-generation chip technology. The Street understands this now.
Qualcomm has invested significant capital in developing a smartphone chip that works on multiple frequencies at the same time. You might have heard that Apple has finally struck its long-awaited deal with China Mobile (CHL) - Get China Mobile Ltd. Report. An assist should be credited to Qualcomm's technology.
The lack of network frequency flexibility was one of the major hiccups between Apple and China Mobile. Now Apple's iPhone has access to more growth opportunities in the world's most populous country and its growing economy.
For Qualcomm, investors have to stop underestimating the quality of the company's chips and its management. Revenue is not going to be back to robust levels any time soon. But there are still strong growth drivers on the horizon -- not the least of which is the continued worldwide adoption of smart phones and 3G and 4G technology.
The company also has the strong Qualcomm Technology Licensing portfolio, a business that's growing at close to double digits and posting operating margins of close to 90%. That's not a typo. This means that management is able to profit almost one dollar for every dollar in sales.
And considering that management just announced a 20% dividend hike and a $5 billion increase to its share repurchase plan (and with respect to Carl Icahn), Qualcomm is the real no-brainer in this market.
At the time of publication, the author was long AAPL and held no position in any of the stocks mentioned.
This article represents the opinion of a contributor and not necessarily that of TheStreet or its editorial staff.