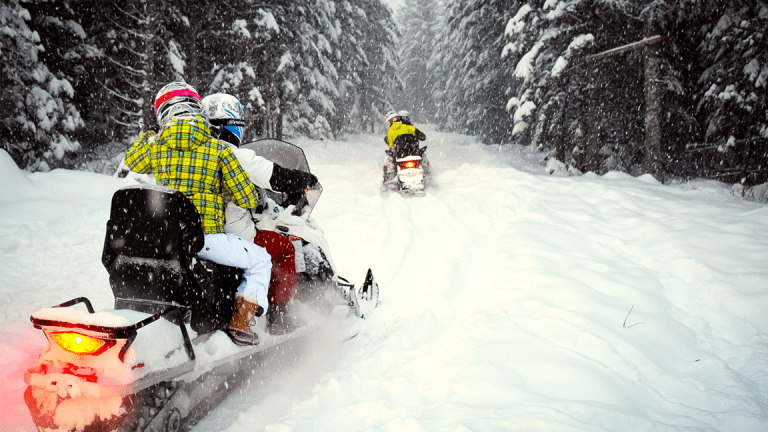 12 Must Read Articles to Make 2019 Tax Season Easier
It doesn't matter if you are a retiree, married with children or a small business person. We can all use a little help filing our taxes. Read these articles and watch these videos for expert advice.
You are reading TheStreet's Newsletter Rewind, Sign up here to get it weekly in your inbox.
March is rolling in with a bang!
There is snow, and plenty of it, covering my lawn this morning in upper Westchester, New York. And, according to our meteorologist, there is more of the white stuff is on its way tomorrow. It looks like there's still time for a few more snowmobile rides this season.
Before I go, I'm sharing with you a little help ahead of a different kind of season. I'm talking about tax season, of course.
The new tax reform law is the largest piece of tax legislation in nearly 30 years, It passed December 2017 and changed a number of key items for tax payers.
That's why TheStreet is partnering with the premiere tax expert in America, TurboTax, for an exclusive free webinar. TurboTax's Lisa Greene-Lewis joined our Tracy Byrnes and help you navigate all of the changes to the tax code in our free webinar: The Ultimate Guide to Navigating Tax Reform: Watch Our Free Webinar. Watch it here:
Plus, some of my favorite stories from TheStreet writers to help you get your tax act together. No sweat, you don't have to read it all at once. Just save this newsletter, after all, you have some time. Let's begin with the basics:
What Is Income Tax?
Income tax is, basically, the taxes put on everything you earned over the past year as income.
Taxable income is a surprisingly wide category. If you have a full-time job, that's probably going to account for the majority of your income that's going to get taxed. But it's far from the only thing that's getting taxed.
In addition to full-time income, freelance and self-employment income gets taxed, as do any unemployment benefits you receive from the government. Severance pay can also get taxed. Additional wages and tips are also subject to taxation. Essentially, income from a job is taxed - whether that job is maintained or lost.
Want to learn more from tax rates to Personal vs. Income tax? Read Income Tax: Definition, Brackets and State-By-State Differences
Watch: Five Key Tax Reform Changes. 
When Are Taxes Due For Individual 1040 Filers?
For most Americans, taxes are due on April 15 of every year. If you owe money to the IRS your payment must accompany your filing, otherwise it is considered late unless you file early. Taxpayers who file their 1040 before the deadline can update and correct their taxes, with a corrected payment, by or before April 15 with no penalty.
In 2019, this means that all taxes are due (you guessed it) on Monday, April 15. No exceptions ... unless....
Read about those exceptions here:When Are Taxes Due in 2019?

How to File Your Taxes in Your Fuzzy Slippers:
What Is Withholding?
Most Americans think of April 15 as Tax Day, that moment every year when the IRS collects its due. But this isn't entirely accurate, or even accurate at all.
In fact the IRS taxes all Americans constantly over the course of the year. For business owners and the self-employed this comes in the form of quarterly taxes. Anyone who makes their own money has to file and pay every three months, if they earn enough to owe taxes.
Workers who collect a W-2 paycheck have it a little bit simpler. Based on how you fill out your W-4 your employer estimates what percent of each paycheck you'll owe in taxes. They withhold that amount (hence the term) and pay the IRS on your behalf, again typically on a quarterly basis. The employer uses a formula provided by the IRS to determine this tax rate. (The 41 states with an income tax use a substantially similar system as well.)
This is the withholding tax, the amount of money kept out of each paycheck to cover that pay period's state and federal taxes.
Are you wondering, why does the IRS require a withholding? Get the answer here: What Is Withholding and What Does It Mean in 2019?

Filing Taxes Online
The days of filing your taxes in paper-based form, and mailing them to the IRS at 11:55 PM on April 15 are fading away.
According to IRS figures, over 126 million U.S. tax filers e-filed their own tax returns on 2018 (for the 2017 tax year.) That represented 92% of all tax returns filed in the U.S., compared to 31% in 2001.
As of May, 2018, a whopping 85.3 million taxpayers received their tax refund via direct deposit, right from the IRS into their bank account. Still unsure? That's o.k. we walk you through it here: How to File Your Taxes Online in 2019
Ask Bob: Tax Questions Answered for Retirees
Question: I am in the process of selling a rental I own this year. Are there any tax law changes that might affect my situation?
Long term capital gains have not changed under the new law (TCJA) when selling a rental property, says Tim Wyman, a certified financial planner with the Center for Financial Planning. This includes up to 25% on amounts attributable to depreciation deductions.
However, notes Wyman, there have been other changes that may affect your deductions in 2018 prior to a sale. Read more here: Ask Bob: Tax Impact of Selling Rental Property.
Here are a few more from Retirement Daily.
Don't Miss New Changes to Divorce Tax Law
Ask Bob: How Are Annuity Withdrawals Taxed?
Ask Bob: Are IRA Distributions the Same as Pension Income?
Ok, off to some outdoor fun. Don't let the snow scare you - go for a winter hike, take a few pictures and tag us @TheStreet on Twitter or Instagram.
Until next weekend,
Julie Bennett Iannuzzi
This is an excerpt from TheStreet's Newsletter Rewind. Sign up to get it weekly in your inbox here.