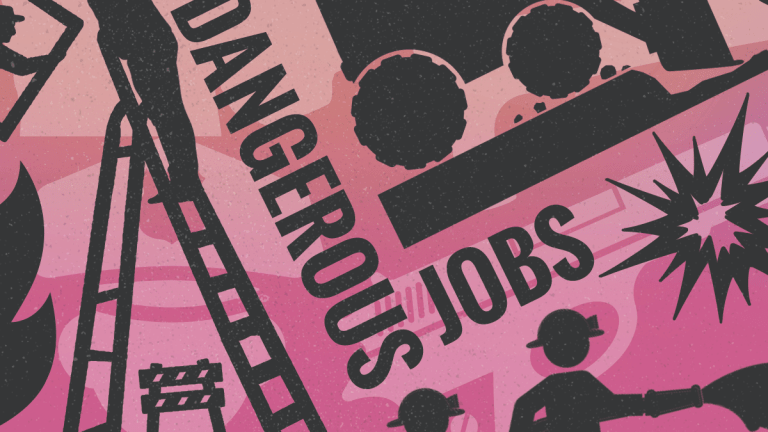 Publish date:
The 13 Most Dangerous Jobs in America
These 13 at-risk jobs are especially suited for adrenaline junkies, who don't want a desk job, but who want some thrills and chills on the job.
These 13 at-risk jobs are especially suited for adrenaline junkies, who don't want a desk job, but who want some thrills and chills on the job.
What are the most dangerous jobs in America? The fact is, there are plenty of dangerous jobs to choose from, where career professionals often risk life and limb to earn an income and provide for their families.
Which dangerous jobs offer the most risk for workers? These 13 professions top the list. (Most job fatality and job injuries are based on 2016 data from the federal government, unless otherwise stated.)
1. Military Members
On-the-job fatalities: 1,575 per year (data averages from 1980 through 2010.)
On-the-job injuries: 20,000 annually (data from 2014, when U.S. armed forces were engaged militarily in Afghanistan.)
People don't always associate that being in the military also means having a career. Yes, many armed forces members only stay for a few years, but many more stay for 20 years or more. Health-wise, armed forces members face myriad risks, including combat death and injury, training accidents (more military members are killed in training than any other instance), exposure to hazardous materials, stress, post-combat stress, and exposure to heat, cold, chemicals, and diseases in foreign lands. Career prospects in the U.S. military are strong, as demand for armed forces personnel remains robust.
2. Firefighters
On-the-job fatalities: 73 in the U.S. (in 2018, to date.)
On-the-job injuries: 62,085 in 2016.
Firefighters are a unique and heroic breed, running into fiery buildings when everyone else is running out. That said, firefighters face abundant risks in their profession, including heart disease, cancer, respiratory illnesses, stress, burns, smoke inhalation, and injuries from collapsing buildings. Firefighters don't just deal with burning structures - they also act as first responders in natural disasters, wildfires, hurricane and storm-related disasters, and traffic accidents. With public city and town budgets strained, demand for firefighters is in "slow growth" mode in 2018, growing at only 5%, according to government figures.
3. Logging Workers
On-the-job fatalities: 136 per 100,000 logging professionals (based on 2016 data.)
On-the-job injuries: 900 (annual, based on 2016 data.)
Dodging falling trees 100 feet high isn't the only risk professional loggers take on the job. Working with heavy machinery (especially chainsaws), working on dangerous terrain and in inclement weather also add to the "life and limb" risk for logging workers. Plus, when a logger does get injured, chances are the nearest doctor or hospital is miles away. With the world going paperless, and demand for logging waning, industry job growth is expected to slide by 13% by 2026.
4. Fishing Workers
On-the-job fatalities: 86 per 100,000 fishing industry professionals.
On-the-job injuries: 610
Making a living on the high seas is another risky endeavor, as fishing professionals have a fatality rate that's 29 times higher than the national average. Risks come primarily from overexertion, coming into contact with dangerous objects (like rigs or hooks), and falling overboard. Like loggers, volatile weather also threatens fishing industry workers. Again, when a fisher does fall to injury or illness, the nearest medical center or doctors' office may be hundreds of miles away. A rising demand for seafood across the globe ensures a healthy job outlook for commercial fisherman, with demand growing at 11% according to the U.S. government.
5. Aircraft Pilots
On-the-job fatalities: 55 per 100,000 aircraft professionals
On-the-job injuries: 470
If you think making a living in mountaintop forests or hundreds of miles out to sea is tough, try earning a buck flying the often not-so-friendly skies. That's exactly what aircraft pilots do, and thanks to an arduous schedule, dangerous weather conditions, turbulence, faulty aircraft, and risk of accidents, their risk of injury or worse is significantly higher than traditional professions. So-called "bush pilots", especially in Alaska, have the most risk of death or injury, according to industry statistics. Maybe that's one big reason why job growth is slower for aircraft pilots - demand will rise by 3% through 2026.
6. Roofing Workers
On-the-job fatalities: 48.6 per 100,000 roofing industry professionals.
On-the-job injuries: 3,150
Earning a paycheck 30 feet in the air on a slanted roof is par for the course for the great American roofer. The job is hard enough maintaining one's balance on a rooftop, but roofers are also expected to carry heavy tools and equipment up and down ladders, and spend much of their time on their knees at work, which causes back and lower body injuries. The possibility of slipping and falling off a roof is always there for roofers, making it one of the riskiest jobs in America. The job outlook for roofers is strong, with career growth moving at an 11% clip in the next decade, according to the federal government.
7. Metal Workers
On-the-job fatalities: 26 per 100,000 metal professionals
On-the-job injuries: 1,440
Iron and steel workers also face great risks on the job. They often work high in the air on buildings and bridges, making heavy metal work a risky proposition, as falls and slips can result in major injury - or worse. Iron and steel workers also come into contact with heavy machinery, power tools, and other on-the-job threats, often while working in extreme weather. Iron and steel workers are expected to benefit from a roaring economy, with job demand growing by 13% by 2016.
8. Truck Drivers
On-the-job fatalities: 24.7 per 100,000 trucking and transportation professionals
On-the-job injuries: 80.180
Trucking is one industry that remains in high demand. In fact, according to government figures, the industry expects to boost its job ranks by 330,000 new truck drivers by 2020. All of those drivers should recognize the safety risks on the job, however. Truck drivers are involved in 25% of all vehicle accidents in the U.S., and have to deal with hazardous road conditions, lack of sleep, extreme weather conditions, and other risks. Overall, truck drivers are 233% more likely to be hurt on the job than other workers, according to a government study. Heavy vehicle and tractor-trailer jobs are expected to grow by 6% over the next eight years.
9. Agricultural Workers
On-the-job fatalities: 23.1 per 100,000 workers.
On-the-job injuries: One study shows 46.3% of farm workers have been injured on the job.
Farmworkers face a host of health and safety hazards on the job, including vehicle accidents, heat exposure, slips and falls, muscle injuries, exposure to heavy construction vehicles and tools, chemicals and pesticides, and often substandard working conditions. Heat-related health issues are at the top of the list of farm worker safety risks, followed by transportation accidents, and falls off ladders, trees, and other structures. Hiring is on the uptick for farm and agricultural workers, but much of the work is seasonal, and year-round work may not be in the cards.
10. Trash and Recycling Workers
On-the-job fatalities: 34 per 100,000 workers
On-the-job injuries: 20,100 non-fatal workplace injuries.
Trash and recycling workers face a fatality risk that's seven times higher than traditional jobs, and had the fifth highest fatality risk of any job in the U.S. in 2016. Broken bones, muscle strains, and injuries related to falling off a trash or recycling truck are all part of the job. That's not to mention injuries suffered by lifting heavy barrels, cans and bins, along with being injured by sharp objects or getting sick from toxic chemicals that can lurk in trash and recycling pick-ups. Going forward, commercial drivers, waste operator technicians, and recycling supervisors are expected to be in high demand in the trash and recycling sector.
11. Grounds Workers/Maintenance Workers/Laborers
On-the-job fatalities: 15.1 per 100,000 workers.
On-the-job injuries: 24,650
Grounds workers and laborers don't get paid that much in the first place, but they should earn hazard pay for their work on construction sites, office buildings, public parks, and private homes and yards. The most common injury risk for laborers is falling (from ladders and scaffoldings, usually), being hit with objects and machinery, being injured using heavy power tools, suffering bee stings and bug bites, and falling ill when working in extreme weather - especially extreme heat. The job outlook for laborers is solid, as the U.S. economy is in full flight, leading to more demand for maintenance workers, landscapers, and other workers, as consumers and companies are more likely to spend more on upgrades and maintenance on their homes and businesses.
12. Police Officers/Law Enforcement
On-the-job fatalities: 14.6 per 100,000 law enforcement professionals
On-the-job injuries: 28,740
The risks of a career as a police officer or sheriff officer are obvious. Consider the daily threats of dangerous criminals wielding guns, knives and other weapons, being hit by passing cars while writing out citations or dealing with a roadside accident scene, being injured in a high-speed vehicle chase, police training accidents, and suffering illnesses and disease stemming from stress, lack of sleep, and drug and alcohol addiction (all too common for law enforcement professionals.) Suicide rates are high for police and sheriff professionals, as lower government budgets place an extra strain on overworked police officers on the job. Police offers are in demand, though, in large urban areas, and jobs are expected to grow by 7% in the next decade.
13. Electrical/Power Line Technicians/Line Workers
On-the-job fatalities: 14.6 per 100,000 electrical industry technicians
On-the-job injuries: 1,710
Anyone working in a high-voltage risk area has enough to worry about without having angst over working high in the air fixing and maintaining power lines, and repairing power stations. Falling off of maintenance buckets, ladders, or electric structures is always a threat, as is being burnt or electrocuted on the job. Fixing downed power lines in a storm situation is especially risky, as some downed wires are still "live" and can cause severe injury or death if a technician comes in contact with them. Job prospects in the electric technician sector are solid and growing at an 8% clip through 2026, according to government figures.
Why Would You Take a Dangerous Job?
People who fix power lines high in the air or run into burning buildings are certainly a hardy breed, and there are all kinds of reasons why making a career out of risk is a great idea. Here are some reasons why:
It's an adrenaline rush. There's nothing boring about running into a dark alley after a criminal, like a police officer does, or engaging the enemy in far-off lands, as a member of the armed forces does. The credo for career risk-takers is clear, compelling, and concise. Live for the moment.
The pay is good. Typically, higher risk jobs are higher paying jobs, as Americans who put their lives on the line usually enjoy good paydays and often benefit from abundant opportunities for overtime.
Fresh air and exercise. Most of the at-risk jobs cited above are outside, in Mother Nature's realm. Often, that equates to plenty of fresh air and physical labor, job benefits that desk jockeys don't enjoy.