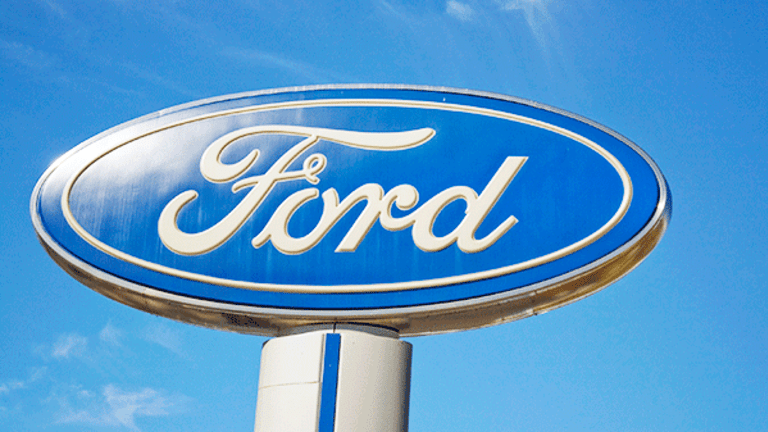 Ford Has a 23-Year-Old Whiz Kid Helping to Shape Its Future
Ford's Victoria Schein is making history one patent at a time and encouraging young girls to do the same.
So what were you doing at 23?
Granted, I was in graduate school, but I was still living at home and borrowing money from my mother on the weekends. Not Victoria Schein. At 23, she's already a Ford (F) - Get Ford Motor Company Report research engineer with at least 15 patents under her belt.
If that's notAlpha Rising, I don't know what is.
She's creating things that don't exist and "making history, one patent at a time," she says. And that makes me feel like a slacker. Her dad was an engineer and was always working on cars, so she was surrounded by that world from a very young age.
"I was fascinated with math, science and art. I wanted to play with geometric shapes...and create art pieces [that could] stand and do things," says Schein.
So thanks to hours of playing with Legos and exposure to car magazines, Schein decided she wanted to be a car designer. She studied engineering and art at the all-female Smith College, in Northampton, Mass. and found an internship at Ford Motor Company online. A year later, she is learning, being challenged and already dealing with being the only girl in the room.
Ford Let Us Drive Its New Super Pickup Truck and We Couldn't Believe the Rip Your Face Off Power
"I learned that it's ok to be the only female - I just have to really prove myself and prove that I can do this."
Ford is supporting her along the way and encouraging young girls to follow her. The auto company has taken an active role in promoting STEM and STEAM (Science, Technology, Engineering, Art and Math) programs to high school kids around the country. And she even supports Robotics teams for grades K-12.
"We need more girls in STEM and STEAM," says Schein. "It's cool to code."
Sure is. Ford also is involved with Girls Who Code, an organization that encourages girls to love and learn technology and is 40,000 girls strong. Because let's face it, encouraging the artistic right side of the brain to work along with the logical left side can really push kids to be more innovative and inventive -- and that can lead them to the careers of the future.
Schein is the future.
Ford's 2018 Mustang Will Have Tear Your Face Off Horsepower, but Also a Magical Burnout Button
Granted, she's a triplet and was a competitive gymnast all through high school, so she knows how to fight for what she wants. But she's channeled that gumption into a desire to learn. "For me it's about loving learning new things even if it's something that's so different and something that sometimes is really challenging, but the end goal is amazing, being able to learn something new," she says.
Schein will continue to well...shine...and amaze.
And you will continue to hear her name. She is our #AlphaRising and we're hoping she brings a lot of young girls with her.
Watch More with TheStreet: