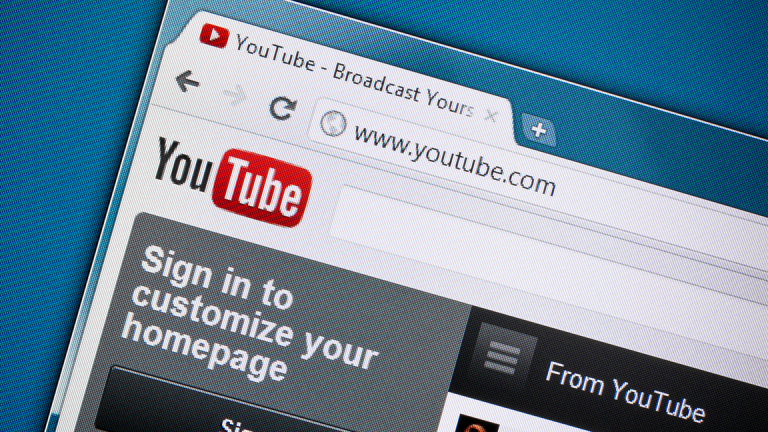 How to Make Money on YouTube: Ads, Sponsors and Off-Site
The YouTube craze is anything but dying down. And, with the potential to make thousands from your bedroom, earning some extra cash on the platform is certainly appealing. But how do you make money on YouTube?
It seems as if everyone and their mother is trying to make an extra buck off of the internet these days (well, maybe not your mom). But, the point stands. While there are countless ways to become an internet entrepreneur, perhaps one of the most appealing to millennials is from the online video platform YouTube, owned by Alphabet  (GOOG) - Get Alphabet Inc. Report .
The idea of making millions off of videos the way YouTubers like PewDiePie famously have certainly seems like a pseudo-new-American Dream. And while not all of us will reach internet stardom with our videos, it might be worth looking into how you could make a few dimes from the popular platform. So, how do you make money from YouTube, and what will you need? 
How to Make Money on YouTube
There really isn't a formula for success on the video platform, but there are certain things you can do (and need to do or have) in order to make money. The main ways to generate revenue from a YouTube channel include having ads on your videos or channel, getting sponsored and endorsed, and selling products through a YouTube platform.
You will first have to build up your YouTube platform to gain more followers. While it is by no means a science to instantly get thousands of subscribers or views, by posting frequently, promoting your videos, and paying attention to engagement and demographics, you can see what performs well and curate your content to what your viewers seem to like. 
But once you do get a bit of traffic on your videos, you'll want to start making money. 
However, contrary to popular belief, making a ton of cash off of ads on your videos alone won't get you that millionaire status (or even a couple hundred bucks, sometimes) - so you may have to be creative. 
Ads
Still, one of the main ways (or easiest) to earn money on YouTube is through YouTube running ads on your videos. Once you get a certain amount of views, you can connect your account to a Google AdSense account, which will allow you to start earning money on your videos, according to USA Today. In order to qualify, you reportedly now need (as of January 2018) 4,000 watch hours in the past 12 months, plus 1,000 subscribers to join the YouTube Partner Program (which will get you ads and therefore cash from your channel). 
Still, although it may vary depending on how much the advertiser is paying YouTube, you will most likely only make between $1 and $2 per every 1,000 views. 
However, beware of using copyrighted material in your videos, which will prevent you from qualifying to monetize your video. 
In order for a YouTuber to get paid for an ad, the viewer of their video must have Ad-Block turned off (meaning they will see all the ads on videos) and must watch at least 30 seconds of videos they could otherwise skip. Or, this will work if the viewer sees smaller ads like banner ads, according to YouTuber Mah-Dry-Bread. The money generated from the viewer watching these ads is split between YouTube and your channel.
Sponsors and Deals
Typically only offered to large YouTube channels with a wide audience (although not exclusively), another big way to earn cash through YouTube is to get sponsored deals with companies that will pay you to promote or mention their products in your videos. You can earn money this way either as a lump sum of cash the company will pay you for the deal, clicks on the company's link, or on a per-view basis. 
However, be sure you disclose the nature of the video, as it is required by law to mention that your video is sponsored in the description box. Still, sponsored deals can make a lot more money than regular ads.
Additionally, many of these companies (which, for some YouTubers, include brands like Ford (F) - Get Ford Motor Company Report , Microsoft (MSFT) - Get Microsoft Corporation Report , P&G (PG) - Get Procter & Gamble Company (The) Report , Samsung (SE) - Get Sea Limited American Depositary Shares each representing one Class A Report  and GE (GE) - Get General Electric Company Report to name a few) recruit YouTubers to be brand ambassadors, which can earn them money in a similar fashion. 
Other Ways to Earn Money on YouTube 
While ads and sponsorships do provide a decent amount of cash for some YouTubers, they are by no means the only way you can generate income from your channel. In fact, according to some YouTubers, they aren't even the main way. Other means of monetizing your videos include using sites like Patreon and selling products through your channel. 
Patreon
Used by countless popular YouTubers, Patreon is a site that allows viewers to donate monthly to their favorite YouTubers, and in turn, allows the YouTuber to (if so desired) give rewards back to the viewers. And, despite the site taking about 10% of the donations for themselves, most YouTubers make more money through Patreon than their own channel, according to Bustle.
Viewers will subscribe to donate every month, and despite not always donating every month, the site offers YouTubers a more steady stream of cash than they might otherwise receive through their channel alone. 
In fact, the site boasts over 2 million monthly subscribers, who donate an average of $12 per subscriber. As a YouTuber starting out, this could mean big bucks for you (especially compared to the money you'd be making on ads, which, if you recall, is usually only over $1 per thousand viewers without AdBlock). 
Yondo
While not directly related to YouTube, you can use your YouTube platform to build up a following and reputation, and eventually direct your viewers to other paid platforms, like Yondo. This platform allows you to create your own kind of video store, where you can sell special videos (either on a subscription basis or pay-per-view). And, the best part? You can set your own price. 
How to Sell Your Products From YouTube
Another big way to generate money through your YouTube channel is to use your presence to sell your own products to viewers. Lots of YouTubers do this, including makeup YouTuber Michelle Phan's makeup products, or Roman Atwood's various products and t-shirts. 
One way you can sell your products is through Shopify, which provides an online store for you to sell your goods. By mentioning or linking your products in your videos, you can direct traffic to your ecommerce spot on Shopify and make some extra cash. 
Equipment You Need to Make Money on YouTube
One of the most appealing aspects of YouTube is that anyone can do it anywhere, anytime. And this is certainly true when it comes to the equipment you need.
While many successful YouTubers have thousand-dollar-equipment, there are much cheaper options that still do the trick.
Many YouTubers (especially in its infancy) resorted to webcam cameras, which are always a cheap option. Or, especially with the recent models like the X, the humble iPhone (AAPL) - Get Apple Inc. Report or smartphone will always do the trick (and actually looks very professional now).
Still, if you have a bit extra money to spend on equipment, opt for a digital camera - and while there are several good ones, popular cameras for YouTube videos include the GoPro HERO4 (GPRO) - Get GoPro Inc. Report , Canon Vixia (CAJ) - Get Canon Inc. American Depositary Shares Report  and the Canon T6i.
But even if you get a nice camera, what really makes the difference for the top, money-making YouTubers is how to use it. Good (usually natural) lighting is key, as well as ensuring the camera is stable and not shaky (tripods work wonders for this issue). And, generally, white walls or backdrop tend to look better for a clean frame.
Additionally, you can buy cheap lights to help give your videos a more professional look (and drive up views) - Neewer makes lights that serve just such a purpose. And, don't forget to pick up a good mic to make sure you audio is spot on - you can find these (called clip-on lavaliers) online for around $20.
However, make sure you are using the right camera and lighting for your kind of videos - you'd probably be best off using a GoPro if you film outdoor vlogs, or a higher-end DSLR if you have a lot of indoor shots.
Highest Paid YouTubers
Business Insider released a list last year of the highest paid YouTubers in 2017 - and the numbers are pretty impressive.
As of 2017 reports, the highest paid YouTuber is Daniel Middleton (DanTDM), whose net worth is estimated to be $16.5 million. Among the others making the top-10 list are Dude Perfect with $14 million and Logan and Jake Paul, with their net worth at $12.5 million and $11.5 million, respectively.