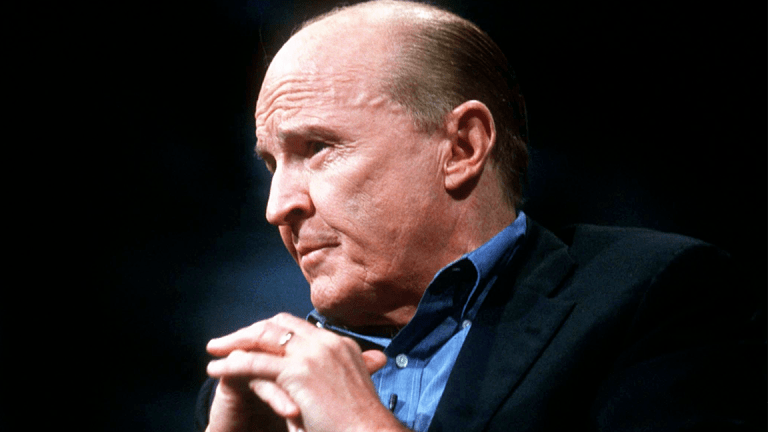 Publish date:
Legendary General Electric Chief Jack Welch Has One Big Retirement Tip
The concept of retirement is outdated, suggests long-time General Electric CEO Jack Welch.
The concept of retirement is outdated, suggests long-time General Electric CEO Jack Welch.
Jack Welch isn't your average 82-year-old business tycoon.
The former chief executive officer of General Electric Co. (GE) - Get General Electric Company (GE) Report started working at the company in 1960, a freshly-minted chemical engineering PhD, at a plant in Pittsfield, Mass. He had a starting salary of $10,500.
In 2001, Welch retired from his position as CEO of the same company with a $417 million severance package, the biggest type of payment made to any U.S. CEO in recent history.
Along the way, Welch increased GE's market value by an impressive $300 billion. He whipped a struggling industrials company into a global leader by implementing widespread change and stark cost-cutting that earned him the nickname "Neutron Jack."
With all his successes in a storied career, what are Welch's tips for retiring smart? Just don't, he insists.
"Who wants to just retire? Banish that word from your vocabulary," Welch wrote on LinkedIn in 2015. "You've got to constantly reinvent and take a chance on something you've always wanted to do -- it's what keeps you alive. You're never done."
Retirement Is Complicated. It's never too early - or too late -- to plan for and achieve your retirement goals . TheStreet's new premium subscription, Retirement Daily, will help you un-complicate the world of retirement with the latest, news, research and analysis from TheStreet's "Mr. Retirement" Robert Powell and his team of experts. Learn more about Retirement Daily and get a free trial subscription.
After Welch finished up a historic tenure at GE, he didn't head out to pasture, or even to the golf course. Welch and his wife Suzy have reinvented themselves as co-authors of a number of books about management and business.
On his LinkedIn, Welch offers the following self-description: "For the past decade, Mr. Welch has been active as a special partner with the private equity firm Clayton Dubilier & Rice, an advisor to IAC/InteractiveCorp (IAC) - Get IAC/InterActiveCorp. Report , and a popular public speaker addressing audiences around the world. In 2010, he founded the Jack Welch Management Institute, a fully accredited online MBA program with 900 students."
So much for retiring, huh?
Welch's philosophy makes sense, even if your net worth isn't as impressive as his estimated $720 million.
According to TheStreet's retirement expert Robert Powell, those saving for retirement would be better off working longer than just bumping up their savings rate by one percentage point.
"If you bump up how much you save for retirement by one percentage point 10 years before retirement it has the same impact on the sustainable retirement standard of living as working a single month longer -- just one single month longer," Powell wrote.
Listen to more of Powell's top investing advice below.