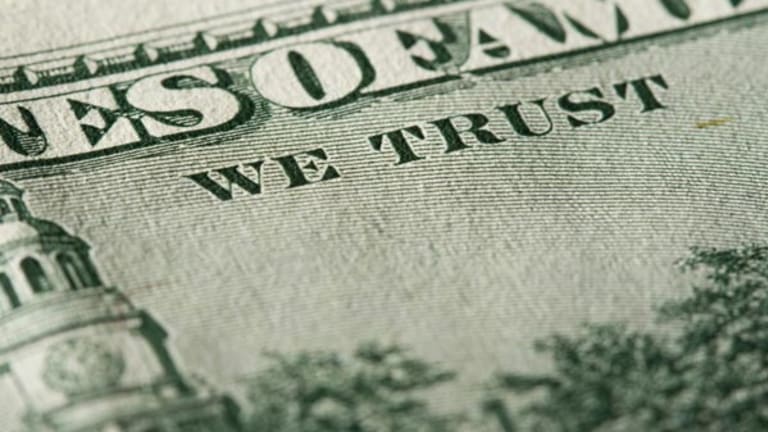 Krispy Kreme, Once Stale, Gets Investors to Bite
Krispy Kreme Doughnuts has outperformed the broader market in 2010 and still has bullish prospects.
BOSTON (TheStreet) -- Krispy Kreme Doughnuts (KKD) , famous for its glazed doughnuts, is back from the dumpster. The company's stock has risen 18% in the past month.
Headquartered in cigarette town Winston-Salem, North Carolina, Krispy Kreme owns and franchises its stores. The company uses founder Vernon Rudolph's secret recipe to bake its light, glazed pastries. As the story goes, Rudolph's uncle purchased the doughnut recipe and a shop in Pudacah, Ky., in 1929. Rudolph worked in his uncle's shop and delivered the doughnuts on a bicycle route. The business later relocated to Nashville and the first official Krispy Kreme opened in 1933. In the following decades, the company expanded through the Southeast.
In 1976, Beatrice Foods purchased the chain, but a group of franchisees annexed the company in 1982 and pushed for national expansion in the 90s. Krispy Kreme developed rapidly until it went public in 2000 and hit a growth ceiling. Its stock has plummeted 92% since the onset of 2002. However, a turnaround appears to be in the works. Krispy Kreme swung to a fiscal second-quarter profit of $2.2 million, or 3 cents a share, from a loss of $160,000, or break-even, a year earlier. Revenue grew 6.3%. The company's operating margin expanded from 4.1% to 4.9%.
Company store sales remained flat, but same-store sales gained 5.7%. Domestic franchise revenue grew 15% as same store sales rose 5%. International franchise revenue advanced 5.3%, hurt by a 14% drop in same store sales. External supply-chain sales jumped 27%. Krispy Kreme has retained a narrow lineup through the years, focusing on doughnuts, coffee and iced drinks. Though its menu is limited, Krispy Kreme has gained acclaim for outstanding products. It has met health concerns without affecting flavor. All doughnuts are now
sans
trans fats.
With a market value of just $293 million, four analysts cover Krispy Kreme. Three advise purchasing its shares and one advises selling. A median target of $5.50 suggests a return of 29% in the next 12 months. Small-cap focused
Roth Capital
expects an advance of 41% to $6.
BGB Securities
reiterates the median target of $5.50 and
CL King
predicts a gain to $5. Krispy Kreme's stock trades at a forward earnings multiple of 18, a book value multiple of 4 and a sales multiple of 0.8 -- 26%, 32% and 69% discounts to restaurant industry averages.
Krispy Kreme has a comparatively sound fiscal position, with $21 million of cash and $42 million of debt at the end of the latest reporting period, translating to a quick ratio of 1.2 and a debt-to-equity ratio of 0.6. Its return on equity, a key measure of profitability for investors, climbed from negative territory to 6.6% in the quarter, still lagging the industry average of 27% and the
S&P 500
average of 12%. Return on assets settled at a modest 2.9%.
Krispy Kreme's stock has delivered annualized gains of 8.9% since 2007. It has soared 44% in 2010, outpacing the
S&P 500
by 43 percentage points and the
Russell 2000
by 40. Of the stock's 50 largest institutional investors, 28, or 56%, increased their stakes in the latest reporting period; seven, or 14%, held steady; and 15, or 30%, lowered their holdings.
-- Written by Jake Lynch in Boston.
RELATED STORIES:
10 Stocks Leading the Stock-Market Rally
10 Energy Stocks with Yields Up to 11%
Become a fan of TheStreet on Facebook.
Disclosure: TheStreet's editorial policy prohibits staff editors, reporters and analysts from holding positions in any individual stocks.