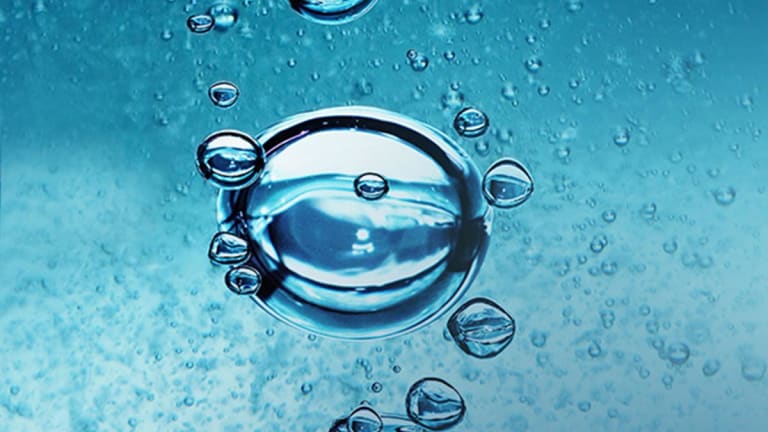 How to Invest in Water Commodities
Investing in water can be a lucrative move, but risk is involved in the form of legal, regulatory and demand issues.
Yes, you can invest in water, and there are real-life examples of successful investors who have done so.
Take Dr. Michael Burry, played rather eccentrically by the actor Christian Bale in the 2016 film, "The Big Short." In real life, Burry invests in water and the evidence shows that he and other aqua investors are onto something.
Consider that water - lots of water - is needed to manufacture modern consumer staples like chocolate and wine. In fact, it takes 872 gallons of water to create one gallon of wine. It also takes 2,061 gallons of water to make one pound of chocolate.
The thing is, fresh water is severely limited. According to water industry sources, 71% of Earth is covered by water. Yet only 0.76% of all water is fresh water.
Like any commodity, the less you have of it, the more valuable it is. That's certainly the case with water, one of the world's most precious resources.
How Does Investing in Water Work?
You can invest in water in several ways, some more direct and easier than others.
Let's open the floodgates and see which water investment option might work best for you:
Invest in low-cost exchange-traded funds. Exchange-traded funds - or ETFs - are popular overall investment vehicles because they give you access to stocks (in this care water-related stocks) for a low fee, often below 0.50% of your overall investment.
Investing in water rights. Another water investment option is water rights, which gives investors access to water from "clean water" sources like lakes, groundwater and rivers. Once you have the right to use the water you can charge companies and governments (think farms and towns and cities) to access the water covered in your investment contract. Good water rights investing websites like waterrightexchange.com or waterbank.com can walk you through the process of investing in water rights.
Farmland investing. Yes, while it may seem counter-productive, buying or leasing farmland can be a lucrative way of investing in water. Successful farmers know that access to water is a critical component in turning a profit, especially in areas where water shortages are on the rise. By investing in farmland with ample quantities, you can benefit from robust yields of produce and foodstuffs, like almond farms, cattle farms, and even wineries (via grape farms.)
Investing in water stocks. Water investors can invest directly in water-related stocks, too. Companies like American Water Works Company (AWK) and Aqua America (WTR) are making huge amounts of money selling water and wastewater treatment to public utilities. Trading commissions are higher with stocks, so know that going into any stock trading scenario.
Water Investment Tips
There are things you can and cannot do as a water investor, and the more you know about the peculiarities and regulations on water ownership, leasing, or investing, the better.
Take these key tips to the table with you when laying out your water investing battle plan:
You're getting involved with the government. If you're considering buying or leasing water rights directly, do know that water rights are regulated by the government at all three levels - federal, state, and local. That can make water investing more complicated than investing in traditional stocks and commodities.
Know your legal rights and obligations. Any investment with land and water tends to attract lawyers and contracts, often complex ones. That's especially the case when you're buying land with a water source. To protect your rights, consult with a knowledgeable attorney who is familiar with land and water contracts, before going forward with the deal.
Consider water utilities. Water utility companies can be highly profitable, as they tend to have few local competitors. That makes them a good landing spot for newbie water investors looking for good returns.
Know the risk and realities. Investing in water directly is a larger risk than one might think. Water is a big supply and demand market, and deep research is required to find out who needs water most, and who needs it last. For example, an investor who owns water rights near an oil and gas hydraulic fracturing site will see high demand for water - some frackers pay thousands of dollars per acre-foot for water. Comparatively, farmers often pay as little as $50 or so per acre-foot.
Start slowly with an ETF. Perhaps the best move for novice water investors is to start out by investing in a water-related exchange-traded fund. Getting up to speed on water rights deals offers both legal and regulatory issues is difficult, and shouldn't be attempted without extensive research and good legal and financial advisory help.
Which Indexes to Look Into for Water Investing
As a water investor, you'll need to track the performance of your investments on a regular basis.
That job is best accomplished by following one of these water investing indices:
The Dow Jones U.S. Water Index. This index tracks the top companies. Stocks and funds operating in the U.S. water sector. If you're investing in high profile companies like American Water Works or Aqua America, this is your "go to" water investing index.
The S&P Global Water Index. This index provides coverage of 50 water-related companies across the globe. The index is broken down into two categories - water utilities & infrastructure and water equipment & materials.
NASDAQ OMX Global Water Index. This index is "designed to track the performance of companies worldwide that are creating products that conserve and purify water for homes, businesses and industries," according to the NASDAQ web site. It follows equity-only stocks and funds.
The S-Network Global Water Indexes - These indexes are designed, as the Index notes, to "serve as fair, impartial and transparent measures of the performance of the Global Water Industry." There are three indices included in the S-Network family - the S-Network Global Water Index; the S-Network Global Water Works Index; and the S-Global Water Tech Index.
4 Best Water Exchange-Traded Funds
As noted above, water-related ETFs are a good way to break into the water investment market.
There are plenty of water ETFs to choose from so choose carefully. Start with these funds:
1. Invesco Water Resources ETF (PHO)
This fund with over $766 million in assets, has a decidedly US-focus, and steers toward mid-size and small-cap companies. Performance has been solid with the fund posting double-digit gains over the past three- and five-year tracking periods.
2. Invesco S&P Global Water ETF  (CGW)
This ETF expands its scope, including water stocks from around the world. It also invests in large-cap water companies, with over 50 companies represented in the fund. The fund has returned positive gains in the past one-year, three-year, and five-year periods.
3. Guggenheim S&P Global Water Index ETF   (CGW)
This water fund offers a good cross-section of water stocks. At 0.64%, the fee is moderately high for an ETF, but the fund's stock lineup is impressive, and the fund is well managed.
4. PowerShares Global Water Portfolio ETF  (PIO)
This ETF follows the Nasdaq OMX Global Water Index, investing primarily in large-cap growth water industry stocks across the world. It has a special focus on European water stocks, covering companies in Switzerland, France and the UK.
With the exception of water-related ETFs, water investing strategies tend to be complex and are highly regulated.
In short, they offer more risk than traditional natural resources investments, and investors who want to get in on the water market should do their due diligence, get good professional advice, and know full well what they're getting into in the world of water investing.