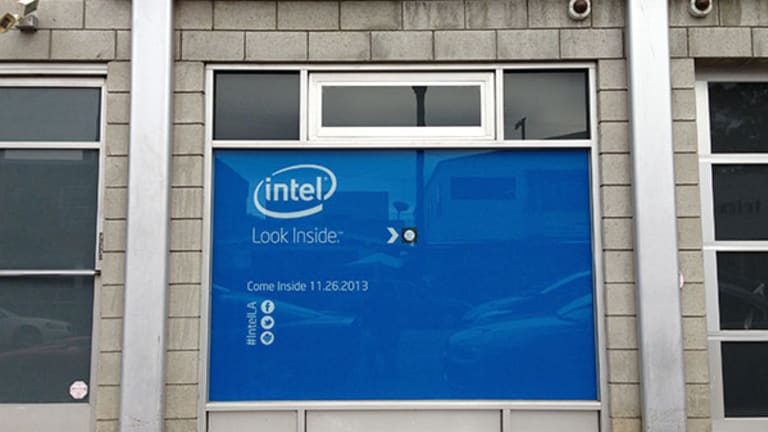 Intel Doubters Must Apologize
Anyone who doubted Intel on the basis of its management team needs to think again.
NEW YORK (TheStreet) -- You never get a second chance to make a first impression. Nowhere is this more true than in the stock market. Once a high-flyer falls out of favor with analysts, it's hard to shed the "has-been" label.
Although Intel  (INTC) - Get Intel Corporation Report didn't have an exceptionally strong first quarter, I was nonetheless surprised by the Street's apathy. Very few investors seem to believe Intel deserves to be owned on the basis of the company's weak mobile prospects.
I won't disagree that rivals Qualcomm  (QCOM) - Get Qualcomm Inc Report and Broadcom undefined have substantial leads in the realm of mobile. Intel's results showed meaningful progress. As is often the case, these things take a while to sink in. The Street will soon realize its mistake. And astute investors would be wise to buy up these shares now, trading at a considerable discount to fair value.
Intel's results were somewhat mixed. But there were more positives than negatives. The chip giant reported revenues of $12.76 billion, just shy of estimates of $12.8 billion. But more impressive than a revenue beat, management expanded gross margin to 59.75%, beating the midpoint of its forecast of 59%.
Intel also reported restructuring and asset impairment charges of $137 million. This is $63 million lower than initially forecast. Likewise, the company posted a $160 million from impact of equity investments and interest. This figure also beat forecasts of $25 million. All of this culminated in earnings per share of 38 cents, which beat Street estimates by a penny.
Ahead of Intel's report, I don't think anyone was waiting for breathtaking results. (At least not anyone who has followed Intel closely over the past two years.) Some investors were hoping Intel would post EPS of 39 cents on revenue of $12.86 billion. This was on the assumption of stronger PC sales, which doesn't make sense.
Anyone who gets the chip sector would never assume a strong quarter based on a declining PC industry. And even if that were the case for this quarter, there is no way to expect that it would be sustainable. Growth in PCs are not coming back.
To that end, efficiency improvements have been at the core of the company's mission. The better-than-expected margin results demonstrate that management is executing according to plan. Equally important was 11% year over year jump in the server business, which offset the 1% decline client revenue.
In that regard, wasn't these the reasons why Intel has gotten beaten up over the past couple of years? These businesses were considered weak. The 1% decline in client revenue is a monumental victory given the deficits Intel has had to overcome.
All told, these two businesses posted $4.12 billion in operating income, up 13% year over year. And when you factor that Intel management generated roughly 70% in gross margin from two businesses that were on their "death bed," anyone who doubted Intel on the basis of its management team must immediately apologize.
While this one quarter does not prove that Intel is back, it does suggest that the worst is over. At this point, it is up to Intel's management to carry this momentum and prove that the market is too skeptical.
Management has shared plans to grow the chip business in emerging markets and reinvest cash flow into research and development. Until Intel shows that it has taken a drastic step backward, the stock remains a buy and management deserves more time. Intel investors are well-positioned to capitalize on stronger long-term results and this stock is a sure-bet to reach $30 this year.
At the time of publication, the author did not hold a position in any of the stocks mentioned.
This article represents the opinion of a contributor and not necessarily that of TheStreet or its editorial staff.