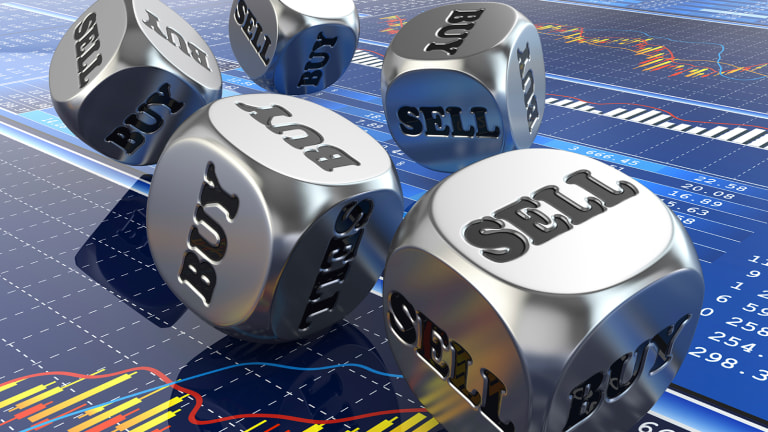 Individual Investors Losing Focus: The Dumbest Thing in This Week's Stock Market
This spike in volatility has been a long time coming, experts agree. But the best move for the everyday investor is still 'staying the course.'
It's tough to pinpoint what exactly caused the vicious Monday market selloff that turned 2018's performance negative after January tallied the best monthly stock showing since March 2016. A confluence of factors including percolating inflation readings, rising Fed interest rate hike expectations and hot employment stats have spiked volatility while sending stocks into a tailspin.
But if there's one thing we do know, it's that this selloff from record levels was a long time coming.
After nine years of rampant bull market action and 406 trading sessions without a 5% correction on the S&P 500, it's high time the stock market took a breather. That doesn't mean individual investors should panic or flee, though.
The most misguided thing for the everyday retail investor to do in this volatile market is lose focus. In this special Tuesday edition of TheStreet's Dumbest Thing on Wall Street column (that normally appears each Saturday morning), we take a look at just what the stock market's turn to the red means for the everyday investor.
Lesson 1: Don't Panic
My dad always told me as a child that the first rule of life should be don't panic. The same rings true in this stock market -- the dip in prices is no cause for major freakouts.
"We've had such a run-up that this just makes sense," said Mark Fried, president of Pennsylvania-based TFG Wealth Management in an interview. "It was absolutely expected that volatility would increase this year."
The Cboe Volatility Index has shot higher more than 200% since the start of the year, with 133% of that gain happening in the last five days. In 2017, the index fell about 20% for the year.
"We were due for some kind of pullback," said Richard Paul, president of Michigan-based financial planner Richard Paul & Associates. He noted that, although the Dow flirted with correction territory in early trading Tuesday, the stock market is still far off from the 20% loss it needs to register as a bear market. "I just don't think fundamentally we're anywhere near that," Paul noted.
"It's much ado about nothing," Paul said. "It's long overdue."
Paul added that although a whipsaw in stocks such as this one "can be scary," the economic fundamentals remain very strong even in what is likely to be a volatile year for the stock market.
TheStreet's top minds agree in the video below.
Lesson 2: Stay the Course
"If you're looking long term and you have a plan, you shouldn't be doing much of anything today," Fried said. "I would tell no one to make drastic moves right now."
The smartest individual investors will remember -- even in Tuesday's volatile trading -- that retail portfolios and retirement funds should be long term investments.
"If you react on short term moves as a long term investor, you're hurting yourself," Fried said.
Ken Moraif, senior advisor at wealth management and investment firm Money Matters, said individual players need to abstain from day-trading or attempting to time the market. "They should just play through this," he said. "The average investor needs to just stay the course."
Lesson 3: Take the Opportunity
"Use this as a wakeup call," Fried submitted. If you see a major swing in the value of your investment portfolio, you might be positioned more aggressively than you thought. If your holdings were little changed, maybe there's room to take on a bit more risk.
Most individuals ought to sit on their hands in this period of volatility. The "exception," according to Paul, is the investor about five years from retirement. Most individuals in their 30s, 40s and 50s can weather the storm and manage some risk by simply holding on to what's already in their 401(K).
For the investor planning to survive on stock dividends instead of a salary in five years or fewer, it could be time to reassess risk exposure. But ultimately, Paul clarified, it's about what a person's individual risk tolerance is.
"Volatility is not bad or good," Fried added, "it's just an opportunity."
So in short, don't be dumb here folks.
Want more from the Dumbest Thing on Wall Street? Check it out here: