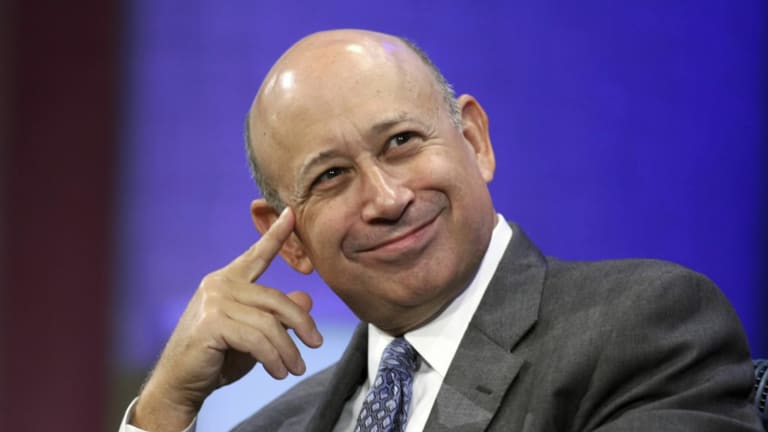 Publish date:
How Goldman Sachs Made CEO Blankfein a Billionaire -- After Refusing to Hire Him
The first time Lloyd Blankfein applied for a job at Goldman Sachs, he was turned down flat. Now, he's the firm's billionaire CEO.
The first time Lloyd Blankfein applied for a job at Goldman Sachs, he was turned down flat. Now, he's the firm's billionaire CEO.
NEW YORK (TheStreet) -- Maybe Dolly Parton would have gotten the promotion she wanted in "9 to 5" without kidnapping the boss if Lloyd Blankfein had been around to offer some rags-to-riches career coaching.
But the kid who grew up in a Brooklyn housing project had only recently graduated from Harvard Law and was just starting his career at a law firm when Hollywood's blockbuster office-sendup was released in 1980.  He had yet to apply for a job at investment bank Goldman Sachs (GS) - Get Report , where he was turned down flat the first time, much less become its CEO or amass a net worth that the Bloomberg Billionaires Index places at $1.1 billion.
And that, really, is the bottom line of the advice he gives Goldman's interns: Life is full of random quirks, so be flexible. Perhaps the industries they go into will be radically transformed and the skills they've mastered will prove useless. Or maybe they'll just discover they don't like their jobs.
"I'm sure all of you have your lives planned out," Blankfein told the company's 2015 summer interns in a recent presentation. "And the one thing I can absolutely guarantee you is that it won't work out that way."
The most successful professionals will be those "are the most flexible, who can absorb the most, who are open to learn, who are coachable, who are not too proud to dig into new things," he said. "Whatever plans you're making, it's based on a static world that won't be there because things change."
Blankfein speaks from experience: He graduated from Harvard Law in the 1970s without a clear vision for his own future. "I probably went to law school because I was arguing in class one day and my third-grade teacher said, 'Gosh, you're like a Philadelphia lawyer,'" he recalled. "I didn't come out with a strong sense of what I wanted to do. I came out with a strong sense that I had a lot of student loans, and you have to to pay them."
After working in the law for four or five years, Blankfein decided the field left him too immersed in the past -- researching actions related to music-royalty cases that were 10 years old and case law that pre-dated that -- and decided to switch to investment banking. He was eventually offered a job at J. Aron, a commodities trading firm that, in a twist of fate, was acquired by Goldman Sachs, granting him entry into the firm that had rejected his application.
"I showed them," he said, as the crowd erupted in laughter.
When Blankfein began, he recalled, he was largely mystified by the company's operations and the department titles, which were then listed in the office elevators much like in a department store. 
"I remember thinking, 'I don't know what these things are,'" Blankfein said. But he learned, moving up the career ladder to become CEO in 2006 after his predecessor, Henry Paulson, left to become Treasury Secretary under then President George W. Bush. 
Young professionals looking to duplicate Blankfein's success, he suggests, should make themselves good investments -- of both money and time.
"Make yourself coachable," he said. "Make yourself the kind of person that people want to help." Being able to accept criticism is critical in gaining mentors and getting the feedback necessary to improve, Blankfein said, and "not being defensive" in such situations will open doors to career-building relationships.
As for Goldman's rejection of his first job application, Blankfein said the experience improved his opinion of the company: "Had they hired me, I would have thought much, much less of them," he said.
Decades later, as chairman and CEO, Blankfein has dealt with his share of challenges, steering Goldman Sachs through the 2008 financial crisis that toppled two investment banks -- Bear Stearns and Lehman Brothers -- in part by convincing billionaire Warren Buffett to extend a $5.5 billion loan, which boosted the bank's perception among investors fleeing financial stocks.
Later, Blankfein coordinated a $550 million settlement with the Securities and Exchange Commission over claims the bank misled investors in a subprime mortgage product and weathering a storm of criticism as executives were summoned to testify before Congress.
He said he never expected to be CEO because he always tried to focus on the position he had, rather than mapping the next step on the career ladder.
"You should perform as if you are in your next job, but not seethe with the ambition to get there," he said. Working in finance, he said, will always involve radical change, whether because of technological advancement, economic turmoil or geopolitical shifts. 
"The financial markets are the cutting edge of what everybody else wants to accomplish in their industry," he said. "You finance innovation in every industry. You pick winners and try to avoid the losers."
Becoming a good CEO requires knowing how to lead, Blankfein said, not necessarily knowing the specifics of an industry, which is why high-ranking executives can switch from running one kind of company to another. Jim McNerney, for instance, climbed the career ladder at General Electric (GE) - Get Report before moving on to head 3M (MMM) - Get Report  and then Boeing, (BA) - Get Report , finally stepping down this year. And more recently, Morgan Stanley (MS) - Get Report CFO Ruth Porat left Wall Street for Silicon Valley and Google (GOOG) - Get Report .
You have to know how to use people, how to be usable by people," Blankfein said. "You can't learn it abstractly, you can't really learn it in school, you can only learn it by doing," he said. "And then you have to take the knowledge and extrapolate it."