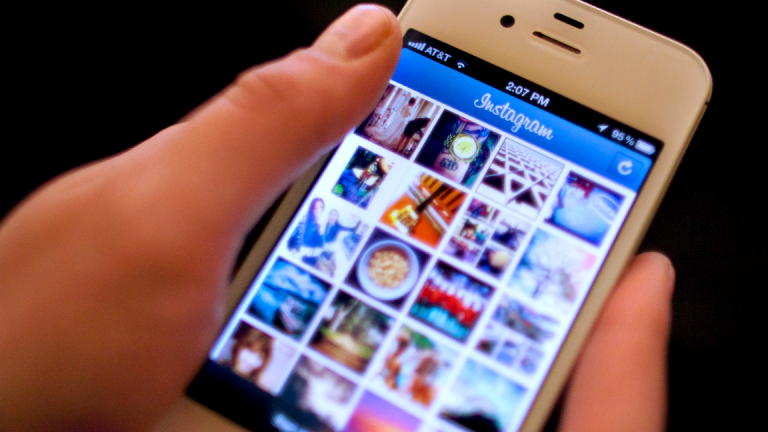 Publish date:
How to Use Instagram for Business
Instagram is an incredibly valuable tool for marketing your business, increasing sales, and much more. Discover how you can leverage this platform to grow your business.
Instagram is an incredibly valuable tool for marketing your business, increasing sales, and much more. Discover how you can leverage this platform to grow your business.
Are you tapping into Instagram for marketing your business? If not, you should be. As of 2019, there are over 1 billion active users on Instagram, according to media reports. This makes Instagram one of the most engaging social media platforms on the internet. In fact, it is second only to Facebook (FB) - Get Facebook, Inc. Class A Report .
Instagram can be a valuable marketing tool for expanding the presence and visibility of almost any business. It can be especially beneficial for any company that has a visually-appealing aspect of their business, such as interior design, clothing, lifestyle, travel, pets, and much more. Instagram allows every kind of business, from publicly-traded giants to Mom-and-Pop shops, to reach a worldwide audience. They just need to position themselves to reach their niche.
Aside from providing free access to a large audience, Instagram allows companies to make money directly on the platform. Unlike most other social media platforms, Instagram has a shoppable post feature that drives customers to your website to purchase an item they're interested in. If you build an audience for your brand, Instagram can become a great way to increase the number of people who are not just aware of your product but also increase sales.
Even businesses outside of the e-commerce world and service-based businesses can leverage the platform for establishing their brand, building relationships with customers, and even recruiting. Find out how your business could be using Instagram.
Tips on How to Use Instagram for Business
It is easy to make an Instagram account for your business, but leveraging the platform intelligently is key to moving the needle on your marketing goals. Here are a few tips on how you can use Instagram for business.
1. Adopt a Conversational Tone
When creating Instagram content, it's important to keep your captions conversational. Avoid using jargon or formalities. Make sure you're speaking to them rather than at them. You want all of your posts to seem like they are coming from a friend or trusted adviser. This is true with almost any social media platform aimed at consumers. Instagram users want to feel like they engaging with a person rather than a corporation.
2. Think Visual
Aesthetics are important on Instagram. Having polished photography and graphics is key to standing out among the sea of other business accounts on Instagram. If you want to your business to get serious about Instagram marketing, consider hiring a photographer. Not in a position to hire a pro? Consider recruiting a staff member with some photography chops to take photos with a high-end smartphone or send some staff members to a few simple photography classes.
3. Go Behind the Curtain
Aside from adopting a more conversational tone in your posts, it's important to occasionally take users "behind the curtain" of your business. Show them the people who are helping run your business, what philanthropic efforts your business takes part in, and how you celebrate success through company events or happy hours. Show them (tactfully) how the sausage is made. Transparency equals authenticity, and authenticity is extremely important for creating a successful Instagram account for your business. Giving users a peek behind the scenes can also be advantageous for recruiting purposes, as potential hires can get an idea of what it is like to work for your business.
4. Research Hashtags
Creating great content is only one aspect of running a successful Instagram account. You need to make sure that your customers -- and prospective customers -- are seeing your carefully crafted content. One of the best ways to expand your audience is by researching hashtags in your niche. Where are your customers? What are they interested in? Only use hashtags that are relevant to the content you're putting out. Try to use a healthy mix of more common hashtags that are relevant to your business, as well as niche hashtags that only some people use. If you use more common hashtags -- such as #loveit or #happy -- your post will simply get lost amid hundreds of others within an hour or two.
5. Embrace Collaboration
Your Instagram account should be mostly about your business, but it's important to loop in strategic partners to help create connections and increase the reach of your account. If you are hosting a lunch-and-learn with a well-known vendor in your industry, take a picture and @mention their Instagram account in the caption. Know any influencers in your industry with a substantial social media following? See if they will consider collaborating on some posts together so you can access their followers and gain additional exposure. Understand that you may need to pay for a collaboration with an influencer, but the payoff can potentially be huge. 
6. Start Conversations
Aside from partnering with other businesses, it's important to make your Instagram account into a conversation with your users. Social media is all about making connections with people. Has a customer has tagged you in a post of them using your product? Repost the photo while tagging that user. Launching a new product? Create a special hashtag and ask your customers to submit photos of them using that product with the special hashtag. This would allow you to have an endless library of user-created content at your disposal. Holding contests to engage users is also a helpful way to increase your business' exposure on the platform and give back to your customers.
7. Listen to Your Audience
Having a social listening tool that tracks when your allows you to not only make the most out of customer engagement but also allows you to get a better idea of how people are talking about your business and industry as a whole. This allows you to create content and conversations with your followers that are relevant to industry trends, customer expectations, and public perception. Having a robust social listening tool will help you better shape your brand, understand what kind of content your audience is looking for, and even what kind of products and services that your customers want.
8. Learn From Every Post
Like many social media platforms, Instagram offers tools that provide engagement analytics for each and every post. Utilize these tools to help you build a strategy for your business' Instagram account. Discover which posts are getting the most clicks, which ads are getting the most engagement, and which hashtags your audiences are using the most. This will help you fine-tune your strategy to create an account that your current and potential customers will love.
Introducing TheStreet Courses:Financial titans Jim Cramer and Robert Powell are bringing their market savvy and investing strategies to you. Learn how to create tax-efficient income, avoid mistakes, reduce risk and more. With our courses, you will have the tools and knowledge needed to achieve your financial goals. Learn more about TheStreet Courses on investing and personal finance here.