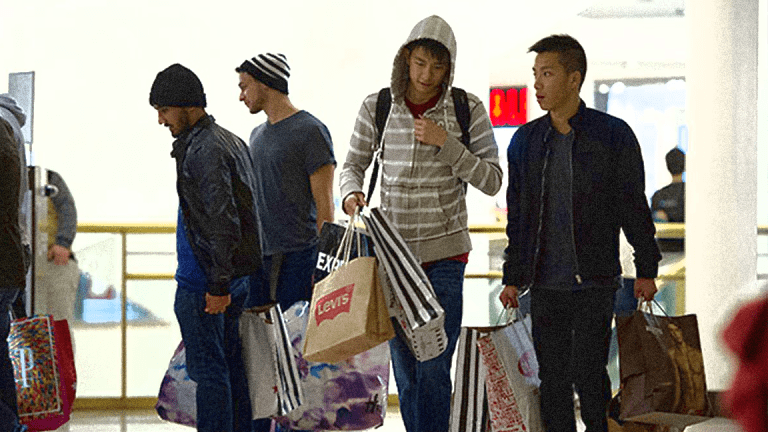 How to Start Building Credit at 18
Getting access to credit at age 18 can launch a young financial consumer into a lifetime of good financial habits - and good financial rewards.
Learning how to get credit at age 18 should be a priority for young financial consumers - it can build the financial foundation you need to build a solid, savings-oriented financial future.
In a word, credit is the term used to describe how consumers can gain access to things like loans and credit cards, usually from banks, credit unions, mortgage and auto lenders, credit card companies, online lending platforms, and other financial institutions.
These lenders use credit scores calculated by Fair Isaacs (FICO), which uses a credit scoring system ranging from 300 at the low end to 800 at the high end (another company, Vantage Score, also offers a credit scoring model for consumers).
Credit reporting companies like Experian (EXPGY) , Equifax  (EFX) - Get Equifax Inc. Report and TransUnion (TRU) - Get TransUnion Report track your credit history and, using the FICO (FICO) - Get Fair Isaac Corporation Report model, assign a credit score and a credit history to a consumer, which a lender can access and review before deciding to issue that consumer access to credit.
Building credit as an 18-year-old is doable on your own but it's highly advisable to have a parent or other trusted adult on hand speed the process along.
Do so with these steps.
Ways on How to Start Building Credit at 18
1. Open a Credit Card or Be Added to a Credit Card as an Authorized User

To get on a lender's radar, you're going to need to have a credit report in your name.
That happens when you either get a credit card on your own or have your parents add you to their credit card as an authorized user. Either way, the goal is to spend sparingly using the card, pay your debts off before the payment due debt, and to start accumulating a track record of a responsible borrower.
You may need to start off with a credit card with a very low limit. The good news is that cards like that are available. Start with Journey Student Rewards from Capital One (COF) - Get Capital One Financial Corporation Report , Citi  (C) - Get Citigroup Inc. Report Double-Dash Card, or Bank of America (BAC) - Get Bank of America Corporation Report Travel Rewards Credit Card for students - all of which cater to young financial consumers.
2. Consider a "Secured" Credit Card

If you can't qualify for a regular, unsecured credit card, go for a
to begin building credit. A secured credit card with cash down against use of the card - most major credit card providers offer them. Virtually in all cases, the money you put down on a secured card is the money you have for credit use. For instance, putting $1,000 down for a deposit means you have $1,000 for spending use.
Both the Capital One Secured Mastercard (MA) - Get Mastercard Incorporated Report and the Discover (DFS) - Get Discover Financial Services Report it Secured Card, for example, both offer a pathway to a regular credit card once a track record of timely payments has been established on the secured cards.
3. Apply for a Student Credit Card

Credit card providers have a soft spot for young collegians, offering a wide array of "starter" credit cards for college students. These "gateway" cards aren't exactly 100% consumer friendly, as they come with low credit limits and high interest rates if you don't pay your bills on time.
That said, they're relatively easy to get as long as you're a college student in good standing, and they do offer that all-important pathway to a traditional credit card once you've demonstrated you can pay your bills every month.
4. Handle Your Starter Credit Cards Diligently 

When 18-year-olds seek access to credit, they're in the spotlight when it comes to handling their starter credit cards.
Card providers will be watching to see if you pay your monthly card debt on time and that you keep your spending credit card balance low (i.e., the amount of money you have to spend versus the limit you're allowed on the card - note that a lower balance is always desirable.)
Adhere to those standards and you're on your way to a stronger credit score and better access to loans and credit.
5. Branch Out and Get a Small Loan 

To paint a bigger and better credit picture as an 18-year-old, build on your short credit score history and grab a small loan to flesh out your credit report and show creditors you can handle more debt.
The loan shouldn't be large - think a few thousand dollars for a used car for college or work - but if you take the loan out and pay it back on time, you're building an even stronger case as a consumer who's a good credit risk.
Lenders and creditors do like credit applicants who offer up a good mix on their credit reports - it shows them you can handle multiple debts.
6. Check Your Credit Report Regularly

Once you're 18-years of age, you qualify for a credit report in your name.
Granted, there may not be much of a history on the report but there will be soon, especially as you qualify for credit cards and/or small loans. By law, you can get a free credit report once per year from Experian (EXPGY) , Equifax (EFX) - Get Equifax Inc. Report and TransUnion (TRU) - Get TransUnion Report , from their own web sites. Also, you can get a free copy of your credit report once annually at Annualcreditreport.com
As an 18-year-old, you'll likely qualify for a Vantage Score first, and then a FICO credit score around six months later.
Why an 18-Year-Old Needs Good Credit
Teens who are looking to build a good credit score are actually in a good position to gain access to credit. Since an 18-year-old has plenty of time to build credit, the action steps needed to build a good credit history needn't be rushed.
Instead, take the time you need to get access to credit as an 18-year-old, mark off the "to do" items on your checklist one at a time and watch as creditors begin to respond to your credit-building campaign, and start offering the items you need to build a solid personal credit history platform.
Why take those steps? It's simple - getting access to credit, and using it smartly - is a springboard into the adult world of personal finance in general, and the world of debt and spending, in particular.
By getting good credit and practicing good personal financial habits, an 18-year-old can kickstart the process of getting a credit record of their own, usually by getting a credit card with a moderate spending limit or a small auto loan.
That allows an 18-year-old to start building the credit history they need to move on to bigger lifetime financial priorities, like getting a mortgage loan or landing a great job as a career professional (yes, many companies do check an applicant's credit before offering a position.)
For the short-term, the benefits of good credit can really stack up. Here's a handy list of items you'll qualify for as an 18-year-old who's building good credit:
You can qualify for a credit card. As a young financial consumer, you'll most likely qualify for a store, gas station credit card, or "small-limit" credit card at first.
You can rent an apartment. Yes, landlords also take a close look at a renter's credit history - especially with teenagers.
You'll get better interest rates. As you move up the ladder with a healthier FICO score, you'll start getting credit offers with lower interest rates attached, as you're deemed by lenders to be a good credit risk. That saves money and paves the way for a stronger credit score moving forward, as you'll have less debt to pay off.
You'll gain favor with prospective employers. As noted above, a young job candidate with a strong credit history will likely be viewed by potential employers as a high-quality candidate - one who handles money judiciously and who can be just as responsible on the job.
The Takeaway on Getting Access to Credit for 18-Year-Olds
The key to getting a green light on credit for an 18-year-old is to obtain credit and pay the debt off as quickly as possible.
Creditors want to do business with consumers who are reliable credit risks, and that goes for younger consumers who show they can handle a loan or credit card (or both.)
Follow the steps listed above and see how fast you can open and build your credit score - and keep building and improving that's score for the rest of your life - starting on your 18th birthday.
Introducing TheStreet Courses:Financial titans Jim Cramer and Robert Powell are bringing their market savvy and investing strategies to you. Learn how to create tax-efficient income, avoid mistakes, reduce risk and more. With our courses, you will have the tools and knowledge needed to achieve your financial goals. Learn more about TheStreet Courses on investing and personal finance here.