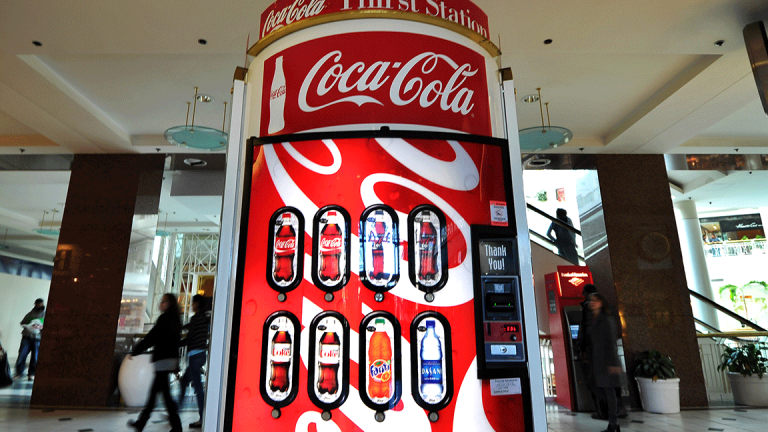 How to Start a Vending Machine Business
Low overhead costs and flexible schedules make entering the vending machine business an appealing option for entrepreneurs, but what does it take to get started? Find out how you can break into this industry in a few steps.
Though most of us see vending machines when we're out and about on a regular basis, many of us don't realize just how prevalent they really are. According to the National Automatic Merchandising Association (NAMA), there are over 5 million vending machines in the U.S. alone.
Vending machines today go beyond the candy and soda offerings of yesteryear. Today, vending machines disperse a range of goods - from spare shoes to smartphones. The growing and shifting within the vending machine space has made it an attractive prospect for many entrepreneurs. Part of their appeal is their low operational costs. There is no need to pay rent, utilities, or staff - just the upfront cost of the machine and machine maintenance.
Considering all of these advantages, it's little wonder that many people are interested in starting a vending machine business. According to Healthy YOU Vending, the vending industry is worth $42 billion. Looking to grab your piece of the pie? Read our guide to starting a successful vending machine business.
How to Start a Vending Machine Business in 6 Steps
While starting a vending machine business may sound tempting, it isn't for the faint of heart. There are still plenty of factors that you need to consider when thinking about entering the industry. Here are the steps you can take to get your vending machine business up-and-running.
Step 1: Identify the Kind of Vending Machine You Want

When someone says "vending machine," you likely imagine the vending machines of old that take a dollar in exchange for a small snack packet or bottle of soda, but today's vending machines are extremely diverse.
Food and beverage vending. Most of the current vending machine market consists of food and beverage vending machines that serve snacks and sodas. If you plan on purchasing more than one machine and placing them in different locations, then you may want to consider stocking different items in each machine depending on what kind of foot traffic you'll have in the area. To differentiate yourself from other vending machines, consider offering foods and beverages of a particular type - such as healthy snacks or exotic beverages from overseas.
Bulk vending. Remember the joy of getting a toy from a vending machine as a child? Now you can pass it on with bulk vending. Toys, gumballs, rubber balls, and similar items compose the typical bulk vending stock. These products and machines are generally some of the cheapest, as they carry the least amount of overhead due to being manually operated. When placed in the right setting, these machines can be a great source of passive income and are perfect for first-timers dipping their toes into the vending machine industry.
Specialty vending. Vending machines are entering a new age. Specialty vending machines offer something different than your typical run-of-the-mill machines. You can dispense almost anything, from electronics to hot beverages. Depending on the type of specialty products you carry, you can take home significantly more earnings than your standard food and beverage or bulk vending machine. However, keep in mind that your market for specialty vending is likely to be a lot more niche, meaning fewer people will take advantage of the machine.
No matter what kind of vending machine you decide to use, it's critically important to tailor your vending machine offerings to your target audience. Always consider who will be interacting with your machine and how you can meet their specific needs.
Step 2: Find a Great Location for Your Vending Machine
The biggest factor that will influence the success of your vending machine business is the strategic placement of your machines. Do your research and think critically about the people you are targeting. You want to meet a specific audience's needs in a specific place. For example, if you plan on placing a food and beverage vending machine in your local gym, you may want to stock it with protein bars, pre-mixed shakes, electrolyte-infused drinks, and other products that would provide value to gym goers. If you plan on having a specialty vending machine in a local laundromat, stock it with fabric softener and small packages of detergent.
In addition to meeting the needs of your target audience, you also want to estimate the commission fee you'll need to pay to utilize this location. Because you will likely be placing your vending machine in a space owned by someone else, they will likely collect a commission from your earnings. Typically, you'll need to pay between 10% to 25% of your revenue, but you may be able to negotiate this with some smaller businesses.
Once you have found a location or two that you want to lock down, be sure to do your research. Understand the laws around vending in your state. You can research your local regulations online or ask someone at your local Chamber of Commerce.
Once you reach out to the owner of the location you want to use, try your best to pitch the machine as a passive income opportunity for both parties. If the owner is sold and provides a contract, be sure to read it carefully before signing. Pay special attention to terms and conditions, as well as the quoted commission fees. Ideally, you should have a lawyer look over the contract before signing. 
Step 3: Secure Financing
While the vending machine industry has a much lower barrier of entry than many other industries, you still may need a few thousand dollars to get your business off the ground. Some brand-new vending machines can cost up to $10,000, not counting the inventory that fills them.
If you don't want to dig into your savings or don't have money already set aside, you need to look into your financing options. Calculate how much you will need to purchase the kinds of machines you need, as well as inventory before you look into your financing options.
Some financing options you might want to consider include:
Short-term loan: This is the best option for people who already have a small business and a proven business financial history. As the name implies, a short-term loan will offer a shorter payback period with higher interest rates than a long-term loan, but it can be helpful because they are easier to qualify for.
Equipment financing loan: This type of loan is the best option for people without a business financial history. The loan offers a fixed interest rate and uses the equipment itself as collateral in case of default, allowing you to get quick access to money without undergoing the same financial scrutiny that you might receive when obtaining a short-term loan. However, qualifying for this loan will require an analysis of your credit score and business tax returns.
Step 4: Purchase Your First Vending Machine
Once you have the capital you need, it's time to purchase your first vending machine. Do your research and find out which brands are best for the type of product you intend to carry. New machines can be costly. If you're trying to save money, do some research online to find refurbished machines or used machines that don't require any technical repairs. These are significantly cheaper to purchase. However, make sure you invest wisely in a used machine. It's still important that your machine functions perfectly, provides a great customer experience, and looks appealing to passers-by.
Step 5: Secure Your Inventory
Now that you have your machine, it's time to secure your inventory. Rather than going with stock items that every other vending machine offers, think about your customers' needs at that particular place and time. What products will help them at that moment? Try to fulfill a niche and gear your offerings towards that specific audience. This will help differentiate you from competitors and increase your sales overall. As you search for items, also take pricing into account. Is your target audience looking for high-end products or something more affordable? When searching for inventory items, be sure to have your machine's specs in hand to make sure the product will fit into the machine properly.
Step 6: Optimize Your Business' Performance
With the vending machine set up and ready to go, you should begin to see profits coming in. However, your work isn't done. It's time to focus on how to optimize your profits.
Because the industry has such a low barrier of entry, it can also be a very competitive space. Put your time and effort into optimizing your business. Here are a few options you may want to consider:
Optimize your inventory management. Many vending machines, particularly the more affordable models, require you track your inventory manually. Once you have more than a machine or two, it may make sense to invest in an inventory management system that can help streamline or automate this process. 
Boost your customer service. Customer service will be one of your top differentiators from other vending machine businesses. Ensure that your machines are functional, easy-to-use, and fully stocked. Listen to feedback from customers and address any complaints immediately and graciously. It's also important to cultivate relationships with local business owners through networking and business associations. These connections may be able to provide leads for you in the future. 
Increase the scope of your business. When you feel that you're succeeding from both an operational and financial perspective, put your income back into the business and expand its scope. Purchase more vending machines. Expand into new markets. Prospect for new locations. The more time and money you invest in your business, the more success you will have.
Introducing TheStreet Courses:Financial titans Jim Cramer and Robert Powell are bringing their market savvy and investing strategies to you. Learn how to create tax-efficient income, avoid mistakes, reduce risk and more. With our courses, you will have the tools and knowledge needed to achieve your financial goals. Learn more about TheStreet Courses on investing and personal finance here.