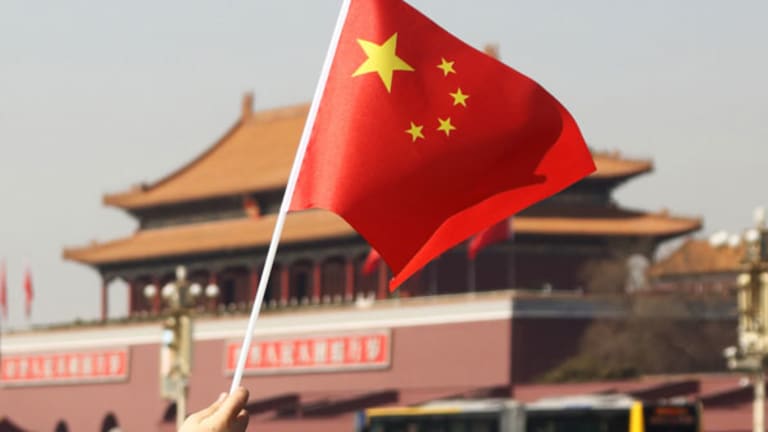 How to Profit From Economic Growth in China: Daqin Railway
Daqin Railway is a high-yield, undervalued railroad. Investing in railroads has led to many of the greatest fortunes in history, including Warren Buffett's.
NEW YORK (TheStreet) -- Investing in railroads has played a major role in the creation of many of the greatest fortunes in history. Charles Crocker, Henry Morrison, Jay Gould and Mark Hopkins, Jr.,  were some of the "robber barons" from 19th-century America that accumulated significant wealth from investing in railroads. For those now looking to profit from the railroads, Dinaker Singh, founder of the hedge fund TPG-Axon, recommends Daqin Railway (6016006 CH), a Chinese railway.
Speaking at the "Invest for Kids" conference in Chicago in late October, Singh stated that, overall, stocks in Asia are selling at a discount. Economic growth has slowed in China. Japan is still struggling to pull out of "The Lost Decade."
Situations like those create opportunities for investors, which Singh now sees in Daqin Railway, which is one of the 50th largest firms listed on the Shanghai Exchange, based on market capitalization.
Operating several railways in China, Daqin Railway went public in 2006. According to Singh, Daqin is undervalued; its price-to-earnings multiple of around 8 is about half that of Union Pacific (UNP) - Get Free Report, Kansas City Southern (KSU) - Get Free Report, CSX (CSX) - Get Free Report and Norfolk Southern (NSC) - Get Free Report. Guangshen Railway (GSH) - Get Free Report, another Chinese railway firm listed on The Big Board, trades for a price-to-earnings ratio of around 18, too.
Singh is also impressed by the management and balance sheet of Daqin Railway.
He noted the sustained growth in profits. There is also a 7% dividend yield, which is protected by the charter of the company and the high level of government ownership. By contrast, Guangshen Railway pays a dividend of 2.16%. The yield for Norfolk Southern is just more than 2.40%; just under 2.25% for CSX; around 2.00% for Union Pacific; and for Kansas City Southern, it is about 0.70%.
For Daqin, its revenue and the prices it charges are increasing. It has the market position to raise the rates it collects. The demands of the Chinese economy increase the need for railroad hauling, as it is the most fuel-efficient means of transportation.
There has always been a demand for railroad investments in the holdings of Warren Buffett, too.
In 2009, he bought Burlington Northern Santa Fe, the second-largest railroad company in North America, in a deal valued at $44 billion for the Berkshire Hathaway (BRK.A) - Get Free Report portfolio. Before acquiring Burlington Northern Santa Fe, Berkshire Hathaway owned 9,558,000 shares of Union Pacific and 1,933,000 shares of Norfolk Southern. Those shares were sold due to the purchase of the competitor. As his single favorite indicator for economic health, Buffett has stated that it is rail car loadings.
Daqin Railways is in a good place, as economic growth is starting to rebound again in China. Beijing is also focused on stoking consumer demand in the world's most populous country, as reported in another article on TheStreet. There is also a greater emphasis on protecting the environment in the People's Republic. Those factors and more should increase the need for railway services.
On the other hand,  Daqin Railways is in a bad place, at least for American investors, because it is listed on the Shanghai Exchange.
However, shares can be bought, with some effort.  Based on Singh's remarks, though, the end result looks well worth it. He has also performed significant due diligence on the company.
With growth and a higher dividend projected for the future by a very accomplished investor, those looking for profitable long-term total returns should consider taking a ride with Daqin Railways.
At the time of publication, the author had no position in any of the stocks mentioned.
This article was written by an independent contributor, separate from TheStreet's regular news coverage.
Jonathan Yates is a financial writer who has had thousands of articles appear in periodicals and Web sites such as TheStreet, Newsweek, The Washington Post and many others. He has degrees from Harvard University, Georgetown University Law Center and The Johns Hopkins University.