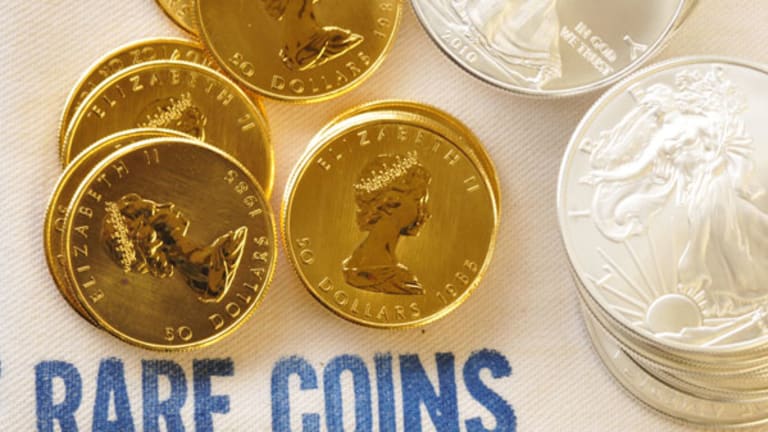 How to Pick a Gold Stock
Follow these tips to help in your search for the best miners.
Gold recently hit a record high settlement price, and considering the run it has had this year, many investors are interested in exploring ways to make the metal part of their overall strategy.
Though gold has pulled back a bit, it's still near $800 an ounce, and the bulls certainly believe another rally is just a matter of time.
Gold itself is an insurance policy against financially catastrophic events, such as a sharp decline in the dollar, the emergence of hyperinflation or geopolitical turmoil.
"You want a hedge against ... the unknowns that come along and hit you in the face," says Peter Bernstein, author of multiple finance classics, including
The Power of Gold: The History of an Obsession.
He recommends that investors devote 3% to 5% of their portfolios to gold, although others suggest a range of 5% to 15%. Bernstein says that if nothing goes wrong with the economy, then gold will be a lousy investment, but if something does happen, then having exposure to the metal should pay off.
When it comes to playing the sector, there are options -- buy gold itself, pick up shares of an exchange-traded fund or mutual fund, or go long the stock of one or more miners. Here, we'll focus on how to invest in miners.
Gold Update: Nova's Still Shining
var config = new Array(); config<BRACKET>"videoId"</BRACKET> = 1317848443; config<BRACKET>"playerTag"</BRACKET> = "TSCM Embedded Video Player"; config<BRACKET>"autoStart"</BRACKET> = false; config<BRACKET>"preloadBackColor"</BRACKET> = "#FFFFFF"; config<BRACKET>"useOverlayMenu"</BRACKET> = "false"; config<BRACKET>"width"</BRACKET> = 265; config<BRACKET>"height"</BRACKET> = 255; config<BRACKET>"playerId"</BRACKET> = 1243645856; createExperience(config, 8);
Getting Started
Mining companies provide increased leverage to changes in the price of bullion, because a small change in spot prices is magnified greatly in earnings.
Before throwing your hard-earned cash into the shares of a miner, first find out if the company makes most of its money from mining and selling gold. Although that may sound strange, especially if a company has the word "gold" in its name, it can in fact be a bit tricky.
For instance, although
Freeport-McMoRan Copper & Gold
(FCX) - Get Freeport-McMoRan, Inc. Report
does produce gold, the overwhelming share of its revenue comes from the industrial metals copper and molybdenum.
"An absolutely pure play gold company is really rare," says Shanquan Li, portfolio manager of
(OPGSX) - Get Invesco Gold & Special Minerals A Report
Oppenheimer Gold & Special Minerals fund in New York. When gold is mined, byproduct metals are also produced and sold for additional revenue.
When total revenue from gold is upward of 80%, that's probably sufficient to warrant the inclusion of a stock in a gold-only allocation, Li says.
Understanding Hedging and Output
Hedging is something investors don't want to see. It means that all or a portion of a miner's future output will not fluctuate in line with the price of gold because the prices are locked in. But that works against the reason many people want to own gold stocks.
"Most investors want to participate when gold soars," says Li.
It is worth noting, however, that banks sometimes insist that development projects hedge a future portion of their production as a condition of a loan. Financially solid firms like
Barrick Gold
(ABX)
and
Newmont Mining
(NEM) - Get Newmont Corporation Report
can sometimes avoid such loan covenants.
When you've found an unhedged gold miner, study its growth in reserves and production, says Joe Foster, portfolio manager at the
(INIVX) - Get Van Eck Intl Investors Gold A Report
Van Eck Intl Investors Gold fund in New York.
"Companies that can achieve growth have always commanded a premium," says Foster. "It's truer today, because it's harder to find growth."
In some sense, a miner is the value of the gold ore in the ground. So as that metal gets extracted, it needs to be replaced with new reserves. Between them, Newmont and Barrick will need to replace about 15 million ounces mined a year, or more than
one-fifth
of the annual output of all gold mines across the globe, just to renew depleted reserves.
Barrick's emphasis on forward-looking growth -- say, 10 to 15 years down the road -- has made it a better bet than rival Newmont, Foster says.
The other basic measure by which all gold miners are judged is cost per ounce of gold sold. Newmont recently reported third-quarter costs of $388 an ounce, up from $318 an ounce in the same period a year earlier.
A trend of declining unit costs would be ideal, but lately the opposite has been happening across the industry.
How Good Is Management?
Foster says a company's leadership should have a suitable background in mining and know how to deliver on their promises.
"Start with the next quarter and see if management's results are in line with its guidance," he says. "If they miss expectations, then that might be a stock you don't want to own." He adds that firms should theoretically always meet their guidance, but "mining is a risky business."
Vahid Fathi, a gold stock analyst at Morningstar in Chicago, says a useful way to determine whether management has created shareholder value is to look at its return on assets.
A 6% ROA should be a minimum for good miners, he explains. "It's low, but given gold's role as a diversifier and a hedge against inflation, it's enough," he says. Return on assets is calculated by dividing average assets for the year into the annual net income.
Still, he says that's a baseline case for a firm with multiple operating mines that are located in friendly countries. The rate should be increased for single-mine firms or those doing business in risky locales, so it's a good idea to brush up on your politics.
Some companies who work cooperatively with foreign states do better than others, and as with many things, experience helps.
"Having a decades-long track record is great as it means that the company is doing the right thing," says Peter Zeihan, director of global analysis for Austin-based Stratfor, a business intelligence consulting firm. "North America is certainly the safest region."
Takeover Targets
Stocks that appear likely to get gobbled up by major producers are another good way to profit, but investors need to be judicious.
For a takeover to work, the output of the acquired firm needs to be large enough to make an impact on the firm doing the buying, says Jim Vail, portfolio manager at the
(LEXMX)
ING Global Natural Resources fund in New York.
In other words, buying a two-bit firm with tiny output likely isn't worth the hassle for a large player like
AngloGold Ashanti
(AU) - Get AngloGold Ashanti Ltd. Report
, whereas a larger midtier target might be worthwhile.
"If you look at
Meridian Gold
(MDG)
, which is being taken over by
Yamana Gold
(AUY) - Get Yamana Gold Inc. Report
then the combined entity will likely produce approximately 2 million ounces a year by 2012," Vail says. That's the reason his fund owns Yamana.