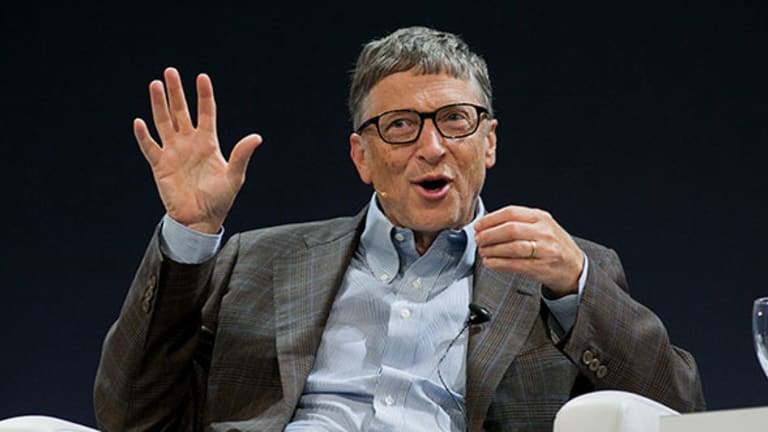 How to Make a Fortune Like Microsoft Billionaire Founder Bill Gates
We've got the tips and tricks to grow your fortune. Though, disclaimer - you might not reach Gates' $91.3 billion net worth.
We've got the tips and tricks to grow your fortune. Though, disclaimer - you might not reach Gates' $91.3 billion net worth.
Microsoft Corp. (MSFT) - Get Report co-founder Bill Gates is worth $91.3 billion, according to our research. That's over two million times the average personal income of a white male with some college education this year. It means Gates has earned over $3.78 million per day since the day he was born 52 years ago.
So what does it take to average seven figures earned each day from day one? Here are some tips to grow your fortune just like billionaire Bill Gates.
Beware Venture Capitalists
Gates didn't take any venture capital in Microsoft before its March 1986 initial public offering. That meant he still owned 45% of the company when it began trading, according to Fortune.
But recognize this strategy isn't for everyone. If you do own a company, venture capital can be a lifeline that keeps you afloat with cash to build a strong business before profitability becomes your main concern.
So, if you need to, attract some wealthy private equity eyes. But if you know you can stay solvent without venture capital, consider pulling a Gates so you keep all your share of the pie when your firm goes public.
Gates arguably became this rich because he never intended to. He didn't want to grow Microsoft as fast as he could, which meant he didn't need private equity to fund rapid expansion. By valuing control and going slow and steady, Gates could hold on to that precious 45% stake. That is, until he sold most of his shares in the years following the dotcom bust.
Invest In Your Education
Those are words taken directly from Gates in a 2014 Reddit "ask me anything" thread. A poster asked Gates his best personal finance advice for those who make under $100,000 per year. Gates simply told the user to "invest in your education."
Gates is famous for dropping out of Harvard University after two years there in the 1970s. He had a good reason -- he was starting Microsoft with Paul Allen -- but he wouldn't recommend it for everyone.
Before he quit the Ivy League, Gates attended the prestigious Lakeside School in Seattle. It was there where he first found a love for computers. The school invested $3,000 in a state-of-the-art computer, to which 13-year-old Gates took a rapid liking. It was somewhat unheard of to give middle schoolers access to that kind of technology in the 1960s, but Gates was attending a school that now runs $33,280 for a year's tuition. It seems to have done him well.
Lawyer Up
Among the chief reasons for Gates' unfathomable wealth is that he had strict property rights over the software he developed in the 1970s, according to economist Sam Wilkin's book "Wealth Secrets of the One Percent." It didn't hurt that Gates' father was at the time a high-powered Seattle lawyer.
Property rights can insulate you and your fledgling company from hungry competition with legally binding contracts. If no one can copy what you're doing, no one can infringe on your earning potential.
Surround Yourself With the Right Folks
Gates has said that the best business decision he ever made was hiring the right people in Microsoft's early days and entering into a business partnership with fellow co-founder Paul Allen.
Allen and Gates met as students at Lakeside Prep. The two have had a rocky relationship over the past, according to Allen in his memoir, "Idea Man." Allen said Gates was a shrewd negotiator who at times went behind Allen's back or criticized him for not contributing enough. But still, Gates and Allen call each other friends today.
Don't Rest On Your Laurels
Once you get your first taste of sweet success, don't let it cloud your judgment.
"Success is a lousy teacher," Gates said. "It seduces smart people into thinking they can't lose."
Microsoft is a holding in Jim Cramer's Action Alerts PLUS member club. Want to be alerted before Jim Cramer buys or sells MSFT? Learn more now.