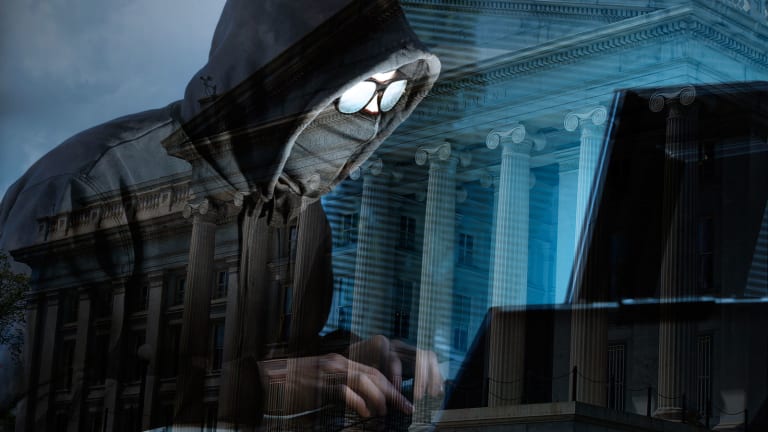 How to Keep Your Computer Safe From Hackers
You probably already know that the Internet is rife with hackers and viruses. Here's how to tell whether your computer has been compromised and prevent future damage.
You probably already know that the Internet is rife with hackers and viruses. Here's how to tell whether your computer has been compromised and prevent future damage.
NEW YORK (TheStreet) -- While you're sleeping, thousands of malicious people and private networks are burning the midnight oil to write malicious computer code, launch brute-force hacking attempts and find ways to avoid detection. Their goals: destroying your data, stealing your identity and/or your money, or worse.
Ruthless? Absolutely. The problems these people cause continue to increase, as does the amount of money spent to mitigate and remedy the damages.
Of course, this has been a bonanza for the companies that provide security software and services -- and their shareholders.
For example, Symantec's (SYMC) - Get Report stock price has risen 56% over the past five years. Meanwhile, Microsoft's (MSFT) - Get Report shares have increased 98% over that time while AVG Technologies' (AVG) stock has risen 89%.
You might want to consider picking up shares of such a security provider to boost your portfolio's returns, but today let's focus on how to protect your computer.
Here are a few symptoms that your computer may have been hacked or infected with
:
A sudden and noticeable decrease in your computer's performance.
Random pop-up screens and cryptic error messages.
Web browser windows or programs that open on their own.
Laptop or external Webcam activity lights that illuminate randomly or seemingly by themselves.
Continually flashing hard-drive activity lights or "grinding" of the hard drive.
Web browsing redirectors that take you to pages other than the ones you've selected.
Receiving reports from your email contacts that they received strange emails that you know you didn't send.
Sudden flooding of spam/junk emails arriving in your inbox.
Your computer appears to "freeze" or display "not responding" messages with increasing frequency.
You're unable to open documents or they open in programs you've not familiar with.
So, what can you do to mitigate the possibilities or your computer being hacked, infected or worse? Here are a few suggestions:
Ensure that you're using properly licensed, up-to-date antimalware mitigation software that automatically updates itself and performs both active and scheduled scans of your computer. This is clearly an area where you shouldn't rely on largely unmonitored and misunderstood "free" programs and utilities.
Routinely keep your operating system and installed programs updated with patches and service packs.
Avoid using operating systems that are no longer supported by their vendors (e.g., Microsoft's Windows XP)
Avoid opening emails from senders with whom you're not familiar.
Be careful opening email attachments, even if they come from people you know. If you're not expecting to receive a file, send them a new email or contact the sender via other means to inquire whether he or she really did send the file and why.
Utilize pop-up blocking, where possible, when browsing the Web.
Is it possible to fully protect against all of the malicious people out there bent on doing you and/or your computer harm?
Unfortunately, the answer is short but not sweet. It's "No." Statistics show that the odds are woefully against you.
Nevertheless, what holds true in the physical world holds true in the virtual one. Just as locking your windows, putting a deadbolt on your door or buying a dog with a loud bark can make your home less attractive to burglars, taking smart precautions to protect your computer from threats can make it less attractive to hackers. They very well may look for an easier "neighbor" to hack.
If you're not utilizing threat mitigation services or software provided by a trusted vendor such as Symantec, Microsoft, or AVG, you may end up wishing you had, but by then, the damage may have already been nasty.
This article is commentary by an independent contributor. At the time of publication, the author held no positions in the stocks mentioned.