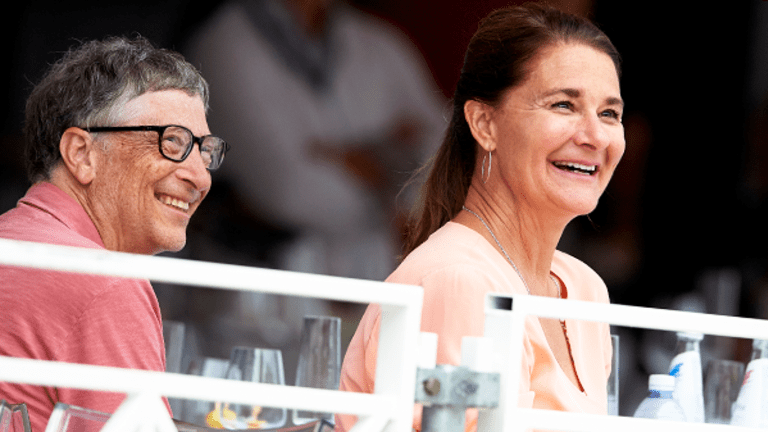 How to Eat Junk Food Like Microsoft Billionaire Bill Gates
Hint: There are a lot of burgers involved.
For the richest man in the world, Microsoft Corp. (MSFT) - Get Free Report co-founder Bill Gates sure doesn't eat like he's worth $91.3 billion.
Gates, who isn't a stranger to the finer things in life, eschews caviar and Veuve Clicquot in favor of burgers and sodas. His Seattle home is worth $170 million, but Gates' lunch probably doesn't run him more than a few bucks.
So if you don't expect you'll be able to rack up enough savings to build a house like Bill Gates or give billions to charity like him, here are some easily followed tips for eating like the legendary billionaire.
Bill Loves Burgers
While Gates could surely court philanthropists, world leaders and business partners with fancy flatware and extravagant cuisine, it's always "cheeseburgers for lunch, no matter who you are," Gates Foundation managing director Joe Cerrell told the Telegraph last year. "If you get a lunchtime slot with Bill, you're eating burgers."
Gates' often requests McDonald's Corp. (MCD) - Get Free Report , an indulgence his wife Melinda doesn't usually allow, Cerrell said. "Someone will always be sent to get bags of McDonald's." But Gates might prefer West Coast staple In-N-Out. In a Reddit "ask me anything" thread in 2014, Gates said McDonald's and Restaurant Brands-owned (QSR) - Get Free Report  Burger King are "fine," but In-N-Out is a "very good burger."
How About a Coke to Wash it Down?
Gates' tours across the country include "hotel rooms full of Diet Coke," Cerrell said. Gates shares his friend and Berkshire Hathaway (BRK.A) - Get Free Report (BRK.B) - Get Free Report CEO Warren Buffett's affinity for The Coca-Cola Co. (KO) - Get Free Report beverages. Gates said in a 2014 blog post he might drink three or four Diet Cokes per day. He's even photographed guzzling Diet Coke with Bono.
It seems Gates' missus doesn't share his particular preferences. A fine-dining waitress who waited on the Gates family for all three meals each day during a vacation they took in 2014 said Melinda Gates only drank water or sugarless beverages. She also reportedly asked the chefs at the resort to follow strict portion guidelines.
Keep an Open Mind, Though
Gates said he was a vegetarian in his late twenties, but the lifestyle change only lasted for one year. He had friends who didn't eat meat and wanted to give it a try, plus Gates said he was "flying a lot for work and found that the airplane meals made with tomatoes and beans just tasted better than the shoe-leather beef."
Though Gates returned to his carnivorous ways rather soon, he's quick to talk about animal agriculture's negative impacts on the environment. "Animal agriculture uses 30% of all land, over 25% of all freshwater on Earth, and creates as much greenhouse gas emissions as all of the world's cars, trucks, trains, ships and airplanes combined," the Gates Foundation website states.
Gates wrote in a blog post, though, that you can eat meat and still care about the environment. It's unrealistic to expect the developed world to become all-vegetarian, and there are steps to take to ensure ethical animal agriculture that can benefit poor nations, too.
If that doesn't work out, there's always the Gates-backed "clean meat" producer Memphis Meats that makes juicy burger patties fresh from the petri dish.