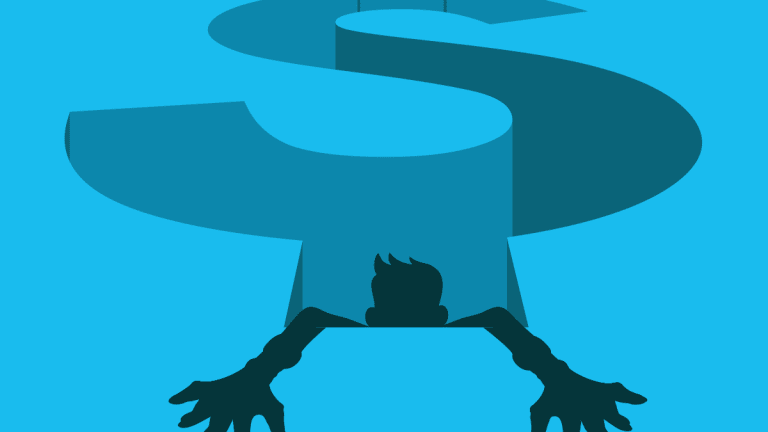 How to Deal With Debt Collectors: 8 Tips
Dealing with debt collectors takes creativity, discipline, initiative -- and a thick skin. Here's how to get the job done, and get debt collectors off your back.
For tens of millions of Americans, dealing with debt collections is an unfortunate reality of everyday life.
According to the U.S. Consumer Federal Protection Bureau and the National Consumer Law Center, 70 million Americans engaged with a debt collector in 2017.
Meanwhile, in 2016, 33% of U.S. adults with credit had debt in collection (meaning they were contacted by a debt collector.) By and large, the CFPB reports that financial consumers dealing with debt collection do so because they are either unemployed, are ill, have gotten divorced, "or other unanticipated hardships."
Simultaneously, U.S. debt collectors engage with consumers over one billion times annually and debt collection routinely tops the list of U.S. consumer complaints annually. "Continued attempts to collect debt now owed" is the most pervasive complaint U.S. adults have against debt collectors.
If you're in the same boat and have a beef or two with a debt collector, follow the adage and don't get mad -- get even. Make no mistake, nefarious debt collectors will stop at nothing in collecting debts, real and perceived, from beleaguered consumers.
How do you get the job done? Outside of avoiding debt collectors altogether (do that by always making sure you pay all your bills on time), you need a plan to deal with heavy-handed debt collectors.
Here's an eight-step strategy for keeping debt collection companies from hounding you into submission in 2019, along with a tip or two on how to pay any debts incurred and keep your credit score in good health.
8 Tips on How to Deal With Debt Collectors
1. Recognize You Have Rights (and Use Them if Needed.)

Uncle Sam, with help from state governments, has done a good job of protecting consumers from debt collectors compared with a decade or so ago.
The Fair Debt Collection Practices Act
, re-enacted in 2010, states that debt collectors can't harass or call consumers outside of restricted call hours. It also restricts the number of calls a debt collector can make each day.
If a debt collection agency violates the Act, the consumer in question can file suit against the collector, with the full weight of U.S. law on his or her side. The consumer can sue for damages and for attorney fees, according to the FDCPA.
Consumers who feel harassed by debt collectors can also file a complaint with the CFPB or through the consumer's state attorney general's office.
2. Stay on Top of Debt Notices and Calls 

What the FDCPA doesn't do is protect consumers from getting letters and calls from debt collection specialists.
If you do start hearing from a debt collector, contact the collection agency right away and see if you can negotiate a debt settlement, either through a discounted payoff amount or via an installment plan, and keep the debt collection harassment in check right away. As long as you live up to the terms of any agreement, you won't be getting any more calls from that debt collector.
If you doubt the validity of the debt, contact the debt collector and have them verify the debt's authenticity right away. Under federal law, you have the right to do so within 30 days of first being contacted by the debt collector.
3. Ensure the Debt Collector Is Legit - Part Two 
In this day and age, a debt collector, especially an on-line debt collector who reaches out via email, may be more interested in scamming you for money than in collecting on a debt for a client.
Make sure you get the full name of the company and check with the Better Business Bureau or go online to a consumer review site like Yelp to check on its validity. Use Google (GOOGL) - Get Free Report to check on any news or consumer complains about the company. If you conclude that the agency is or might be fraudulent, report the company right away to the CFPB or to your state's attorney generals' office, who'll check the company out.
4. Get the Original Paperwork - and Find Out If the Debt Collector Has It, Too
The original contract you have with a creditor or lender is vital in ascertaining if your debt is valid or not. It has the original language, along with the rules and regulations governing your agreement. In short, nobody can move forward with a collection campaign unless the debt can be proven legitimate, which the original contract can do.
Consequently, check your own records to see if you have the original contract between you and your creditor or lender. If you can't find it, call or email the creditor and ask for a copy of the contract. When you get it, review it to see if the debt in question is legitimate or not. Feel free to bring in a lawyer who specializes in contract law -- it might save you a ton of financial trouble in exchange for a few hundred bucks.
Now, go back to the debt collector and ask them to send you -- via email, letter or fax -- copies of the original contract. Tell them you can't make any payments until you have that paperwork. If they can't provide it (chances are they don't have the original agreement) and they keep contacting you, tell them to stop doing so. If they don't, that is considered harassment by law, and you can follow up with charges against the debt collector, which should stop further calls or emails cold.
5. Don't Provide Your Bank Account Information

Once you give a debt collector your bank account information, they'll likely keep making withdrawals from that bank account - whether you like it or not. It's better to make any payments via third-party payment providers like PayPal
(PYPL) - Get Free Report
or Western Union
(WU) - Get Free Report
, or make payments with a money order. That way, you control when the payments are made and not the debt collector.
6. Record Any Phone Conversations and Keep All Emails

Debt collectors have been known to use harsh and threatening language to force consumers to dig deep and pay up. Hold such debt collectors accountable by investing in a phone recording app like Automatic Call Recorder Pro or TapeACall Pro and record your phone conversations with debt collections agents. Check your state's rules on recording phone conversations - 12 U.S. states only allow it if you let the person on the other end of the line know you're taping the call. Even a "heads up" warning to a debt collector that your call is being recorded will likely keep them on their best behavior.
7. Negotiate a Settlement as Soon as Possible

If the debt has not appeared on your credit report yet, it's best to cut a deal and work out a settlement on that debt. By and large, debt collectors will offer you a deep discount to settle your debt -- they only get paid when the debt is being repaid, even at a discount. Keeping the debt off your credit report is a big deal, as it protects your credit rating and keeps you on good terms with future lenders and creditors.
If your debt does wind up on your credit report, clean it up as soon as possible and insist that the debt collector remove the item from your credit report (through a process called "pay for delete") once the debt is satisfied. If you don't, the debt can stay on your credit report for months, thus harming your ability to take out a loan or get a credit card, among other negative credit report outcomes.
8. Get the Payment Confirmed 

Once you make a payment to a debt collector, insist that you get written confirmation the payment was received (email is fine.) That way, future debt collectors can't come at you for the same debt and you'll have written proof that the debt was paid.
The Takeaway on Dealing With Debt Collectors
Debt collectors have a well-deserved reputation for being aggressive with consumers over the phone.
Stop them in their tracks by using the tips listed above, and take control over any debt collector scenario. In the process, you'll level the playing field, insure the debt is legitimate, and you'll protect your credit score, as well.