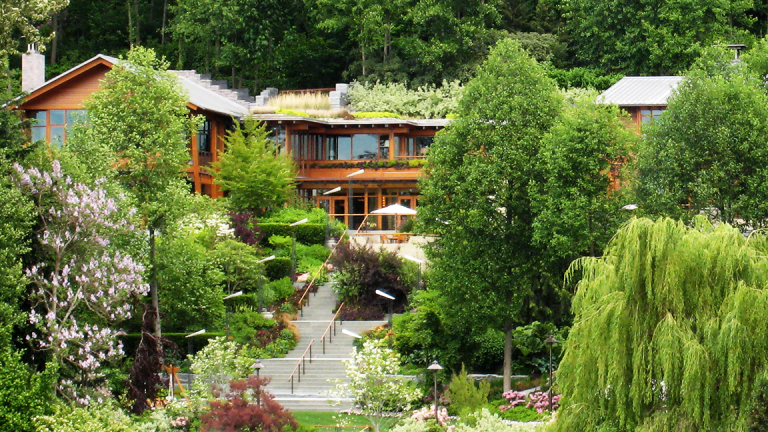 How to Build Your Home Just Like Microsoft Billionaire Bill Gates
Got a cool $100 million? We'll show you how to build a Bill Gates-like mega house.
Got a cool $100 million? We'll show you how to build a Bill Gates-like mega house.
As the old adage goes, home is where the heart is. For billionaire Microsoft Corp. (MSFT) - Get Report co-founder Bill Gates, home is where the high-tech luxury is.
Gates' house near Seattle is a sprawling 66,000 square foot estate worth as much as $170 million, according to Zillow (Z) - Get Report . It goes by the nickname Xanadu 2.0, an homage to the fictional home of "Citizen Kane's" titular character.
The Lake Washington seaside home is chock-full of high tech amenities that only Bill Gates could dream up. Here's how to build a home like Gates -- once you've got millions of dollars to spend, that is.
Some Important Basics
Gates bought the Medina, Washington, property, which is a little more than five acres, in 1988 for $2.05 million. Shortly after, Bainbridge, Washington-based architectural firms Bohlin Cywinski Jackson and Cutler-Anderson designed the Pacific lodge style property.
The home was completed in 1994, with the guest house the property's first finished structure in the nearly seven-year building process. The guest house was meant to serve as a test run of the main home's technology, according to U.S. News.
Gates' property tax in 2016 was a whopping $1,077,127, Zillow noted. That means Gates' property tax bill alone was over nine times the median household income of a married couple filing taxes together in 2014. But compared to Gates' $85.5 billion net worth, the tax bill was pocket change.
Some other important specs: Xanadu 2.0 has 24 bathrooms with 10 full baths, six kitchens and room for 23 cars in several garage buildings.
High Tech Living High On the Hog
When guests pay a visit to Xanadu 2.0, they're given a wearable device that allows them to change the temperature, music and lighting in whichever room they're in, according to Business Insider. Speakers situated inconspicuously behind wallpaper allow the system to "follow" people in the home, playing music to them as they move through the house. There are also $80,000 worth of smart screens throughout the home that display a variety of paintings and photographs that can be changed with the touch of a button.
But for all its upper-crust technology, the home has one basic feature that doesn't rely on any semiconductors or intricate coding. Xanadu 2.0 is an earth-sheltered house that's built into its natural surroundings to regulate temperature more efficiently. According to the Department of Energy, earth-sheltered homes use sunlight for heat from a series of south-facing windows and skylights. But, building an efficient earth-sheltered home can cost as much as 20% more than building a traditional home.
Don't Forget the Fun Stuff
Gates' three kids must be the envy of every neighborhood friend. They have a 60-foot pool with an underwater sound system in its own 3,900-square-foot building, Business Insider reported. Xanadu 2.0 also boasts a trampoline room with 20-foot ceilings attached to a full exercise facility with a sauna, steam room and both men's and women's locker rooms. The home theater can fit 20 guests in its art-deco style setup complete with a popcorn machine and plush recliners.
For the older set, Gates' home has a reception hall that can fit 200 people for a standing cocktail party and as many as 150 people for sit-down dinner. The reception hall has a six-foot-wide limestone fireplace and a 22-foot-wide video screen.
Gates has also spoken extensively of his love for reading, which he undoubtedly does in his 2,100-square-foot library. There are two secret book shelves in the library, with one revealing a hidden bar, according to Business Insider. Gates also houses in the library his Codex Leicester, a 16th-century Da Vinci manuscript he paid nearly $31 million for in 1994.