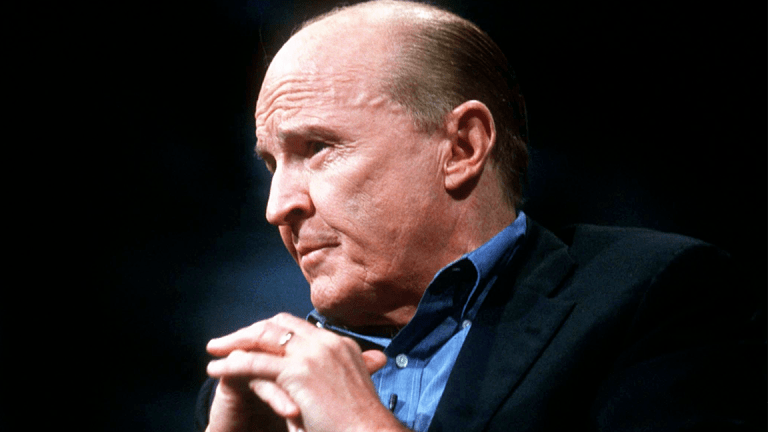 How to Build a Winning Company Like Former General Electric CEO Jack Welch
'Neutron Jack' didn't create a global heavyweight without playing a little hardball. Jack Welch used cutthroat strategies to make things happen.
Jack Welch started working at General Electric Co. (GE) - Get Report in 1960, a freshly minted chemical engineering PhD working at a plant in Pittsfield, Massachusetts, with a starting salary of $10,500.
In 2001, Welch retired from his position as CEO of the same company with a $417 million severance package, the biggest type of payment made to any U.S. CEO in recent history.
Along the way, Welch increased GE's value by an impressive $300 billion. He whipped a struggling industrials company into a global leader by implementing widespread change and stark cost cutting that earned him the nickname "Neutron Jack."
He created a business worthy of envy, and he's offered sage wisdom for managers since he retired from GE. Here are some of Welch's tips for building a company that'll make the competition green with envy.
Create Candor in the Workplace
"You reinforce the behaviors that you reward," Welch told Stanford's Graduate School of Business. "If you reward candor, you'll get it."
And you need it, Welch contends. "In a bureaucracy, people are afraid to speak out. This type of environment slows you down, and it doesn't improve the workplace," Welch said. Welch suggests creating a workplace that values and rewards honest feedback and transparency. The best means of breeding honesty is rewarding honesty.
You Need Differentiation, Even if It's Hard
Welch is famous for his 20-70-10 system, under which GE employees were grouped into the top 20%, the middle 70% and the bottom 10% each year. "You should take the top 20% of your employees and make them feel loved," Welch said. The middle 70% would be coached so they could move into the top 20%. The bottom 10%, however, was methodically fired each year. Welch still catches flack for the system, but he stands by his means of differentiation.
"Why are grades OK from the time that you're in the fourth grade to the time you're getting your MBA, but not OK once you're an adult?" Welch asked. "You need to use the same rigor to evaluate your people that you use to evaluate your financial statements."
While Welch is a staunch believer in reward and development, he has no time for coddling employees.
"The organization's job is winning," Welch said. "Winning companies create value in the products and services that they deliver. They should strive to provide opportunities and job security for their employees, but it shouldn't be the company's job to figure out your work-life balance."
Focus on Agility
"Scale alone is not enough," Welch told the Harvard Business Review. "You have to be able to combine financial strength, market position and technology leadership with an organizational focus on speed, agility and simplicity."
For a company as enormous as GE, implementing change could be a cumbersome task. But Welch ensured that GE was able to turn on a dime if need be.
"You can be the biggest, but if you're not flexible enough to handle rapid change and make quick decisions, you won't win," Welch said.
Change Is a Good Thing
Market conditions, the consumer, technology, competition and even what you produce will change, Welch says. Instead of running from change, embrace it.
An effective manager and leader can understand what kinds of change are coming and reinvent their strategy to best weather the storm. The immeasurable number of factors that contribute to a multinational business such as GE are constantly in flux -- digging your heels in and refusing to change will only hurt your bottom line.
General Electric is a holding in Jim Cramer's Action Alerts PLUS Charitable Trust Portfolio. Want to be alerted before Cramer buys or sells GE? Learn more now.
More of What's Trending on TheStreet: