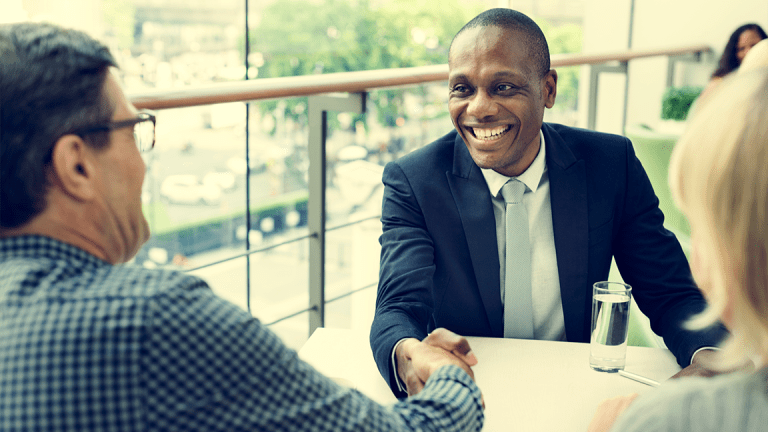 How to Become a Financial Advisor: What You Need to Know
The education and licenses needed to become a financial advisor will depend on your experience and the financial topic in which you specialize.
Financial advisor can mean a lot of things, and if you're someone who knows how to save, spend and invest wisely, it could be a good career to help impart your wisdom unto others. It's a career that U.S. News & World Report ranked as the 9th best business job in 2019.
Of course, there's far more to being a financial advisor than just understanding finance. There's a lot of specified knowledge to understand - not to mention figuring out the correct education and necessary licenses and certifications needed to dole out financial advice professionally. Here's what you need to know about becoming a financial advisor.
What Does a Financial Advisor Do?
The term "financial advisor" is pretty broad. In its most general form, financial advisor is what it sounds like: Someone who advises clients on finances. This can just be simply listening and providing advice and counsel for people about to make big financial decisions, but with certain specialized training, it can end up actually being far more than that.
The position requires plenty of financial and investing knowhow, but also a keen ability to sell yourself. Marketing and networking are some of the most important elements of the job, helping you develop an enviable list of contacts and clients alike.
Even after any necessary education required for financial advisors, they are never done learning. New investments, tax laws, risky economic factors, and far more keep coming into play, and as someone who handles someone's money for a living, financial advisors must be aware and well-versed in all of them, lest they start giving obsolete information.
Types of Financial Advisors
Advisors can often do well for themselves by having a specialty, being someone people come to for a specific and stressful event in their life. Some of the specialized topics financial advisors can focus on include:
Stocks
Retirement
Education
Insurance
Real Estate
Financial Planning
Even outside of these, large events like weddings may cause people to seek out financial advisors to figure out the best way to budget for the occasion.
Do You Need a Degree to Be a Financial Advisor?
According to the U.S. Bureau of Labor Statistics (BLS), only 24% of financial advisors in 2016 were self-employed. If you want to work in the field, you'll need to work in an office, and for a company to hire you, you'll likely need a relevant degree.
A bachelor's degree in finance, accounting, economics, business, or mathematics could be a good first step to a financial career. Those looking to become a financial advisor in college would also be wise to look into related courses that could help them with advising and finding work in the fields that employ them. A couple of classes about investing and financial planning could go a long way to not just expanding your knowledge, but diversifying your career options.
Continuing education, though not necessarily required, can be a good way for advisors and planners to stay up-to-date or expand their financial advising horizons.
The particularly ambitious student looking for minors that can help them in tandem with their major might want to take a different direction and look into communications and marketing. So much of maintaining your success as a financial advisor is networking and marketing yourself, it's important to understand how to efficiently do that as early as possible.
Licenses for Financial Advisors
Getting licensed is not necessarily a requirement for financial advisors - unless, of course, your specialty requires it.
Some advisors want to be able to help their clients by buying and trading stocks, and they'll need certain licenses. Even just giving advice pertaining to investments requires a license. Financial advisors at insurance companies will also need licenses to sell and advise on insurance.
Be warned, though: they're necessary, but licenses require timely courses and exams, not to mention the fees. Make sure you're aware of what you're getting into. You want to advise others on their finances for a living, so make sure to keep your own in line too so that you can take the necessary training and get the necessary licenses for your field.
FINRA Licenses: Series 6 & Series 7
These are a couple of financial advisor-related licenses whose exam was created by the Financial Industry Regulatory Authority.
The Series 6 exam from FINRA is also known as the Investment Company and Variable Contracts Products Representative exam, or IR. Should a financial advisor pass it and earn their Series 6 license, they would be able to sell specific types of securities: Mutual funds, insurance premiums, and variable annuities. It does not, though, allow you to sell stocks and bonds.
According to FINRA's website, the Series 6 exam is undergoing changes starting Oct. 1, 2018. It is going from 100 to 50 questions and you will have 90 minutes. Exam takers will need a prerequisite: the Securities Industry Essentials (SIE) exam, which also starts on Oct. 1. If you fail the exam the first time, you are eligible to re-take it after 30 days.
Those looking to be able to sell stocks and bonds as an advisor will need FINRA's Series 7 license. This exam is the General Securities Representative (GS) exam, and it tests your competency of basic knowledge required of working in the securities industry. As a result, it's a much longer exam than Series 6 and test takers are allotted more time for it.
Series 7 exams are also undergoing changes on Oct. 1; the questions are going from 250 to 125, with 225 minutes to take the exam. Like with the Series 6 exam, the SIE exam is required to get your license. New prices have not been determined for either exam yet, but until then a Series 6 exam costs $100, while a Series 7 costs $305.
NASAA Licenses: Series 65 & Series 66
Other licenses aspiring financial advisors need to be aware of are administered by FINRA, but were developed by the North American Securities Administration Association, or NASAA. These are the Series 65 and Series 66 licenses.
Investment advisors are required to have their Series 65 license in 49 states (Wyoming does not require it); it is also known as the "Uniform Investment Adviser Law Examination." This exam tests you on basic economic concepts, investment knowledge and understanding clients' needs. Passing this exam requires getting at least 94 of the 130 questions correct, and the current cost for the test is $175.
Completing the Series 66 exam also requires completing the aforementioned Series 7 exam. Series 66, the "Uniform Combined State Law Examination," is needed to become an investment advisor representative (IAR) who works for a larger investment advisor. With 150 minutes to take the test, you must get at least 73 out of 100 questions right to pass, and it costs $165.
Should you fail, you are eligible to re-take these exams 30 days after in the event of your first and second failure. Three or more failures, and you'll have to wait 180 days.
Becoming a Certified Financial Advisor
Depending on the type of financial advisor you want to be, it would also be wise to look into certain certifications early on in your career. Certified financial advisors generally have many hours of experience and must uphold the ethics of their profession to maintain certification.
These certifications will depend not just on what you want to do, but what you can afford. There's a lot of continuing education and exam fees involved. If you've done well early on in your advisor career and can afford to try and take this next step, great! But everyone should be aware of the requirements.
Here are four notable examples of certified financial advisors.
Certified Financial Planner
A Certified Financial Planner has been approved by the Certified Financial Planner Board of Standards, Inc. Those who chose to become a CFP must live up to the ethics and distinction of the label, as it has a reputation; the CFP Board's website claims that under 20% of financial planners have the CFP label.
Becoming a Certified Financial Planner requires at least a bachelor's degree from an accredited university, as well as college coursework from a program that is registered with the CFP Board. You'll also need at least 6,000 hours of professional financial planning experience (or 4,000 hours as an Apprentice). The CFP Exam lasts approximately 7 hours - two 3-hour chunks divided by a 40-minute recess. The current standard cost of the exam is $695, $595 if you apply 6+ weeks before the deadline and $795 in the final two weeks.
Aspiring CFPs also go through a background check, and should they pass and become one are required to uphold the CFP Board's code of ethics.
Personal Financial Specialist
A Personal Financial Specialist is a type of Certified Public Accountant, itself a type of financial advisor.
That means to become a Personal Financial Specialist, you'll need to be a CPA and ideally a member of the American Institute of Certified Public Accountants (AICPA). CPAs who specialize in financial planning, may be interested in becoming a PFS, and they'll need at least 75 hours of personal finance planning education to qualify, as well as either 3,000 hours of full-time business experience or 2 years of teaching experience in personal financial planning. Exam fees are $400 for first-timers who are AICPA members.
CPAs who have also passed the CFP exam do not need this exam to qualify as a PFS.
Certified Fund Specialist
A Certified Fund Specialist (CFS) is a certification for financial advisors who have thrived in the world of mutual funds. A CFS is certified by the Institute of Business & Finance (IBF), and according to FINRA you need either a bachelor's degree or 2,000 hours of experience working in finance to qualify for the course and subsequent exam. Once enrolled, you have one year to complete the course at your own pace.
Becoming a CFS can be a big deal for a financial advisor who deals in mutual funds, but the course is costly: $1,365.
Chartered Financial Analyst
Becoming a Chartered Financial Analyst (CFA) is a huge step for a financial advisor with a specialty in investment and portfolio analysis.
To enroll in the necessary course to become a CFA at The CFA Institute, you will need to meet one of the following education requirements: a completed bachelor's degree or equivalent, four years of professional job experience, or a combination of education and professional experience that adds up to a minimum of four years. You'll also need:
A valid international passport
Fluency in English for the exam
To meet The CFA Institute's standards for professional conduct
To live in a participating country
There are three levels of exams to become a CFA. The Level One exam is given in June and December, but Levels Two and Three are only available in June.
Financial Advisor Salary
The most recent information from the BLS says that the median financial advisor salary, as of May 2018, is $88,890. States like New York, D.C. and Wyoming offer some of the highest wages in the country for financial advisors, and those in the top 10% could make over $200,000.
The most common industry for financial advisors is the world of investing (securities, commodity contracts and other financial investments and related activities), where they have a mean annual salary of $129,950. Financial advisors in the world of real estate, while a much smaller group, had an average annual salary of $161,860.
Due to an aging population in need of financial guidance, financial advisor is an occupation that the BLS actually predicts better-than-average growth for, with a projected 15% growth from 2016-26.