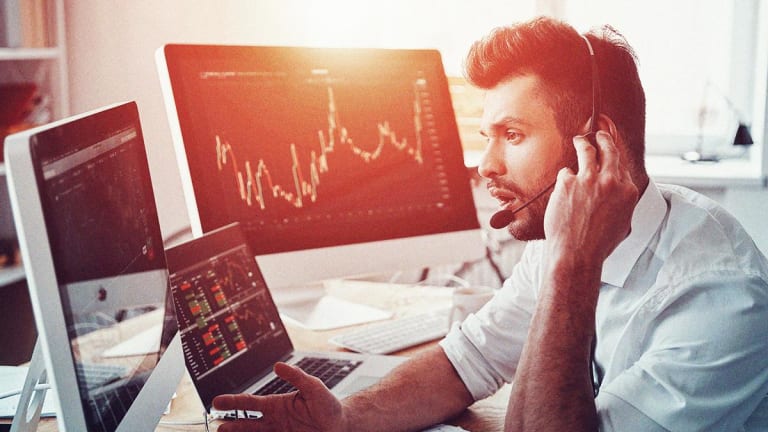 How to Become a Day Trader
Becoming a day trader isn't easy, but if you do it right, its financially rewarding and you are your own boss.
Becoming a day trader isn't for everyone.
It takes equal parts discipline, cash flow, patience and the willingness to take risks that most stock market investors likely wouldn't absorb.
On the other side of the coin, the rewards of becoming a day trader are numerous. You're your own boss, there's ample money to be made, and you're learning about a valuable wealth creation tool called passive income, which allows your investments to grow in value while you sleep or while you press on with other matters in your life.
Know this, however. The most successful day traders go into the venture with their eyes wide open and don't expect day trading to be a "get-rich-quick" scenario.
Consequently, you're going to have to work hard to hone your craft, grow accustomed to the realities of losing money on a regular basis, and live with the fact that you're taking financial risk other most other investors do not.
If that sounds like a good deal to you, then read on, and let's demystify the realities of the life of a day trader.
How to Become a Day Trader: 8 Steps
Learning how to become a day trader is a multi-layered process, but it is highly doable if you have the passion and discipline needed to be successful on your own in the highly competitive world of stock trading.
The most conventional way of becoming a day trader is too ease into it and learn from experience, one trade at a time.
Prepare for that experience by knowing what you're in for as a day trader - and that means defining it and learning it just as you would any professional occupation - as a day in the life of a day trader.
By and large, a day trader is an individual who trades stocks (i.e., investment securities) during the day, when the stock market is open. In virtually all cases, a day trader aims to buy and sell a stock in the same day, with the goal of making a small profit.
Why would a day trader make frequent daily trades and then sell out of the position before the end of the trading day? That strategy aims to leverage stock market price fluctuations which (ideally) go in the day trader's favor.
If, for example, a day trader buys 100 shares of XYZ Corp. for $3.50 per share at 10:00 AM and the market pushes the stock up to $3.75 per share. When the day trader sells his full position in XYZ Corp. at or about $3.75, he or she is doing what every day trader wants to do - make a small profit and get out before the day is done.
Ideally, when the day is done, a savvy day trader has no open trading positions - he or she starts from scratch again the next trading session.
That's what separates a day trader from so-called "swing traders." As opposed to a day trader, whose goal is to buy and sell a security for a profit in a single trading day, a swing trader broadens his or her scope and makes trades with a longer profit-taking mindset, and will hold a security for a period of several days before closing out the position.
For a day trader to get going and start trading in the markets, he or she has to take the following steps.
1. Take Inventory of Your Trading Skills
It's no secret the more you know about the ways of Wall Street, the better you'll be as a day trader.
That's why it's so important to conduct a personal inventory of the skills needed to succeed in the day trading market. To do so adeptly, ask yourself the following questions:
2. Are You Fluent in Financial Knowledge?

Can you handle quick mathematical calculations in a matter of seconds? A background in trading and the numerical sciences is a big advantage in day trading.
3. Can You Handle Substantial Financial Risk?
If you already have a financial advisor in your life, he or she has probably already asked you a big question - "How much risk can you take and still sleep at night?"
It's a valid question - even more so when striving to become a day trader. That's why prior to becoming a day trader, you also need to undertake a personal risk assessment. Ask yourself how much you're willing to lose in the stock market as a day trader and arrive at a number that, even if it's painful, still allows you to sleep at night.
4. Face the Realities of the Business

Despite the conventional wisdom that has day traders closing trades and making millions poolside at their tropical villa, the reality is quite different.
As a day trader, be prepared to put in long hours (you won't make a lot of money on "thin-margin profit" trades, so you'll need to make a number of them each day to make a decent living.) You'll also eat lunch at your desk a lot, as you won't want to take the chance of taking your eye off the stock market for an hour or so - any volatility swing can dent your trading strategy, so you have to be on top of the stock market, and your portfolio, all the times.
The unfortunate realities of missing lunch with your son or daughter on a nice summer day or tracking the momentum of that biotech stock you shorted are all too real, and you need to be aware of that reality going into the day-trading life.
5. Get Adequate Trading Dollars Together to Start 

It's tough batting 1,000% in the stock market, and you will lose money.
Consequently, you'll need sufficient capital to launch your day-trading business. Some estimates place an appropriate amount of day-trading funding at $100,000, but that's unrealistic for most people. Instead, start small with $10,000, trade small with that $10,000 and learn from your mistakes.
If you can survive the first 90 days of day trading at that funding amount, double your funding to $20,000 through personal savings or a business loan, and ramp up accordingly.
6. Run Tests on Your Trades Before You Start Spending Real Money

One common mistake day traders make is to start trading with real money before they have a good grip on what day trading is really like, and what they really need to know to make it as a trader.
Market hours and rules, knowing how the trading system functions, executing trades correctly, understanding financial risk options on margin trading, and trade-settlement dates and obligations all have to be experienced first-hand before you're comfortable as a day trader.
Put the training wheels on first and "test run" your trading first. Day-trading platforms like TD Ameritrade (AMTD) - Get TD Ameritrade Holding Corporation Report , Interactive Brokers (IBKR) - Get Interactive Brokers Group, Inc. Class A Report , and TradeStation allow you to get your feet wet as a day trader first before you start trading with experienced professionals.
This way, you can test run various trading strategies first, before you dive into the deep end of the pool. Testing your portfolio trading strategy enables you to customize or tweak that strategy before you're ready to go live.
7. Know What Goes Into a Successful Trading Day 

As a day trader, your trading strategy will determine your profits.
As a result, you'll need to completely understand how that trading strategy is to be deployed, especially in knowing how much money you'll deploy daily; how much cash per trade you'll require, what stocks you'll be trading, and how frequently you'll trade them.
Let's face it, you're already juggling a lot of balls in the air as a day trader. The ball you'll really need to keep your eye on is your overall trading strategy, and you'll need to do that all day and every day.
8. Change on the Fly 

On Wall Street, having to change up your trading strategy due to adverse market conditions is a common occurrence.
For example, if you set aside $2,500 to trade for the day, but you lost money on your first five trades, you'll need a reliable "Plan B" to fall back on. That's why testing your trading strategy first is so important - changing on the fly in the face of mounting losses is going to be required - and the sooner you plan for that, the better.
How Much Money Can You Make as a Day Trader?
How much profit you can earn as a day trader is really up to you. It depends on the time you put into the business, your trading skills, the fees you'll pay for trade executions, and a myriad of other factors.
After all, if you start with $3,000 in trading funds, as opposed to starting with $30,000, you'll make less money in the day-trading field.
According to industry figures, it's common for day traders who start out at the $25,000 or $30,000 funding level to make over $10,000 per month, minus trading fees and operating expenses.
That's a broad estimate. However, the money you make as a day trader will depend in many moving parts, and that's why it's best to start trading on a gradual basis, and see how you do over your first few 30-day trading periods.