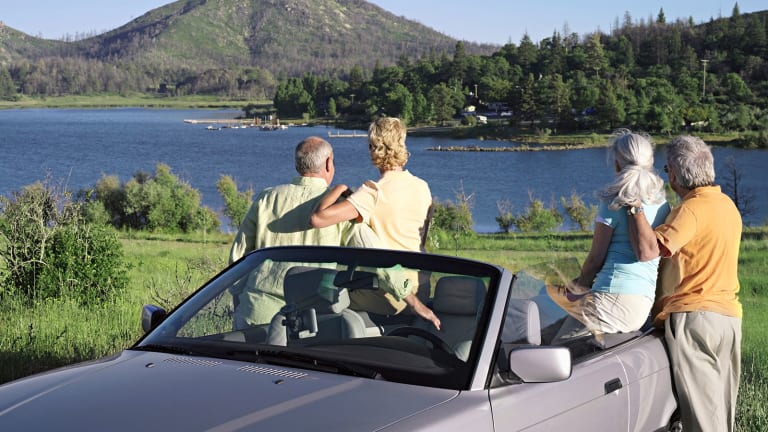 How to Be Happy in Retirement
One key area contributes more to retiree happiness than anything else. TheStreet takes a look at how to be happy when the working days are over.
Want to be happy in retirement?
It's easy. Spend your money and time on leisure activities. Take vacations. Celebrate Bloomsday in Dublin with your old college roommates. Hike the Appalachian Trail with your neighbor. Learn new things. Take a class at the Culinary Institute of America with your best friends. Learn how to make pottery or yogurt, or ride a motorcycle.
And while you're at it, don't forget to invest in staying healthy. Power walk. Join a stand-up paddleboard race team or maybe join -- even if the locker room and your equipment smell like a garbage barge - an old-man ice hockey league. Go see your doctors and dentists at least once per year and for G-d's sake, take your meds.
Why?
"Because retirement is different," said Michael Finke, co-author of a just-published study, Spending, Relationship Quality, and Life Satisfaction in Retirement. "Our goal isn't to earn money, our goal is to enjoy life."
And leisure spending is positively related to life satisfaction, compared to housing and all other categories of spending," wrote Finke, the dean and chief academic officer at The American College of Financial Services; Nhat Ho, an assistant professor of finance at Eastern New Mexico University; and Sandra Huston, a professor at Texas Tech University.
According to Finke, the study looked at the following: Does what we spend money on make us happier?
"We look at the share of a retiree's budget that is spent on various categories of goods and services, and find that the only thing that consistently makes retirees more satisfied is spending on leisure activities," he said. "Spending more on other budget categories, things like clothes, cars, or gifts, doesn't make us happier."
To be fair, other factors besides leisure do contribute to life satisfaction in retirement. For instance, there's "strong evidence to support spouse/partner and friends, and some evidence regarding other family," to retiree life satisfaction, wrote the authors.
There is no evidence, however, to support children contributing to retiree life satisfaction. Given that, the authors suggest that you might want to think twice before selling your home and moving closer to your children/grandchildren. In fact, they recommend that you do a cost/benefit analysis and assess and manage your expectations before making any drastic changes (i.e. sticking a 'for sale' sign on your front lawn).
How's Your marriage?
The quality of the spousal relationship is an important factor in retiree life satisfaction, as well. In fact, the authors noted that it's not simply a matter of being married or not, but rather how the quality of the marital relationship impacts life satisfaction.
An interesting way to think about the importance of relationship quality is to compare it to spending more on leisure -- the one thing that actually makes us happier.
So, for instance, a married retiree who has a poor-quality spousal relationship is worse off than an unmarried retiree in terms of life satisfaction, wrote the authors. However, a married retiree with a high-quality spousal relationship is much better off than an unmarried retiree.
"In other words, if you don't maintain a good relationship with your spouse, you'd need to spend a lot more on leisure to provide the same amount of life satisfaction," said Finke.
So, what might you do, if you're married and heading into retirement or are already retired? Evaluate and monitor the quality of your marriage. If it's poor consider investing in counseling to help bridge the often stressful marriage transition between work and retirement. A good marriage can contribute greatly to you -- as the researchers like to say -- maximizing your utility during retirement.
If You Have Your Health You've Got Everything
In terms of magnitude of impact, the old saying, 'if you've got your health, you've got everything,' still applies. "Health status has a substantial impact on life satisfaction," wrote the authors. Given that, retirees should spend time and money sustaining and/or improving their health to the extent their resources permit.
"Getting yourself in good shape to get the most out of retirement doesn't just mean saving more in a 401(k)," said Finke. "It means making an investment in being physically able to spend the money on social activities, and investing in relationships and friendships that help us get the most out of life."
So, instead of looking for the next hot stock pick, consider this: "Investing in health can give you a higher return in retirement satisfaction than an investment in stocks" said Finke.
Got Friends?
Near-retirees and retirees should also "assess their portfolio of friends for both the number and degree of contact that is incorporated into their life and financial goals." The reason? The research suggests that friends are an important input to producing commodities that yield life satisfaction.
Enjoying life requires a number of inputs, said Finke. "Things like good health, good relationships, and even money to buy the goods and services that make us happy," he said. "All of our research on life satisfaction in retirement suggests that it takes a combination of health, money, and positive relationships to be happy. This means that we shouldn't just invest in money, we should invest in the quality of our relationship and in our health to get the most out of retirement."
According to Finke, one of the most important findings is that frequency and quality of contact with friends is far more important than contact with children and family. "This again makes sense if we think of how we spend time in retirement," said Finke. "We can choose the friends that contribute most to the amount of satisfaction we get from our leisure time, but children and family aren't necessarily the people we most enjoy spending free time with."
Get Help
If you're not yet retired, consider talking to a financial adviser, a marriage counselor, or a personal trainer. A financial adviser can help you get the most out of your savings, but the savings might be less important than a healthy relationship and body. It doesn't make any sense to invest more in money if we're not also making investments that help us enjoy the money we have, said Finke.
Need Inspiration?
Read JUST GO! Leave the Treadmill for a World of Adventure. Also visit Road Scholar  and Osher Lifelong Learning Institutes.
Bottom line
"The bottom line is that spending money on leisure, and in particular on social activities with friends increases our life satisfaction in retirement," said Finke. "It might not be the best idea to buy a cabin in the woods or move close to children to get the most out of retirement."