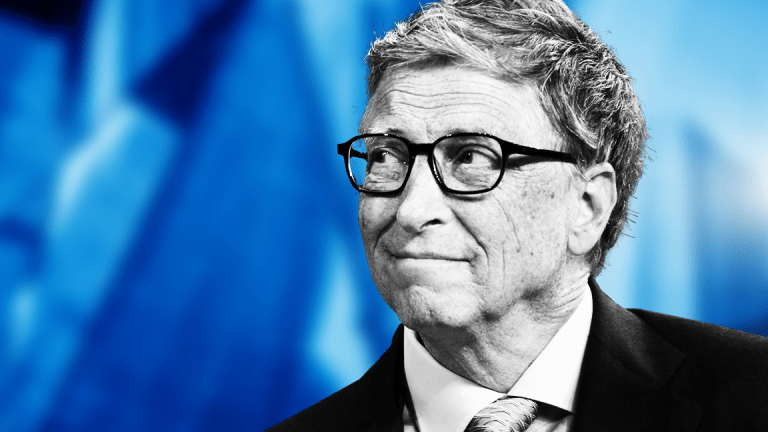 How to Be as Charitable as Microsoft Billionaire Bill Gates
Even if you aren't worth $91.3 billion like Bill Gates, you can make a difference. Here's how the billionaire is giving away his cash.
Microsoft Corp. (MSFT) - Get Free Report founder Bill Gates is as famous for his immense charitable giving as he is for sparking a personal computing revolution in the 20th century.
Gates and his wife, Melinda, started the Bill and Melinda Gates Foundation in the 1990s under the belief that "every life has equal value." Since its inception, the Gates Foundation has racked up a $40.3 billion endowment and has to date given $41.3 billion in grants.
You might not be the richest man in the world like Bill Gates with his massive $91.3 billion net worth, but there are ways to give back just like he does.
Know What You Need and What You Don't
Bill Gates has a $150 million, 66,000-square foot lakeside Seattle mansion complete with a pool boasting its own underwater speaker system, according to Business Insider. But he knows what he needs and what he doesn't. And with a net worth like that, Gates could undoubtedly afford more than one high-end swimming pool.
"Money has no utility to me beyond a certain point," Gates told the Telegraph in 2013. His sprawling home is far larger than most Americans could fathom, but it still represents less than 0.2% of his worth. His charitable donations - which topped $28 billion to the Gates Foundation in 2016 - represent about 33% of his overall wealth.
Find a Passion
In the U.S., the Gates Foundation "seeks to ensure that all people - especially those with the fewest resources - have access to the opportunities they need to succeed in school and life." Abroad, the Gates Foundation "focuses on improving people's health and giving them the chance to life themselves out of hunger and extreme poverty."
For the Gates' Foundation, the mission is broad. But for an individual donor, developing a strategy is paramount to giving in the most meaningful ways. Forget donating to your alma mater, the teary-eyed kid at your stoop or the groups with the most pitiful soundtracks during afterhours programming.
Instead, ask what problem you want to solve and what causes you value, said financial planner Bridget Sullivan Mermel to Time Inc.'s  (TIME) Money. Next, think about what's within reach, both geographically and financially. Find a group that fits your individual goals in charitable giving and donate what makes sense for you.
Pay Attention to Results
It's easy to write a check and rest on your laurels, but it's better to pay attention to what the group you chose did with your money. Did they write you a letter thanking you for your gift? Did they communicate results from your donation? Was it all just another plea for money? Keep track of the organizations that were positively impactful so your next donation can change as many lives as possible.
In 2013, Gates set out to fund the reinvention of the condom for next-generation use. But a few years later, Gates acknowledged it was a lousy use of charitable funds. The Foundation learned a lot, Gates has said, but ultimately never implemented a new design to the mass market. 
Surround Yourself With the Right People
Recent research suggests that power doesn't corrupt as many might surmise. Rather, "power leads people to act more generously toward future generations" over time, according to a study at the University of Michigan. Those in power were more likely to choose future reform over immediate relief, suggesting a longer-term view of fixing the world's problems. So spending your free time with others in power could prove a good idea.
Gates and Berkshire Hathaway (BRK.A) - Get Free Report (BRK.B) - Get Free Report CEO Warren Buffett, who are close personal friends, started the Giving Pledge and successfully recruited hundreds of the world's wealthiest to donate a majority of their wealth to charity before they die. The combined net worth of all those who have signed the Giving Pledge as of 2016 was $731 billion.