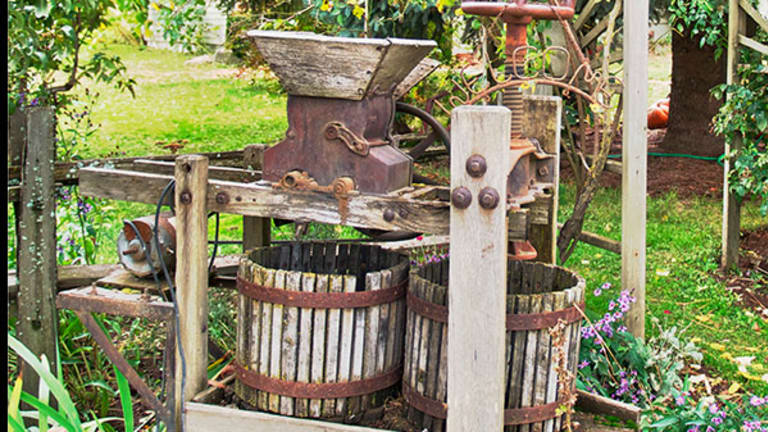 Homebrewing's Fine, but Here's How to Start Home Cidering
This is when home cider makers get pressing. As cider's popularity takes off, home cidering's lure only increases.
PORTLAND, Ore. (
) -- Before University of Minnesota fruit-breeding specialist James Luby identified the apples in front of my family's barn as Lodi apples a few weeks ago, my wife and I harvested several bucketsful of them, rented a crusher and press and set about making our first batch of cider.
The result was a sweet, aromatic concoction that was enjoyable chilled or warmed and filled our refrigerator in gallon jugs for weeks. We opted against fermenting it this year, but seeing the recent success and escalating cost of hard cider, I'm starting to wish we had.
For beer lovers, this is a season filled with big steins of Marzen, trellises filled with fresh hops, ales teeming with pumpkin and harvest brews spiced with cinnamon, nutmeg and ginger. It's a somewhat similar situation for cider fans, who are in the middle of the apple harvest and seeing
Boston Beer
(SAM) - Get Boston Beer Company, Inc. Class A Report
add cinnamon to the Cinnful Apple variety of its Angry Orchard cider while Oregon cidermaker Wandering Aengus blends fresh hops into its Anthem Hop Cider.
As much as the current grape harvest makes this a busy time for winemakers and the changing weather makes it a lovely -- if somewhat slow -- time for brewing beer, this is also when North America's home cider makers get pressing. As cider's popularity takes off, home cidering's lure only increases.
Hard cider accounts for less than 1% of the total U.S. beer market, according to market research firm
Symphony IRI
. Cider sales in chain and convenience stores brought in $450 million in 2011 and jumped 84.5% last year, though. That outpaces the 1.5% growth of the overall beer market, the 5.6% growth of wine and even the 17% growth of craft beer during the same span.
According to market research firm
Nomura Research
, however, cider's growth is fueled by an audience that craft beer and the beer industry in general have had a tough time drawing. Roughly half of cider's drinkers are women, who make up only about 20% of all beer buyers and drinkers. Not only that, but cider's fans also tend to be more well-off than their beer-swilling counterparts. Cider also sells for an average of $35 a case, well above the $29 a case paid for imported beers and the $33 brought in by craft beer.
Simply put, cider casts a wider net while still hovering around the same 6% alcohol by volume as craft beers. Brewers are getting the message. In February 2012,
MolsonCoors
(TAP) - Get Molson Coors Beverage Company Class B Report
and
SABMiller
joint U.S. venture Miller Coors bought Minnesota-based craft cider producer Crispin for a reported $40 million and put it in their Tenth and Blake stable of craft and import beers. Last April, Boston Beer launched its Angry Orchard cider brands, which leaped into
Nielsen's
(NLSN) - Get Nielsen Holdings Plc Report
Top 10 beer growth brands by year-end. Angry Orchard grabbed 0.1% of the beer market's volume and 0.2% of its share last year, which is noteworthy because all ciders combined made up 0.2% of the beer market in 2011.
Anheuser-Busch InBev
(BUD) - Get Anheuser-Busch InBev SA/NV Report
, meanwhile, quietly launched its Michelob Ultra Light Hard Cider before making a big push for its Stella Artois Cidre this year. That's still a relatively small step into the cider game compared with what cider's biggest players have been doing recently. Ireland's
C&C Group
-- which already produces Bulmer's and Magners ciders -- dipped a toe into the U.S. cider industry in 2011 by paying $25 million for California-based Hornsby's ciders. It made a far bigger splash in December, when it bought Woodchuck Cider maker Vermont Hard Cider for $305 million.
Cider's appeal is so vast that brewing partnership The
Craft Brew Alliance
(BREW) - Get Craft Brew Alliance Report
-- which produces Widmer Brothers, Redhook and Kona beers -- launched its Square Mile Cider brand in May. By summer, the staff at Craft Brew's Widmer Brothers Gasthaus in Portland, Ore., was mixing Square Mile's Spur & Vine hop cider with Widmer's Citra Blonde to make the refreshing Citracide blend.
Neither the
United States Association of Cider Makers
-- which has been lobbying regulators to change carbonation and alcohol restrictions that run harder and fizzier ciders afoul of wine and champagne taxes -- nor the
serving the top apple-growing state of Washington had hard numbers on just how many home cidermakers are churning out product in the United States this year.
Sherrye Wyatt, executive director of the Northwest Cider Association, at least had strong anecdotal evidence that "home cidermakers are on the rise, and the entire industry is growing rapidly," including cidermaking workshops that not just fill up, but have persistent waiting lists.
"There seems to be no end in sight to the popularity. Our organization represents all categories of people involved in the cider industry, from enthusiasts to professional cidermakers, and we are growing at an unprecedented rate," Wyatt said.
Wyatt can point to growing to 32 commercial cideries in August from 19 in January, but on the home front it's not so easy. One of the key problems with pinning down those numbers is that small cidermakers tend to buy or rent their supplies at the same places as wine makers or homebrewers, skewing the demographic a bit.
Secondly, with the exception of apple grinders and certain presses, the hydrometers, vinometers, fermenters, carboys, fermentation locks, siphoning tubes, racking canes, yeast and other items used in home cidering also bleed into winemaking and brewing. That said, the entry price of home cidering is more comparable to winemaking than to the much cheaper home brewing process.
While a 5-gallon homebrew starter kit will set you back $100 to $150, a cidermaker will double that just by buying a press. Homebrew supply company
starts at $250 for a tabletop mini press but jumps to $319 for a simple basket press for 5- to 10-gallon batches and soars to nearly $2,000 for an 80-gallon model.
That's before you've even crushed an apple. Hillsboro, Ore., brewing supply shop
Mainbrew
, for example, starts with base, hand-cranked apple crushers that cost roughly $240. Stainless steel models run roughly $100 more, but an electric motor that saves some strain on the arms and shoulders nearly triples the price to $1,200.
There are some ways around that initial $500 to $3,000 layout, though. Most brewing supply stores will rent crushers and presses at a daily rate. Mainbrew, for example, charges $40 a day for a crusher and midrange press. While that isn't exactly cost-effective if you're just looking to distract yourself for a day by making a couple of gallons of unfermented cider, it's a bit more of a steal if you have trees that are heavy with fruit or just saw some 3-pound bags of tart cidering apples on sale.
The physical toll is more equivalent to winemaking as well. Even if you're not picking your own apples, cranking the crusher all day and pressing batches by hand can leave an inexperienced cidermaker as sore as if they'd just spent a day at the gym. Is it worth it? Again we'll remind you that hard cider -- much of which is nowhere near the 7% ABV cutoff that the Association of Cider Makers is trying to increase -- goes for an average of $35 a case. With one case of 12-ounce bottles of cider adding up to 2.25 gallons, a cool three gallons would make up the price of a $40 rental. With some cidering apples going for as low as $2.50 for a three-pound bag, a day's worth of production would more than pay for the fruit and the rest of the equipment.
The final question is: Will it taste the same as what you're used to? Well, just as there are clone recipes for just about every beer on the market, the Internet is filled with recipes for cloned ciders as well. Failing that, we'd recommend starting where just about every other home cidermaker starts -- With the recipes in
Cider: Making, Using & Enjoying Sweet & Hard Cider
by journalist and
Brokeback Mountain
writer Annie Proulx and Vermont cidermaker Lew Nichols. Proulx and Nichols are stern taskmasters, but they're often the only people standing between novice cidermakers and a mouthful of sediment. It's a $15 book, but it beats ruining roughly $100 worth of cider.
-- Written by Jason Notte in Portland, Ore.
>To contact the writer of this article, click here:
Jason Notte
.
>To follow the writer on Twitter, go to
.
>To submit a news tip, send an email to:
.
RELATED STORIES:
>>10 Brewpubs Calling For A Taste In 2013
>>10 Beer-Drinkingest States In America
Jason Notte is a reporter for TheStreet. His writing has appeared in The New York Times, The Huffington Post, Esquire.com, Time Out New York, the Boston Herald, the Boston Phoenix, the Metro newspaper and the Colorado Springs Independent. He previously served as the political and global affairs editor for Metro U.S., layout editor for Boston Now, assistant news editor for the Herald News of West Paterson, N.J., editor of Go Out! Magazine in Hoboken, N.J., and copy editor and lifestyle editor at the Jersey Journal in Jersey City, N.J.