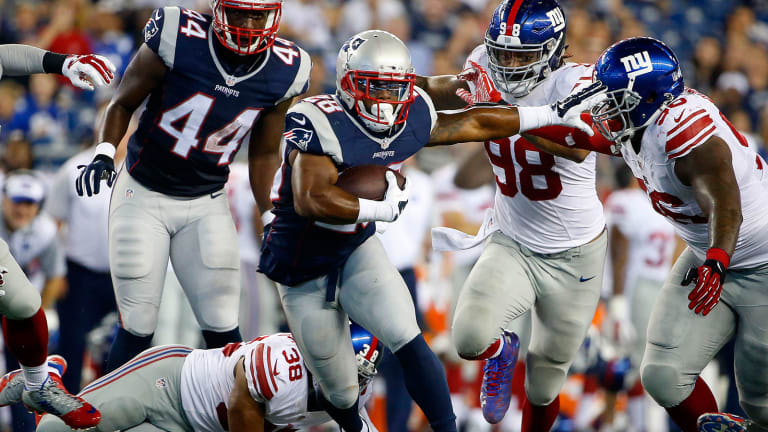 Publish date:
Who's the Highest Paid NFL Player and How Much Does He Make?
The highest paid NFL players are all quarterbacks. Which one is the top dog, and where does he play?
The highest paid NFL players are all quarterbacks. Which one is the top dog, and where does he play?
It's no secret who the highest-paid NFL player in 2018 is - that would be Matt Ryan, ace quarterback for the Atlanta Falcons.
Recently, Ryan inked a contract that pays him $150 million over five years, or $30 million annually.
On an annual basis, Ryan's new salary places him ahead of other highly paid NFL players, most notably Kirk Cousins, the newly minted quarterback for the Minnesota Vikings (at $28 million per year) and San Francisco 49ers quarterback Jimmy Garoppolo (at $27.5 million). Each of those annual salaries were, when the ink dried on the contract, a record; Ryan's record-breaking contract extension came just a month and a half after Cousins's contract, which came a little over a month after Garoppolo's contract.
Interestingly, as an ex-New England Patriot, Garoppolo served as understudy to Tom Brady, a five-time Super Bowl-winning quarterback who "only" earns $20 million per year. That said, Brady is widely heralded by NFL insiders as the greatest player in the game and possibly, the greatest NFL player ever - even if his salary ranking doesn't measure up.
Ryan shouldn't get too comfortable as the highest paid player in the NFL, however. Aaron Rodgers, the Green Bay Packers' Super Bowl-winning quarterback, is up for a new contract in 2018 - one that would surely put him over the $30 million-per-year salary that Ryan receives.
Here's a list of the "Top 10" highest paid NFL players in 2018 - a list where you won't find Tom Brady's name (he ranks 16th), and one where all 10 players are quarterbacks.
10 Highest Paid NFL Players 2018
Aaron Rodgers, QB, Green Bay Packers
Average annual salary: $22 million
Joe Flacco, QB, Baltimore Ravens
Average annual salary: $22.13 million
Alex Smith, QB, Washington Redskins
Average annual salary: $23.5 million
Andrew Luck, QB, Indianapolis Colts
Average annual salary: $24.594 million
Drew Brees, QB, New Orleans Saints
Average annual salary: $25 million
Derek Carr, QB, Oakland Raiders
Average annual salary: $25 million
Matthew Stafford, QB, Detroit Lions
Average annual salary: $27 million
Jimmy Garoppolo, QB, San Francisco 49ers
Average annual salary: $27.5 million
Kirk Cousins, QB, Minnesota Vikings
Average annual salary: $28 million
Matt Ryan, QB, Atlanta Falcons
Average annual salary: $30 million
Things You Can Buy for $30 Million
At an annual salary of $30 million, Matt Ryan has all kinds of possible financial options going forward. To provide a real-world comparison to Ryan's football income, here are both standard and unique ways of handling a $30 million yearly salary.
Stash it in a bank account. Yes, it's mundane - but by popping all $30 million into the bank, Matt Ryan could earn $90,000 monthly in interest, and not have to touch his $30 million principle at all.
Go on a cruise - or lots of cruises. Or, Matt Ryan could get on a cruise liner and travel the world in luxurious surroundings. At a cost of about $600 per day, which gets you high-end digs on a cruise liner, Ryan could roam the high seas like a prince, for the next 124 years - and still have a couple bucks for cab fare left over.
Pay for a military parade. President Trump's proposed military parade down Pennsylvania Avenue could cost $30 million, rumor has it. To tip his cap toward the Great American Soldier, Ryan could pony up the $30 million and maybe even move the parade from Washington D.C. to Atlanta.
Buy property on the moon. If Matt Ryan doesn't produce a Super Bowl win for the Falcons (he came close in 2017, but was bested in overtime by the Patriots and his nemesis Brady), he may have to move out of town. Here's an idea: A company called LunarLand.com is selling property on the moon. At $30 million, Ryan could afford roughly one million acres and have loose change left over to rent a mover to get his stuff into outer space.
Malaria nets for children in Africa. Malaria kills thousands of African children each year. At $30 million, Ryan could buy three malaria nets to keep African sons and daughters safe from one of the world's most insidious diseases.
The Takeaway
Matt Ryan is the highest paid NFL player right now, but from year to year, the top of that "highest paid" list regularly changes - as does the amount of cash they're taking to the bank every year.
Expect that number to rise every year, no matter which quarterback is getting paid the money.