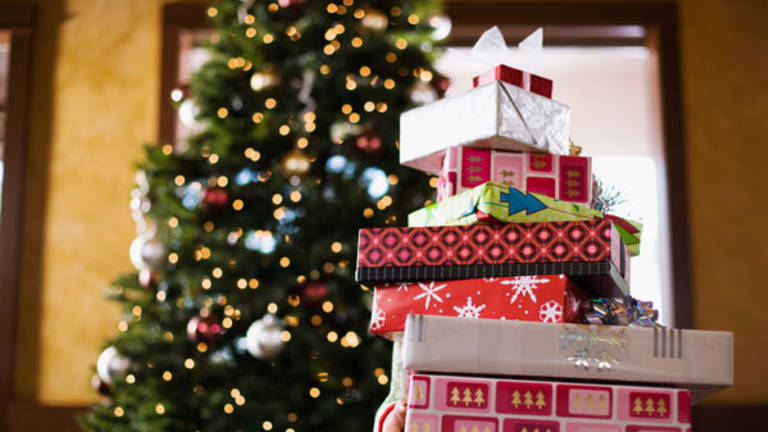 How to Shop for Gifts on Christmas Eve
Some of us are, shall we say, deadline-oriented. Check out these suggestions for last-minute (or last-second!) Christmas gifts.
NEW YORK (TheStreet) -- Even the most organized among us have probably realized we've forgotten to buy a Christmas present or two. On Christmas Eve.
There are still a surprising number of options available that don't require wasting hours at the local mall wondering what to buy -- though, of course, that option still exists.
Let's say your visions of sleigh-bells evaporate into disappointment when and if Santa fails to slide down the chimney with appropriate presents. You can still shop at home into the wee hours of Christmas morning.
Here is our guide to shopping for gifts on Christmas Eve.
Shop online
By Christmas Eve, most online retailers don't dare promise delivery by Christmas. Then there's Amazon (AMZN) - Get Amazon.com, Inc. Report. This year, the company extended shipping deadlines to Christmas Eve for certain parts of the country. Order on Dec. 24 and you can get same-day delivery in Baltimore, Boston, Chicago, Indianapolis, New York City, Philadelphia, Phoenix, Seattle, San Bernardino, Washington, D.C., and parts of New Jersey. This last-minute service will cost you a minimum of $3.99 per item.
Electronics and home appliance store J&R promises same-day delivery for orders made by 1 p.m. in the New York City metro area. Newegg.com EGGZ also offers same-day delivery in certain cities on Christmas Eve if your order is verified by 9 a.m.
If you don't mind battling traffic at the local shopping centers, several stores let you order gifts online for pickup in the store. These include:
BestBuy (BBY) - Get Best Buy Co., Inc. Report: Order online before 4 p.m. local time and pick it up in the store
Home Depot (HD) - Get Home Depot, Inc. Report: Order by noon to pick up in local store by 5 p.m.
Kmart (SHLD) : Order by 3 p.m. to pick up in local store by 10 p.m.
Sears (SHLD) : Order by 3 p.m. to pick up in local store by 6 p.m
Toys R Us: Order by 4 p.m. to pick up in local store
Give an app
Put some thought into your gift by perusing iTunes or Google Play store for the perfect app for a recipient. And then give it to that person digitally. Here's how:
iPhone/iPad apps: Go to the main page of the Apple (AAPL) - Get Apple Inc. Report App Store and scroll to the bottom. Look for "Send Gift," which will let you write a 200-character note and add the exact amount of the app. It then emails the recipient. You can even set it to be sent on a specific date. This also works for the iTunes Store, so you can similarly give a movie, song or other item.
Android Apps: Google (GOOG) - Get Alphabet Inc. Class C Report has yet to step up and offer the ability to gift an app instantly. Right now, you need to think ahead and order a physical Google Play gift card to mail to a recipient. But you're reading this story for a reason. Your options for instant gift cards are to go through Amazon, where you can instantly give an Amazon Appstore gift via email or Facebook (FB) - Get Meta Platforms Inc. Class A Report, or print it from your computer.

Give a game
If there is a gamer in your life and you're not sure what to give him or her, give a gift card to Steam, one of the most popular sites gamers go to buy and play new games instantly. Steam lets people send gifts to other users or to an email address (you'll need to join the site for free to do so). You essentially just indicate it's a gift on checkout. If you need the gift to arrive on a specific day, Steam recommends keeping it in your Steam inventory to send later.
Treat them to a fine meal
You may not be able to get to your favorite restaurant to purchase gift cards. Open Table (OPEN) has your back. This year Open Table added a service to send friends a gift card to your favorite restaurant within minutes. You can specify the delivery date or let them pick the restaurant. The main benefit of Open Table is its access to hundreds of highly-rated restaurants nationwide, many which probably don't offer a gift card of their own.
Give a future gift
Monthly subscription gift clubs have grown like mushrooms, with all sorts of quirky twists like Pique (pantyhose), Bark Box (dog treats and toys) and LootCrate (for gamers and geeks). While some have already gone away (RIP Goodies.co from Walmart Labs (WMT) - Get Walmart Inc. Report) or pivoted (kid-crafter BabbaCo is ending monthly subscriptions), pretty much anything you can think of exists as a monthly club.
And you don't have to commit to a year. To make it even easier on givers, the companies let you buy and inform the recipient on Christmas Day. If you don't have time to wade through the trendy newcomers, try AmazingClubs.com, which offers a one-stop shop for 39 different subscriptions
Make a charitable donation
If you go this route, make sure to check with sites like Just Give, which helps people sift through the charities by showing balance sheets, administration expenses and other details from IRS records. To make it easier on the giver, Just Give takes care of getting the donation to the charity and notifies the recipient with a personalized email or note card.
Give a gift card
When all else fails, head to the recipient's favorite store online. Most retailer sites will sell you a gift card at any hour and deliver it to the recipient's email within minutes. This way, you can even order a gift card on your smartphone before an unexpected guest makes it to the dinner table. Several sites encourage you to print out the gift. Groupon (GRPN) - Get Groupon, Inc. Report goes one step further with a festive Grouponvelope to print and make -- how-to video included.
Tamara Chuang's opinions are her own. Email her at news@tamara.net.

This article was written by an independent contributor, separate from TheStreet's regular news coverage.
As a contributor to TheStreet since Oct. 2011, Tamara Chuang is committed to tracking down the useful, the under-appreciated and the latest mobile apps and tech gadgets available. She has covered the junction of consumers and technology for the past decade, most prominently as The Gadgetress at The Orange County Register. She got her start in the mid 1990s covering local communities for The Philadelphia Inquirer, where she remembers waiting several minutes to see a page on the World Wide Web. She's an original G1 Android owner and is now on the G2. She also shares an iPad2 and iPod Touch with her toddler.