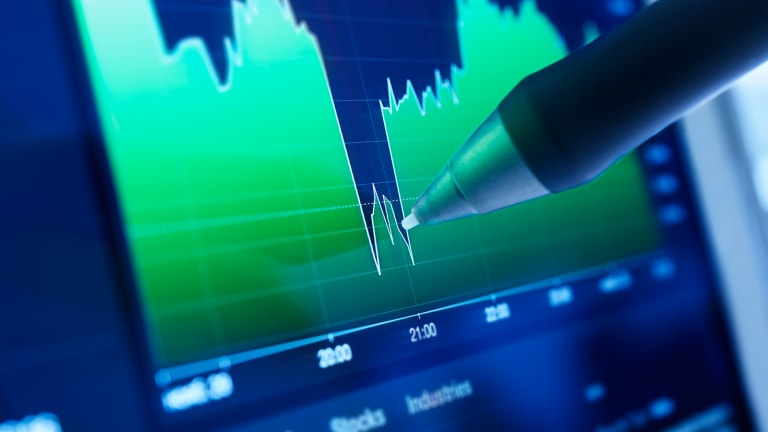 Chipotle, Monster Beverage, Lululemon Charts Show Stocks Heading for a Fall
Chipotle, Monster Beverage and Lululemon are losing their front-runner status. They have had great runs, but are now tired.
NEW YORK (RealMoney Pros) -- A bull market is like a relay race: One or two sectors take a leadership role and set the pace. For example, in the first half of 2014, energy stocks were consistently reaching new heights. When those stocks tired, they handed the baton to the biotech sector, which set a blistering pace into 2015. When the biotech stocks sold off, health care service providers picked up the baton.
Just as sectors rise and fall, so do individual stocks. Several former pace-setters have recently formed troublesome charts. Foremost among these is Chipotle Mexican Grill (CMG) , a stellar performer that has gained no ground since last summer. Since then, CMG has moved sideways, with clearly defined support and resistance areas (dotted lines). As the stock has traveled sideways, its weekly MACD, moving average convergence divergence, indicator has slumped lower (bottom of chart). This condition is referred to as negative divergence, and is an indication that CMG's path of least resistance is to the downside.
CMG has also broken through a long-term trend line (diagonal line) that has supported the stock for more than two years, and has broken beneath its 50-week moving average (blue) for the first time since early 2013. Deeper trouble awaits if CMG falls below last October's low of $607, especially if it loses the psychologically important $600 handle.
Unfortunately, Chipotle is not alone. The daily chart of Monster Beverage (MNST) is remarkably similar to CMG's weekly chart, but on a smaller scale. In Monster's case, the stock has gone nowhere for the past three months, and a negative MACD divergence has occurred during that time. Monster has fallen beneath its 50-day moving average and below a major bullish trend line for the first time since August of last year. The stock needs to stay above $127.60 to avoid a fresh three-month low.
Finally, a stock that's been very good to me has been Lululemon athletica (LULU) . It had an incredible run but it appears to be breaking down from a bearish double-top pattern. Negative MACD divergence is also visible, as it is with CMG and MNST.
These three names have had great runs, but now they are tired. This doesn't mean we should just dump these companies and run for the hills, but this might be a good time to take some shares off the table and lock in gains.
This article was originally published on RealMoney Pros on May 26.
This article is commentary by an independent contributor. At the time of publication, the author held long positions in LULU.