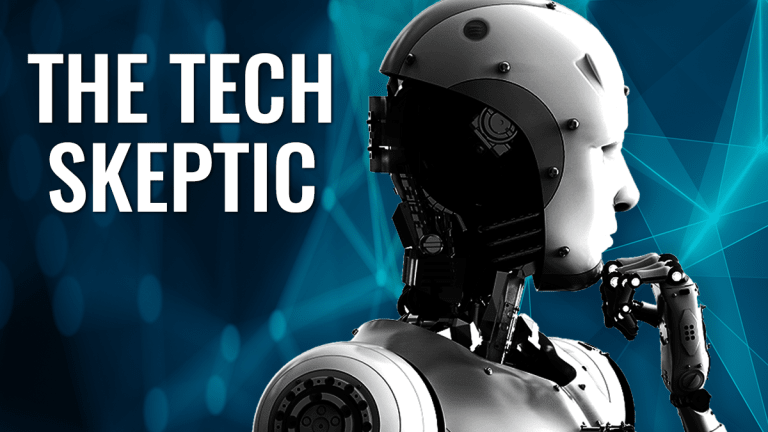 Blockchain Grows Up as Bankers Take the Place of 'Crypto Cowboys'
Many banking and finance execs see blockchain as a transformative technology. But for its potential to be realized, the industry must reckon with its crypto-anarchist roots.
Crypto is all grown up. Sort of.
Across San Francisco this week, throngs of crypto enthusiasts packed hotels, event venues and bars for "Blockchain Week," a series of conferences, seminars and workshops focused on blockchain applications.
Contrary to stereotypes of your average Bitcoin enthusiast, the week's events brought out just as many Ferragamo-clad bankers as crypto cowboys. And they revealed an industry growing beyond its underground roots and angling to take on the establishment.
Ripple, the San Francisco-based tech firm that encompasses both a cryptocurrency (XRP) and a digital payments network, hosted a conference that drew hundreds of finance professionals and former President Bill Clinton. Attendees and panelists -- which included banking executives, technologists and regulators -- spoke in glowing terms of blockchain's potential to transform how business is done.
"They understood that this technology is real and is going to be transformative," said Perkins Cole partner Michael Didiuk, speaking of his prior experience as a member of an SEC division dedicated to blockchain.
For its part, Ripple is aggressively courting banks and financial services firms with its XRapid technology, a mechanism for fast cross-border payments. At the conference, Ripple announced that three entities -- one credit union and two payment processing firms -- had signed contracts to build products using the technology.
According to blockchain advocates, production contracts matter because they nudge the technology out of its experimental phase and gradually into the realm of commercial products. A number of banks and financial services firms had conducted test pilots using Ripple's XRapid for implementing cross-border payments, a $27 trillion market by volume, according to Boston Consulting Group. In a survey of 700 payments professionals conducted by Ripple, 45 percent said that their organizations were "already in production, piloting or close to signing with a blockchain provider."
Some smaller or regional banks view cross-border payments -- which typically take days in traditional banking infrastructure -- as a way of grabbing market share by bringing lower-cost transactions across borders. "It doesn't take a great deal of imagination to see where you can go with this," said Brad Ganey, SVP at Catalyst Corporate Federal Credit Union.
Despite its promise in improving business functions -- finance and supply chain management are two of the most often-cited use cases -- there are still a number of hurdles to the commercial adoption of blockchain. One is that the technology is still in its relative infancy; another is how exactly regulators would account for illegal activity amidst a mass of cross-border payments. 
There are also economic factors. As long as "get rich quick" crypto fever is still alive, it's that much harder to incentivize blockchain enthusiasts to take on the less sexy work of building protocols for business.
"Blockchain is an extremely powerful idea, but it's very far from being a mature technology," said Christian Lanng, CEO of of the supply chain management platform Tradeshift. "If people are becoming millionaires from ICO [initial coin offerings], they're disincentivized to create the next generation of technology. There's a little bit of a bubble with all the short term-ism."
As a certain class of early Bitcoin holders watched their investments explode to a high of about $19,000 per coin in December 2017, the crypto world became infamous for lavish yacht parties and extravagant spending -- and for even more unsavory things, including its association with money laundering, fraud and other crime.
Now that the price of Bitcoin has since collapsed to about $6,500, and another popular cryptocurrency, Ethereum, has similarly dropped to about $230 since peaking at $1,300 in January 2018, the "boat parties" aren't quite as common as they used to be, according to Matt McGraw, CEO of Dispatch Labs, a startup that builds blockchain protocols for data privacy and compliance.
"[Blockchain] is going from the Lambo phase to the Subaru phase," McGraw said. "I think the parties are dying not because people are getting older or more serious, but because they don't have enough money."
The shift could nudge some entrepreneurs to hunker down and address salient issues such as data privacy, as Dispatch Labs does, as well as develop practical uses for blockchain in finance, the supply chain or elsewhere. But blockchain/crypto is also facing a reckoning between its anarcho-capitalist roots and its potential as a transformative technology for business.
"There's a tension there that's not good for anyone," McGraw added.
Whether crypto true believers are doomed to extinction, only time will tell. But it's obvious that for every raging boat party nowadays fueled by cryptocurrency gains, there's a roomful of bankers betting that the real fortune is in blockchain. 
Make Money on Closed-End Mutual Funds. TheStreet's Robert Powell recently hosted an all-star panel of experts who explained everything you need to know on closed-end mutual funds, an often-overlooked investment class. Click here to register and watch for free.