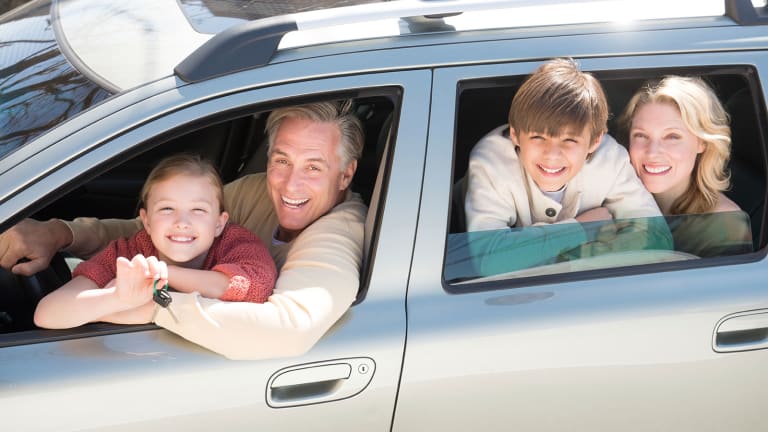 Where is the best place in the U.S. to raise a family?
That depends on various criteria, including home affordability, and communities with a low crime rate, good schools and access to family-friendly venues like parks and playgrounds, entertainment and educational/cultural centers.
After all, different households have different needs and tastes when it comes to finding the best places to raise a family. A city like Houston may win out on affordability over San Francisco or New York. Or, if you're into a tropical, warm climate, you can't go wrong with Phoenix or Miami.
Before you launch your campaign to find the best place to raise a family in the U.S., make sure these items are on your "to do" checklist first.
What's the job picture? Check the unemployment rate for any city you check out. Getting a good job is, well, "job one" when finding a great place to live for your family.
What's the median household income? You'll want a family-friendly place to live that offers your household a chance to earn a decent income, so you can afford more home - and more lifestyle experiences - with your family.
What's the media annual housing cost? Building a household budget is key to keeping your family well cared for and happy in your new residence.
What's the average commute to work? Mom and Dad need to minimize time getting to work, so they can spend more time with the kids.
What's the violent crime rate? Parents should research the number of crimes per 100,000 residents in the city they choose.
What's the high school graduation rate and the college acceptance rate? Check your school district's track record on graduating students and getting them into a good college or university.
What are the annual childcare costs? Parents will want to know the average annual cost of full-time childcare for children up to four or five years of age.
The Best Places in America to Raise a Family
Once you've done your homework on the underlying priorities you need to cover in looking for the best places to live in America for families, start looking at these top-rated communities.
Overland Park, Kanas. WalletHub lists Overland Park, Kan., as the best place to raise a family in the U.S. Why Overland Park? The city gets an "A-plus" for its excellent public schools, and its homes remain affordable, although properties are moving fast as word gets out about this friendly and community-minded suburb of Kansas City. The median age of residents living in Overland Park is 38.1 - that means families with kids will have plenty of company, demographics-wise.
Plano, Texas. Located just 15 minutes away from Dallas by auto, Plano offers families an urban paradise: Great schools, a low crime rates and quiet neighborhoods chock full of affordable homes. The city also has a robust recreational vibe, complete with 167 miles of bike paths, 94 miles of walking paths, and 4,000 acres of parks and open spaces for the community to enjoy. Jobs are easier to get in Plano than most cities, as FedEx Office, Frito Lay, and Cinemark Holdings call Plano home, among other prominent corporate brands.
Madison, Wis. One of the truly great college towns in the U.S., Madison (home to the University of Wisconsin) offers families a culturally diverse community. The city offers plenty of neighborhood connections - it has 120 officially recognized neighborhood associations. Madison is also positioned nicely between Milwaukee (77 miles) and Chicago (122 miles), making it easy to take a family road trip to either city for a ball game or sight-seeing trip. Madison is heavy on the cultural side, as well, with the Madison Children's Museum and the UW-Madison Geology Museums, among others, only minutes away.
Raleigh, N.C.
Another great college town with abundant cultural amenities and an excellent school system, Raleigh, N.C. has one of the biggest farmer's markets in the nation. The North Carolina Museum of Natural Sciences and the Marbles Kids Museum are two of the many interesting cultural institutions in Raleigh. Residents can also visit Pullen Park and take a pedal boat ride around the lake. Also check out the Daniel Dhers Action Sports Complex, a family-oriented sports complex - it's the largest skating and cycling area in the world, with 17,500 square feet of riding space.
Naperville, Ill. A low crime rate, miles of public parks and quality schools land Naperville squarely on the map of best places for families in America. Naperville offers an annual household income of $110,000 and the city has good jobs for young parents in the manufacturing, education, health care and technology sectors. The city offers families a great menu of popular retailers and restaurants, and its Naperville River Walk, with 1.75 miles of brick paths, fountains, bridges and outdoor sculptures, is a natural attraction for families out on the town.
Omaha, Neb. With a low unemployment rate and a high public school standardized rating, Omaha offers a great deal to young families. Take home affordability - Omaha homeowners only shell out 22% of their average household income on monthly mortgages, giving them plenty of cash to enjoy the city's many amenities and attractions.
The Takeaway
Each of the cities and locales listed above offers families a great place to live and a great place to raise their kids.
They're certainly not the only places in America that are great for families, but they're at the top of most lists, for good reasons.