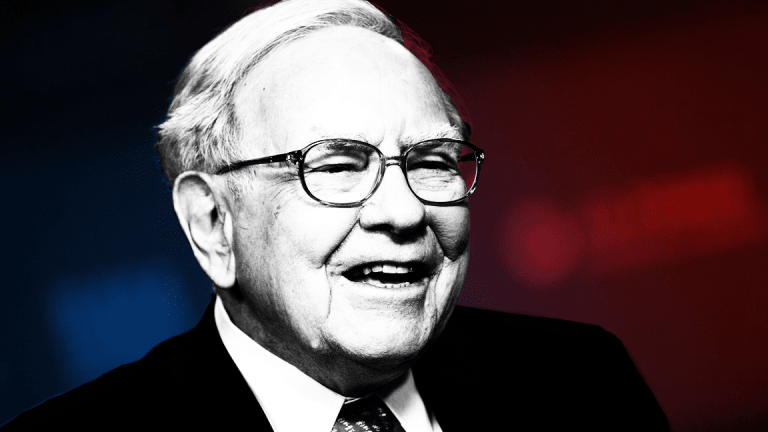 Top Warren Buffett Investing Tips to Keep You Calm in This Stock Selloff
No promise you'll reach Buffett's massive $89 billion net worth, but here's to trying.
Warren Buffett, the Oracle of Omaha, has made himself into a household name through legendary investing techniques that have amassed him a $89 billion net worth at 87 years old. That's some hard-earned wisdom anyone on Wall Street would want Monday, Feb. 5, as stocks continue a sharp selloff.
The Dow Jones Industrial Average toppled over 1,300 points, or 5%, in afternoon trading Monday, continuing a selloff that started the week before. The S&P 500 fell 4% and the Nasdaq slid 3.5%.
These are some of the top Buffett-approved investment strategies to squash those fears in this downturn.
Keep It Simple, Stupid
In a letter to his Berkshire Hathaway (BRK.A) - Get Free Report (BRK.B) - Get Free Report shareholders in 2013, Buffett said his advice for the average investor "could not be more simple." He suggested putting 10% of cash in short-term government bonds and 90% in a "very low-cost" S&P 500 Index fund. In that letter, Buffett suggested Vanguard's.
Buffett has long sung the praises of index funds. He said pension funds, institutional investors and individual investors find better long-term results with the above index investing policy than they would if they employed "high-fee managers."
Look for Moats
If index funds aren't for you, look out for some of Buffett's "moats" - as in the water-filled ditch that keeps a castle safe from attack. Buffett has called positive free cash flows, good return on capital and strong competitive advantages within an industry "moats" for companies.
Stocks with deep moats are especially smart in a selloff like this one. Investors can flock to those moated names by investing in a basket of Buffett-like stocks through Motif automated investing service for $10 a trade.
Fear Is Your Enemy - and Your Friend
"During such scary periods, you should never forget two things: First, widespread fear is your friend as an investor, because it serves up bargain purchases. Second, personal fear is your enemy," Buffett said.
"The years ahead will occasionally deliver major market declines - even panics - that will affect virtually all stocks," Buffet wrote in a 2016 letter to investors. "No one can tell you when these traumas will occur - not me, not Charlie [Munger], not economists, not the media."
Don't forget that Buffett has had skin in the game for longer than many reading this have been alive - 76 years, to be exact. It takes time to build a fortune, and even Buffett didn't amass 99% of his wealth until after his 50th birthday.
Get everything selloff-related from TheStreet's Morning Jolt here: