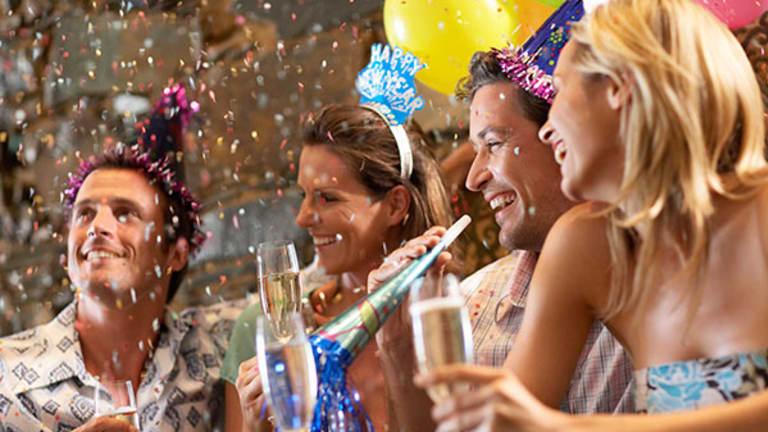 Best Champagne Alternatives for New Year's
Unfortunately, its tough to get a great bottle of Champagne for under $20. So we you found some great, economical alternatives for your New Year's Weekend festivities.
It's never a bad time to break out the bubbly -- this weekend especially.
But unfortunately, its tough to get a great bottle of Champagne for under $20.
So unless you're Jay Z, who serves his own Champagne at parties, you may need a more economical option if you want the bubbly to flow all night.
So start exploring the rest of the world. 
Remember, Champagne must be produced in the Champagne region of France. The grapes must be grown there, and the wine must goes through a second fermentation process to create those fabulous bubbles.
But so many sparkling wines from other countries are made in the exact same way - they are just produced in different places.
So it's a little bit of semantics.
Take Prosecco (which was probably the number #1 selling wine of 2016). It is made under similarly strict guidelines, but because it's produced in northeastern Italy, it can't be called Champagne.
But that doesn't mean those wines are any less quality. For instance, the Bisol Family has been making Proseccos for decades, and their wines could stand up to many Champagnes.
But because they can't use "Champagne" in the name, they automatically become cheaper.
So consider other sparkling wine options that are made in the same method as Champagne, just from different places the globe, even right here in the good ol' U. S of A. "Cava, Prosecco, Cremant, etc. all provide great alternatives for celebration without breaking the bank," Greg Collins, wine manager, Total Wine, Norwalk, Conn.
So get out your passport. 
Go to Spain First
The Spanish call their sparkling wine "Cava." It's one of the best alternatives to Champagne out there, because it's affordable and really good," says Tim Finch, Retail General Manager at Zachys Wine & Liquor.
It's made from grapes that are indigenous to Spain, and much of it comes from the northeast part of the country, near Barcelona. 
You can find a great bottle from $12 to $15. Raventos is one of the top producer there, says Finch, who recommends the 2014 Raventos I Blanc De Nit at $19.
Or check out the Vilarnau Cava Gaudi. The label looks artwork so that alone justifies the $15 price.
Then Hop Over to Italy
You know about Prosecco. And there are so many great ones to choose from.
But there are tons of other Italian sparkling wines, that again, are made like Champagne, says Stevie Kim, managing director of Vinitaly, an organization that promotes Italian wines. For instance, Franciacorta is a bubbly made in the Lombardy region near Milan. Trento is made in Trentino, near Switzerland, 
So be adventurous in Italy. 
And If It Must Be French...
Look for a bottle that says "Cremant."
Basically that word means that the wine is sparkling, made in the same way as Champagne, it's just from other regions of France.
So again, that means it's cheaper. 
So a Cremant d`Bourgogne is a sparkling wine from the Burgundy region of France.
"It's a great back up to Champagne," says Finch, especially because many use the same grapes that are used in Champagne too. He likes the Celange Cremant d`Bourgogne Rose Brut at $25.
But There's No Place Like Home
American sparkling wine is some of the best in the world.
One of the great Champagne producers, Louis Roederer, bought property here to make sparkling wine in California.
And Schramsberg has been making sparkling wine since the late 1960s. Its bubbly was even used in 1972 when President Nixon "Toast to Peace" with China's Premier Zhou Enlai.
Or try a bottle from Iron Horse, who makes one of the top American sparklings.
If you really want to explore our country, consider a bubbly from Gruet Winery in Albuquerque, New Mexico, says Collins.
So get out there and explore the world of sparkling wines.
And welcome 2018 from a different point of view.
Watch more from TheStreet:
Video: Here Is What to Expect From the Federal Reserve in 2018
Video: This One Factor Will Drive Home Prices Higher in 2018
Video: Here's How We Know Wages Are Finally Starting to Breakout
Video: Here's How Much You Should Contribute to Your 401(k)