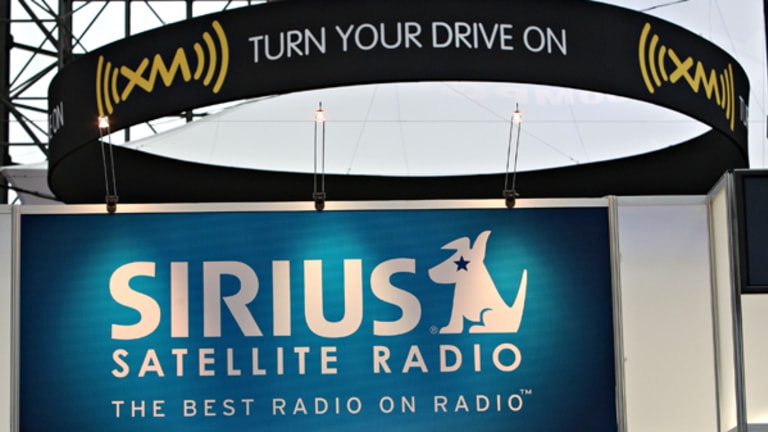 Apple's Plan to Conquer Sirius XM
Sirius needs a revenue stream beyond the automobile to avoid extinction.
NEW YORK (TheStreet) -- The surest way to anger investors is to say anything remotely negative about their stocks, even as consequences unfold right before their eyes.
Although Sirius XM (SIRI) - Get Report remains polarizing, the satellite radio provider has recently experienced a flood of investors abandoning the stock since the month began.
With shares closing down almost 3% to $3.26 Monday on volume of 136 million shares, Sirius stock has declined close to 10% in March and 7% year-to-date. Remarkably, the stock remains under pressure even though Sirius has enjoyed a flurry of good news. Recently, two analysts have initiated price targets of $4.50 and $5 per share. It hasn't helped, leaving investors to wonder, "How much more good news can this company endure?"
Now gotten even more complicated. Sirius' own performance, whether good or bad, may not be enough. The market sector has turned its attention to Apple (AAPL) - Get Report, the same company that many Sirius investors insist is not threat. Sirius investors tout that "content is king," and that Apple doesn't own any. But if rumors are correct, Sirius is on the verge of being checkmated.
Peter Kafka of Re/Codereported Monday that National Public Radio is coming to Apple's iTunes Radio. Often lauded by Sirius investors for its "music-only content," Apple is now exploring more ways to diversify its offerings. With popular shows like "All Things Considered" and "The Diane Rehm Show," NPR is a major step in giving iTunes Radio the level of respect that CEO Tim Cook has envisioned. But it doesn't end there.
According to NPR officials, there are also local stations that may want their own programs on iTunes Radio. This news didn't sit well with Pandora (P) investors, either. Pandora stock was down close to 8% to $31.39 at Monday's close and has become the subject of several debates, especially given the company's need to raise the rates on its Pandora One subscription service. Sirius' misery has some company.
What will Sirius do to respond? Let's assume there were some Sirius subscribers that signed up for Sirius solely or the automobile access to NPR (I know that's a stretch) who now have the cheaper iTunes Radio as an alternative. NPR may not have the popularity of a CNBC, ESPN or the NFL, but how long is it going to take before Apple begins talks with these content providers, if they haven't already.
For Sirius shares to reverse course and trend back in the right direction, management must convince a now-skeptical market that its business model is sustainable. As we discussed last week, there are doubts as to whether the company knows what to do to preserve what market cap it has left.
Although Sirius has done well over the past year, its growth remains too highly dependent on auto sales. Sirius rose to prominence by signing exclusive deals with high-profile talents like Howard Stern and rights to the NFL and Major League Baseball. Then the financial crisis brought the company to its knees, partially because there was no credit available for people to buy cars.
When the market bottomed and began to rebound in 2009, car sales were back on the rise. Since then, Sirius' stock has appreciated commensurately. But auto sales have begun to plateau. And even with the 16.4 million light vehicle sales projected for 2014 (6% annual growth), Sirius anticipates 4% year-over-year revenue growth.
This lack of confidence between auto-sales projections and Sirius' guidance points to the fact that the company desperately needs another revenue stream beyond the automobile. And I have to continue to question the judgment of Jessica Reif Cohen, analyst at Bank of America (BAC) - Get Report, for believing these shares (still expensive at 54 times trailing earnings) deserve a $5 price target.
At the time of publication, the author was long AAPL.
This article represents the opinion of a contributor and not necessarily that of TheStreet or its editorial staff.