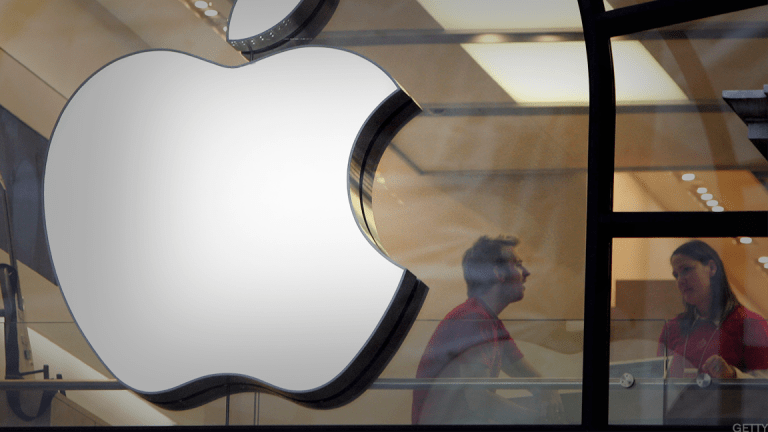 Publish date:
Apple Chart Shows Labored Gains Since Steve Jobs' Death
Apple stock is in an uptrend but may be entering a pullback phase. The chart shows a stock advancing -- with some effort -- each year since Steve Jobs died.
Apple stock is in an uptrend but may be entering a pullback phase. The chart shows a stock advancing -- with some effort -- each year since Steve Jobs died.
The legacy of Steve Jobs is much more than the catalog of Apple (AAPL) - Get Report devices he helped design and market. It is the ecosystem he envisioned, one that has taken access and connectivity to a new level.
Apple is the gold standard, when it comes to branding, with a cult following. Thursday is the six-year anniversary of Jobs' death and a good time to take a look at how Apple stock has performed since his passing and where it might be headed going into earnings next month.
Apple shares are up 223% since September 2011, in no small part due to the guidance of Tim Cook, whose job it was to run one of the largest market cap companies in the world and, at the same time, ensure the harmony of the ecosystem. The advance, however, did not come without meaningful pullbacks and the highs and lows in the stock have formed a long-term rising channel. The stock is currently retesting the upper channel border and there are some indications on this time frame that another pullback may be underway.
The TRIX is a triple-smoothed momentum indicator similar to the moving average convergence/divergence oscillator, and it is making a bearish crossover. Chaikin money flow has moved into negative territory, which supports the pullback thesis.
Apple shares reversed direction this month and started heading lower. They dipped down to $150 to fill an open gap, and then bounced back up to their previous May high in the $155 area. This level has been solid resistance for the last two weeks, despite a broadly positive market. Thursday the $155 level is being tested again and a close above or below it could determine the intermediate-term direction of the stock price.
The stochastic oscillator is moving higher and out of an oversold condition, suggesting a short-term bounce, but the Chandre Trend Meter, which assigns a numerical value to a trend using several different moving averages on six different time frames, suggests the trend is neutral to lower.
The bottom line is that for the last six years, Apple has been in a primary long-term channel uptrend, interrupted by several significant pullback periods. At present, shares are testing short-term resistance near the top end of the long-term channel. It is certainly possible that shares retest the channel top, but the inference drawn from the trend and money flow indicators is that any strength will be short lived and that Apple shares are preparing for another pullback phase, which could potentially take them back down to the $115 weekly channel support line.
More of What's Trending on TheStreet:
Why Steve Jobs' Grand Vision for Apple TV Remains Unfulfilled
The author is an independent contributor and at the time of publication had no position in the stocks mentioned.