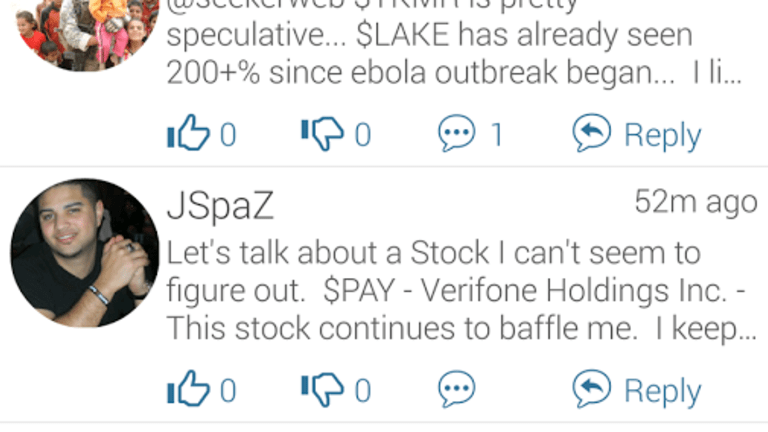 6 Stock-Trading Lessons Every Millennial Should Heed in 2015
The art of stock trading requires some finesse yet before investing any real money, there are tricks to the trade that any new stock trader should heed.
NEW YORK (TheStreet) -- Playing the stock market can mean rich rewards if you know what you're doing. Of course the opposite is also true: An uneducated or ill-timed trade could mean big losses if you're not careful.
The art of stock trading requires some finesse but stock investing doesn't have to mean taking undue risk. Before investing any real money, there are tricks to the game that any new stock trader should heed.
"You have to live through a few cycles and be patient [with] your money and take the long term view, even if you're a day trader," said Cody Willard, co-founder of Scutify, a social network for the trading community, and a former contributor to Real Money, TheStreet's sister site. "The best traders in the world and the best investors of the world had huge losses at [one] time and that's just part of risking your money in the markets."

Millennials, a perfect target audience for Scutify's socially driven investing platform, are wary of investing in the markets, partially because of mounting student loans, but also from observing two turbulent market cycles -- the tech bubble and the Great Recession. A UBS survey from early 2014 found that out of 1,000 adults ages 21 to 29, millennials devoted less than one-third of their portfolios to stocks, preferring cash.
That's where Scutify can help. The New York-based social network launched in Sept. 2013 that has close to 30,000 users. The site collects user-generated posts of up to 280 characters on publicly-traded stocks by filtering financial and stock-related news, Twitter (TWTR) - Get Twitter, Inc. Report chatter, blogs, YouTube and other social sources as well as balance sheets and other financial analysis for publicly-listed companies and presents it to users in a centralized platform.
"Trying to do that by looking at a news site or even Twitter itself -- [users] get lost in spam or general headlines that aren't real time," Willard said. "We saw a real opportunity to filter the non-relevant. ... The entire community is built around that."
Most recently, Scutify has integrated the ability for users to make real-time trades directly on the platform through a partnership with Tradier Brokerage.
Willard offered a half dozen tips for millennials just getting started in stock trading.
1. Start with a play portfolio. Don't start with real money. "You're going to see at some point that it's hard. And it's a lot better to start with fake money and learn lessons before putting your own money on the line," he said.
2. Start slow. Once a new trader is ready to use real money, don't put all of your own money in at once. "Start off [by investing] 10% or 20% in a stock account and then slowly add to that money as you learn and get more confident," Willard said.
3. Take the long view. Any investor risking money should consider a long-term time horizon, not the next 10 minutes or 10 days.
4.Have another source of income. Nobody should trade or invest their own money for income purposes. Even the best trader is going to get cold at some point and if you have a cold streak, does that mean you don't have any income? Whether it's teaching, consulting, or mowing lawns have another source of cash flow.
5. Emotions are the enemy. "When you're feeling scared it's probably the time to be buying because everybody is scared at that point," Willard said. Investors need to be rational and look past emotions to be able to make the right decisions for your portfolio.
6. Don't take it all too seriously. Family is much more important as well as doing charity in the community, he said.
- Written by Laurie Kulikowski in New York.