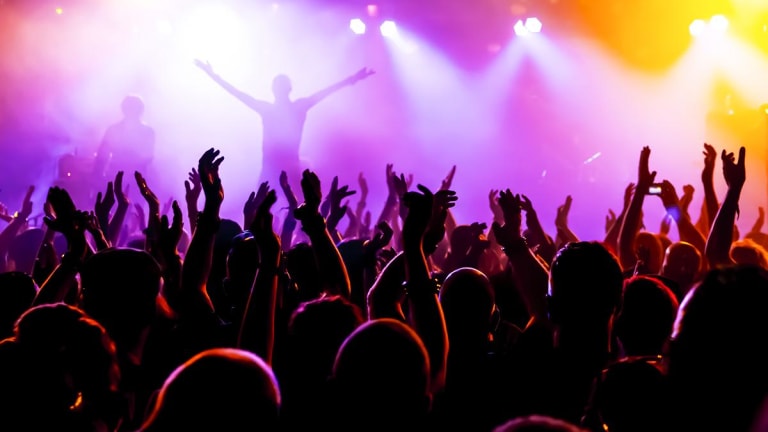 13 Ways to Score Cheap Tickets to Your Next Concert
With scalpers, service fees, and sellout times, today's concert-goers have plenty of obstacles standing in the way of seeing the artists they love, but here are 13 ways to see shows without breaking the bank.
Getting tickets to your favorite band can be many things, relaxing is not one of them. Waiting for hours in line at the box office may be mostly a thing of the past, but the digitization of ticket sales has brought its own slew of complaints, including crafty online scalpers, exorbitant service fees, server crashes, and sellout times of mere seconds. Thankfully, with new problems come new solutions -- here are 13 ways to score some cheap tickets.
1. Be a Fan
In an effort to outdo scalpers, many artists have tried finding ways to get tickets directly to their fans. This includes giving out promo codes for early ticket sales to frequent listeners on streaming services like Spotify (SPOT) or Apple (AAPL) Music. Some performers, like Taylor Swift, have taken this further with methods like Verified Fan that require purchasing merchandise, showing your love for the artist on social media, or taking part in special activities to gain access to tickets. Point is, one of the best ways to boost your chances to see an artist you love -- without completely blowing your budget -- is by actually loving the artist.
2. Be a Fake Fan 
Bandwagon fans fear not! Often times you can score codes to ticket presales just by joining an artist's mailing list. Even if you may not be one of their Verified Fans, signing up to receive emails from an artist is still a good way of keeping early, reasonably-priced tickets in your future. Liking them on Facebook (FB)  or following their Twitter (TWTR) feeds are other ways you can keep in touch with potential deals.
3. Go to the Actual Box Office
While tickets tend to sell out in minutes online, a select few venues will still keep a few on hold for those willing to come by the physical box office. This isn't a given, but if you've struck out online, a visit might be worth your time -- plus you'll save on not having to pay those pesky online service fees.
4. Or Don't
While many of the people reselling tickets online are scalpers looking to make an easy buck, plenty are just fans who ran into scheduling conflicts. It's worth checking sites like Craigslist to try finding them and their usually reasonably-priced deals (just don't be scammed by the too-good-to-be-true tickets).
5. Take a Last-Minute Gamble
Concert ticket prices work like a bell curve, meaning the cheapest prices you can hope for will usually be either right when they go on sale or right before the concert. Many fans and scalpers alike will be desperate to get tickets off their hands in the last days or even hours before a concert, and if you keep your eye out for them and your nerves intact, you can score a great deal.
6. Go the Distance 
Sometimes the secret to getting better prices is going to a better venue. Concerts reach their most expensive prices in major cities like New York, Chicago, and Los Angeles, but check to see whether your favorite artist is playing in a smaller town or city nearby. The same show can cost you half as much if it's just somewhere a little less crowded.
7. Earn Cash Back
Certain cash-back sites like BeFrugal and Ebates will include concert tickets in their listings. Using the appropriate ticketing services, you can get a small percentage of what you spend back. 
8. Go Solo 
If you're buying on resale, the harsh truth is that the lowest prices are usually reserved for single ticket purchases. If you really love the band and your wallet, buying tickets for yourself alone will be your best bet.
9. Check Your Wallet
Credit card companies including American Express (AXP) , Chase (JPM) , and Citi (C)  all reserve concert perks for their customers. This can include preferred seating, access to presale, or even free access to exclusive shows. Check your credit card's policy online.
10. Look Up the Festival Circuit
While it can be hard to justify spending $80 dollars to see one artist you love, paying $80 to spend a day watching dozens of acts can be an easier pill to swallow. If your favorite artist is headlining a festival, not only does buying tickets give you the chance to see other acts, but you could likely score a better spot than you could possibly dream of (short of spending hundreds of dollars) if you're willing to camp out long enough for their set.
11. Settle for the Cheap Seats
If getting a great view isn't your top priority, the classic fallback for those looking to get a deal on their tickets is going to the cheap seats. There may be a pillar blocking your view or you may only be able to see the artist from a jumbotron, but your budget will thank you down the line.
12. Check Social Media
Artists will often look for ways to help their fans see them through social media. This includes ticket giveaways and codes to presale, giving you access to reasonably-priced tickets before resellers get their hands on them. Additionally, if you look on fan-pages or other music-related groups on social media, you can sometimes find people posting offers to give away their tickets. Usually, there'll be more reliable and reasonable deals than Stubhub or Craigslist. If it seems appropriate, posting that you're interested in tickets for a show and how much you'd be willing to pay might garner positive results.
13. Hope for ... a Miracle 
It's a classic move. If you really want to wait till the last minute, you can always show up at the venue on the night of the show and ask for tickets. You'll definitely be taking a gamble, but the benevolent concert-goer-with-a-last-minute-emergency does come from time to time. Be wary of scalpers, though, who prey on those desperate for entry with egregiously marked-up prices.